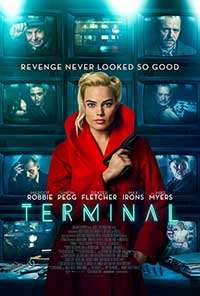 Written and directed by Vaughn Stein in his feature film debut, Terminal, produced by Margot Robbie's LuckyChap Entertainment (which also produced I, Tonya), is a neon-drenched neo-noir crime thriller with a cast that should make this film something wonderful. Unfortunately, with Stein's diffuse screenplay and unfocused direction, Terminal is more eye-candy than anything substantive.
The story is set in a large, anonymous city against the shadows of the night as the criminal elements come out to do their mischief. Three main storylines less intertwine than they develop in parallel – two assassins, the grizzled Vince (Dexter Fletcher) and the charming young Alfred (Max Irons) try to carry out a mission, a teacher, Bill (Simon Pegg), is wallowing in depression as he has learned he is dying, and a crooked janitor (Mike Myers) gets caught up in a criminal enterprise. Meanwhile, these disparate tales are bridged by a duplicitous waitress-cum-femme fatale, Annie (Margot Robbie).
Piecing together what exactly is going on in Terminal is difficult in the dense fog of the film's first act. Each of these separate stories play out in nearly surreal vignettes that are barely connected. And the idea that this is meant to be a modern noir is so oversold it's hard to decide if this film is meant to be taken seriously or as a slice of parody pie.
Eventually some clarity does preside, but it's all too late and too messy. The message has already been received – don't pay too much attention to the details of the plot, just revel in the gorgeous stylistic choices and the almost pulp characters populating this mystery city. Robbie as the femme fatale and Dexter Fletcher are the standout performers in this neon wonderland.
The Video
Terminal arrives on Blu-ray in a solid AVC 1080p encodement framed at 1.78:1. The neon imagery and primary colors are presented with good vibrancy and contrast is strong. Detail is crisp as well, but there are a few minor moments of color banding. This release cries out for 4K Ultra HD with HDR, if only for the visual elements, but given the weakness of the film itself, it wouldn't be worth the price on disc – maybe a digital only release.
The Audio
Terminal arrives with a competent English DTS-HD Master Audio 5.1 mix. Given the admittedly enticing visual production of this film, something a bit more aggressive on the audio side would have gone a long way, but this is basic surround sound.
The Supplements
There's not much here to catch anyone's interest. Most of the special features included are of the obligatory variety and play like standard EPK material.
The Cast  (1.78:1; 1080p/24; 00:06:14)
Building the World of Terminal (1.78:1; 1080p/24; 00:06:14)
From Concept to Creation (1.78:1; 1080p/24; 00:02:05)
Photo Gallery (1080p/24)
The Final Assessment
This may very well be one of the most visually striking indie films of the year – but it doesn't do much beyond that. It's unfocused and doesn't know if it wants to be a straight neo-noir or a parody of one. Apart from some good standout performances, it's pretty forgettable.
Terminal is out on Blu-ray and DVD June 26, 2018 from RLJ Entertainment
Beagle Pug Films | Hassell Free Production | Highland Film Group (HFG) | LuckyChap Entertainment | Miscellaneous Entertainment | Proton Cinema | RuYi Media | Subotica Entertainment | RLJ Entertainment
Studios & Distributors
English DTS-HD MA 5.1
Audio
English SDH | Spanish
Subtitles
Summary
Three stories intertwine during in the night in a sprawling anonymous city with one duplicitous femme fatale (Margot Robbie) at the center of them all in this neon drenched neo-noir from debut feature film writer/director Vaughn Stein. Despite its cast of heavyweights including Robbie, Simon Pegg, and Mike Myers, Terminal is eye candy that is all empty calories.
What people say... Login to rate
Be the first to leave a review.
Show more