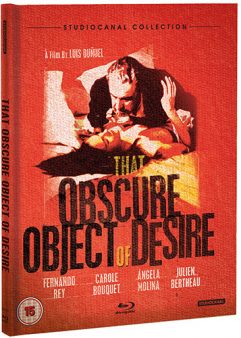 Aspect Ratio: 1.66:1

Video Codec: AVC/MPEG-4
Resolution: 1080p/24 (24Hz)

Audio Codec: French, English, & German DTS-HD Master Audio 2.0 Mono (48kHz/16-bit)

Subtitles: English, French, German

Subtitles Color: White
Region: B (Region-Locked)
Certification: 15

Discs: 1 (1 x Blu-ray)
Studio: StudioCanal

Blu-ray Release Date: September 10, 2012
RRP: £24.99

The Film
[Rating:5/5]
Filmmaking auteur Luis Buñuel's (The Discreet Charm of the Bourgeoisie; Belle de Jour; L'Age d'or) last work, 1977's Cet obscur objet du désir (That Obscure Object of Desire) was and is one of the greatest swan songs in cinema. True to his surrealist roots, Buñuel put together a film that told a story examining the nearly impossible reconciliation of romance, love, lust, and power on multiple levels of symbolism and realism.
When the story proper begins, we are uncertain of what is going on, all that we know is there has been some sort of confrontation and the wealthy, middle-aged Frenchman Mathieu (Buñuel favorite Fernando Rey) is in a rush to catch the rail out of Spain back to France. It isn't until he is on-board and he throws a bucket of water on a woman with two black-eyes that the story comes into focus. He is obliged to explain his actions to his fellow passengers. He begins to recount the story of how he fell in love with his former chambermaid, the lovely Conchita (played both by Carole Bouquet and Ángela Molina), a dancer from Seville. What unfolds between Mathieu and Conchita is a cat-and-mouse game of love, romance, and vying for the upper hand in the relationship as each tries to gain control over the other. Mathieu, of course, tries to use his vast wealth to win over the virginal Conchita, while Conchita withholds her affections – physically and emotionally – to let him know she cannot be bought. As with most of Buñuel's films, there's an undercurrent of politics running through it as Mathieu and Conchita's relationship plays out against the backdrop of a string of seemingly unrelated terrorist attacks that keep appearing in the newspapers and nightly news reports.
In a twist of genius, Buñuel cast two equally enchanting actresses in the role of Conchita. This move captures symbolically and physically the outwardly capricious nature of Conchita while also questioning the honesty of love and lust. Does Mathieu truly love Conchita or does he, as she fears, really just see her as an interchangeable object, "a piece of furniture," as she puts it? The question may never be answered, as the film ends just as enigmatically as it began, leaving viewers to come to their own conclusions once more.
Video Quality
[Rating:4.5/5]
That Obscure Object of Desire appears to be a fine effort from StudioCanal with little processing anomalies and a thinly layered grain structure. Color reproduction has the typical look of the era, more subdued and true to life than stylistic, but the primaries pop nicely, particularly reds. Detail is strong and there is lots of texture to be seen in clothing in facial features.
Audio Quality
[Rating:4/5]
The original French monaural soundtrack is offered up in a DTS-HD Master Audio 2.0 (48kHz/16-bit) configuration while English and German dubs are also provided as lossless DTS-HD Master Audio 2.0 (48kHz/16-bit). The track is a rather good one with little crackle or hiss to be heard and rather surprising amount of dynamic range given its age.
Supplemental Materials
[Rating:3.5/5]
The featurettes and booklet in this release provide a strong amount of information on Buñuel, the film, and the actors involved.
The supplements:
Interview with Carlos Saura (1.78:1; 1080i/50; 00:11:16) – The filmmaker discusses the career of Luis Buñuel and his friendship with the great auteur.
The Arbitrariness of Desire (1.78:1; 1080i/50; 00:33:52) – Insight into the literary influences of Luis Buñuel and its effects on the filming of That Obscure Object of Desire.
Lady Doubles (1.78:1; 1080i/50; 00:35:53) – The actresses offer up their remembrances of working with Luis Buñuel.
Portrait of an Impatient Filmmaker (1.78:1; 1080i/50; 00:15:34)
Booklet: Essay by Peter William Evans, author of The Film of Luis Buñuel: Subjectivity and Desire.
The Definitive Word
Overall:
[Rating:4/5]
A masterful film from a masterful filmmaker, That Obscure Object of Desire will be instantly relatable to anyone who has been through a rocky romance, encountered passion, lust, or unrequited love. Its imagery is meaningful on multiple levels as its performances are simultaneously provocative and humorous. Highly recommended.