History can happen in a moment and this is the epiph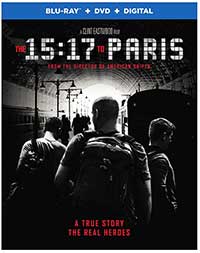 enomenon that The 15:17 to Paris attempts to captures for posterity, thanks to director Clint Eastwood, and a script from screenwriters  Dorothy Blyskal and Jeffrey E. Stern, with contributions by the three real-life heroes of this story. The film opens with middle-schoolers Spencer Stone (William Jennings), Alek Skarlatos (Bryce Gheisar), and Anthony Sadler (Paul-Mikel Williams) bonding as they all earn serious detention time for cursing in public at their straight-laced Christian school. The school principal  Michael Akers (Thomas Lennon) intervenes with Alek's divorced mother Heidi (Jenna Fischer) and the boy gets placed with his father (Robert Praigo) to learn proper behavior.
Several years later, a now 22-year-old overweight Spencer enlists in the Air Force and begins to reshape his body. Much to his disappointment, he fails to qualify for his desired military occupational specialty, parachute jump rescue squad, when he tests poorly for depth perception during basic training. Alek enlists in the National Guard and, now deployed in Afghanistan, he "distinguishes" himself by leaving his military rucksack in a small village. While on leave, Spencer meets college student Anthony in Rome while Alex hooks up with his German girl friend  in Berlin. Eventually, the three buddies reunite in Amsterdam, the raunchiest city on their so-called "see Europe" itinerary.
The friends recover from a night of carousing in Amsterdam bars and decide to board the 15:17 train to Paris where we see armed terrorist Ayoub El-Khazzani (Ray Corasani) also get on the train. All of the excitement is confined to about fifteen minutes when  El-Khazzani emerges from the bathroom with an assault weapon and shoots French-American passenger Mark Moogalian (also playing himself). As viewers will surely know by now, the good guys intervene and save the day.
The dramatic device of having military heroes play themselves on the big screen goes back at least as far as decorated WW II legend Audie Murphy's starring role in the screen adaptation of his battlefield memoir, To Hell and Back. The present film takes advantage of the instant notoriety of its three lead characters, and amazing octogenarian Eastwood actually draws out fair to middling performances from these nonprofessionals as, sometimes, life imitates art better than art imitates life. The essential problem with this film is that it is largely front loaded with fluff that includes pedestrian backstories and a banal European travelogue to help it attain feature film length. Pacing is also quite leisurely until the incident on the train and once it was over, I was left with an "is that all there is" feeling.
The Video
The visuals for The 15:17 to Paris are sharp and the colors vibrant. Tom Stern's cinematography comes to life during the train attack. For a moment the viewers are drawn into the heart of a very savage action sequence that will surely disturb the squeamish in audience .
The Audio
The Dolby Atmos soundtrack uses immersive effects judiciously and effectively, particularly during the train attack sequence.
The Supplements
The extras include the following:
A DVD of the film
An UltraViolet download
Making Every Second Count (08:11) (English Dolby Digital 48k): a brief series of interviews with the protagonists.
The 15:17 To Paris: Portrait of Courage (12:27) (English Dolby Digital 48k):  Interviews with the cast, director and producer.
The Final Assessment
Director Eastwood has given us some noteworthy dramatizations of true accounts of battlefield heroism like American Sniper, Flags of Our Fathers, and Letters From Iwo Jima. While the storyline of The 15:17 to Paris has its own patriotic vibe, there simply is not enough substance for its 94-minute running time.
The 15:17 to Paris is available on Blu-ray Combo Pack, Digital, and 4K Ultra HD (Digital Only) May 22, 2018
[amazon_link asins='B077ZCTV4L' template='ProductAd' store='theaterbyte-20′ marketplace='US' link_id='f0553b60-651b-11e8-84e4-c3c0a4a7a6f2′]
PG-13 on appeal for bloody images, violence, some suggestive material, drug references and language
Rating Certificate
Warner Bros. Pictures | Village Roadshow Pictures | Malpaso Productions | Warner Home Video
Studios & Distributors
Dorothy Blyskal | Jeffrey E. Stern | Spencer Stone | Alex Skarlatos | Anthony Sadler
Writer
English Dolby Dolby Atmos (compatible with Dolby TrueHD 7.1)
Audio
English | French | Spanish | Portuguese
Subtitles
English DTS-HD MA 5.1 | English/French/Spanish DD 5.1
Secondary Audio
Summary
While vacationing in France, three American veterans foil a terrorist plot on a train headed to Paris. The 15:17 to Paris is an heroic event captured with the actual heroes that made it happen, but director Clint Eastwood does not give viewers enough substance for a feature length film.
What people say... Login to rate
Be the first to leave a review.
Show more