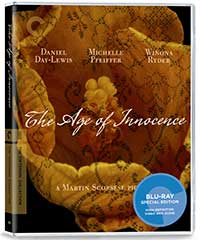 In 1993 director Martin Scorsese tackled the period costume drama — a cinematic genre that was probably still closely associated with Merchant-Ivory productions at that point – with his adaptation of Edith Wharton's The Age of Innocence.
The story is set against the backdrop of New York City's elite families during the 19th century, the story follows the star-crossed love affair of successful attorney and conformist Newland Archer (Daniel Day-Lewis) who falls in love with the beautiful Countess Ellen Ollenska (Michelle Pfeiffer), while he is engaged to her younger cousin May Welland (Winona Ryder).
Ellen returns to New York City after many years away running away from a disastrous marriage to European royalty with a murky and scandalous past that leaves her on the outs with the prudish New York City upper echelons. Knowing each other from their childhoods, Newland and Ellen are drawn to each other when they meet during a night out at the opera – Newland attracted to Ellen's independence and Ellen attracted perhaps to Newland's familiarity and rigor. When Ellen decides to try to file for divorce, Newland's law firm assigns him to her case, not to help her resolve the divorce, but more to try to convince her to drop the suit based on a letter sent from her husband detailing unconfirmed but salacious details of Ellen and her male secretary that would ruin her reputation and the reputation of the Welland family. Newland and Ellen grow closer, but all the while they know that society will never allow them to be together.
Scorsese's film is lavish affair that is meticulous in its period detail as set forth by the writings of Edith Wharton.  The costumes, wilderness of the northern parts of Manhattan all evoke the era in minute detail that hint at the level of detail that Scorsese would return to for Gangs of New York with a grittier tone.
The film is only hampered by its recurrent narration and a final act that is rushed and overly saccharine in summing up the ultimate resolution of the saga of Ellen and Newland. The acting, however, is superb for the most part, with Pfeiffer perhaps besting Day-Lewis whose stiffness and less-than-perfect New York accent make him seem just slightly awkward and not quite the charmer he was aiming for.
The Video
This new digital transfer of The Age of Innocence was done in 4K resolution on a wet-gate Oxberry film scanner from the 35mm original camera negative at Cineric in New York City. The color grading, approved by director Martin Scorsese and editor Thelma Schoonmaker, was done at Soy Color Works in Culver City, California. The transfer arrives on Blu-ray from the Criterion Collection in its original 2.40:1 framing in an AVC 1080p encodement. What we get from the opening credit sequence and opening act is one of brilliant, vivid primary colors that aren't over-saturated, but have good 'pop' especially the blues, reds, and yellows. The shadow detail is good as well with only the slightest hint of some crush that can be seen in lapels on men's suits, but it's hardly enough to take away from the excellent detail and filmic appearance and natural grain structure.
The Audio
The Age of Innocence originally had a stereo soundtrack, but this director-approved 5.1 soundtrack comes to Blu-ray remastered by Sony from the original six-track printmaster at Chace Audio in Burbank, California. There isn't much going on in the surround channels, but the classically influenced score has lots of headroom and the dialogue is clear.
The Supplements
Criterion fills this disc with a collection of new interviews and an excellent essay. All of them are worth taking a look at and reading through.
Booklet with an in-depth essay by film critic Geoffrey O'Brien, production stills, credits, and information on the transfer.
Martin Scorsese (1.78:1; 1080p/24; 00:23:24) – In this conversation, recorded for the Criterion Collection in New York in 2017, director Martin Scorsese talks with filmmaker, writer, and festival director Kent Jones about his approach to the adaption of Edith Wharton's novel.
Jay Cocks (1.78:1; 1080p/24; 00:23:01) – The Age of Innocence co-screenwriter Jay Cocks discusses Edith Wharton's novel and his collaboration with director Martin Scorsese on the adaptation, in this interview conducted for the Criterion Collection in New York in 2017.
Dante Ferretti (1.78:1; 1080p/24; 00:19:04) – In this program, recorded for the Criterion Collection in Rome in 2017, Antonio Monda, artistic director of the Rome Film Festival, talks with production designer Dante Ferretti about Ferretti's collaboration with director Martin Scorsese on the film and his approach to set design.
Gabriella Pescucci (1.78:1; 1080p/24; 00:18:54) – Costume designer Gabriella Pescucci won an Academy Awrd for her work on this film. In this program, recorded for the Criterion Collection in Rome in 2017, she talks with Antonio Monda, artistic director of the Rome Film Festival, about designing the film's period costumes.
Innocence and Experience (1.33:1; upscaled 1080i/60; 00:25:27) – This short documentary on the making of the film was produced and directed by Laura Davis and originally aired on HBO in 1993. The program features director Martin Scorsese; producer Barbara De Fina; co-screenwriter Jay Cocks; cinematographer Michael Ballhaus; editor Thelma Schoonmaker; and actors Daniel Day-Lewis, Michelle Pfeiffer, and Winona Ryder.
Trailer (2.40:1; 1080p/24; 00:02:23)
The Final Assessment
A pleasing period costume romance, this gorgeous new restoration overseen by Martin Scorsese and reissued on Blu-ray by the Criterion Collection is a must-own release for cinephiles and a true reference quality edition.
The Age of Innocence is out on Blu-ray and DVD from the Criterion Collection March 13, 2018
[amazon_auto_links id="109396"]
PG (for thematic elements and some mild language)
Rating Certificate
Columbia Pictures Corporation | Cappa Production | The Criterion Collection
Studios & Distributors
Edith Wharton (novel) | Jay Cocks (screenplay) | Martin Scorsese (screenplay)
Writer
$39.95
MSRP
English DTS-HD MA 5.1
Audio
Summary
In 19th century New York City, a successful attorney (Daniel Day Lewis) falls in love with the cousin (Michelle Pfeiffer) of his fiancee (Winona Ryder) when she returns to the city fleeing a marriage to a European aristocrat. The two rekindle a relationship from their childhood, but they run into the oppressive mores of the elite New York society and find themselves trapped in their circumstances, unable to fulfill their love. A lavish and meticulously crafted film with a top notch cast, The Age of Innocence is a pleasing period romance that is hampered by its clumsy narration and rushed final act. The Criterion Collection give the film a beautiful new 4K restoration on Blu-ray overseen by director martin Scorsese.
What people say... Login to rate
Be the first to leave a review.
Show more