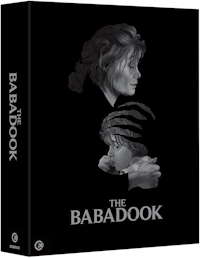 The Babadook is the breakout cult horror film from 2014 out of Australia written and directed by Jennifer Kent. The horror piece blends the haunted house horror with a domestic drama seamlessly.
Essie Davis ('Miss Fisher's Murder Mysteries') plays a grief-stricken widow and single mother Amelia still coping with the tragic death of her husband who died while driving her to hospital to give birth to her son Samuel (Noah Wiseman). Now, with Noah's behavior growing increasingly erratic as his seventh birthday approaches, convinced that a monster is coming to attack him and his mother, Amelia is struggling to cope. Her sister Claire (Hayley McElhinney), once a strong support for her, no longer wants to associate with her fearing Samuel will hurt her daughter.
Things begin to elevate when Samuel discovers a children's book named The Babadook about a strange monster and is convinced the monster in the book is real and inside the house. Even stranger, Amelia begins to sense a presence in the house and hear strange noises, but is she just suffering a breakdown from the stress or is something truly going on?
Kent does an excellent job of building up this story from a domestic drama about a struggling, working single mom and slowly working it into an atmospheric haunted house thriller until finally the film reaches its frenzied climax. Essie Davis is brilliant in her role and absolutely convincing as a woman undone, which adds to the uncertainty of whether we are witnessing something truly paranormal or just a real human horror. The only flaw is the somewhat weak resolution to the conflict that was so built up, but given the relatively small budget for what comes across as a way bigger film, the flaws are minor.

The Video
This 4K Ultra HD release of The Babadook was mastered by the original post-production facility and presented in HDR10. The original source is 2K as it was shot on the Arri Alexa at 2K so there isn't much that can be added as far as resolution. This upscale to 4K doesn't bring much more in detail, but it looks good, there is some low level 'noise' that comes across like film grain more than anything else, making the image look textured. The image does have excellent depth of field, and the HDR10 add just slight 'pop' to the highlights, but you won't see too much more brightness in this presentation given this was mastered with a maximum luminance of 1000 nits and has a MaxFALL of only 180 nits.
The Audio
The Babadook on 4K Ultra HD Blu-ray has a lossless English DTS-HD Master Audio 5.1 audio mix as the only option. An Atmos or DTS:X mix would have great, but this 5.1 mix is not a disappointment. It's appropriately atmospheric for a horror film and places plenty of foley effects throughout the soundfield. There are mysterious sounds in the house you'll hear move around from way off from one side and around behind you. The startling knocking has an authoritative low end and dialogue is clear.
The Supplements
The Babadook limited edition is packed with special features and an audio commentary. You'll get a lot of interviews with the cast and crew plus a lot of collectible swag.
Limited Edition Contents:

Rigid slipcase with new artwork by Peter Diamond
150-page hardback book with new essays by Daniel Bird, Anna Bogutskaya, Kat Ellinger, Rich Johnson, Jon Towlson, and Laura Venning; archive interview with Jennifer Kent; production stills and original concept artwork.
6 collectors' art cards

Audio Commentary by Alexandra Heller-Nicholas and Josh Nelson
This is My House!: Interview with Essie Davis (1080p; 00:26:07)
The Sister: Interview with Hayley McElhinney (1080p; 00:10:16)
Don't Let it In: Interview with Kristina Ceyton (1080p; 00:11:54)
Conjuring Nightmares: Interview with Kristian Moliere (1080p; 00:26:13)
Shaping Darkness: Interview with Simon Njoo (1080p; 00:14:25)
If It's in a Name or in a Look: Interview with Alex Holmes (1080p; 00:10:53)
The Bookmaker: Interview with Alexander Juhasz (1080p; 00:19:53)
Ba-Ba-Ba…Dook!: Interview with Jed Kurzel (1080p; 00:14:55)
Monster: Short Film (1080p; 00:10:46)
Archival Bonus Features:

They Call Him Mister Babadook: The Making Of (1080p; 00:34:59)
There's No Place Like Home: Creating the House (1080p; 00:10:03)
Special Effects: The Stabbing Scene (1080p; 00:02:52)
The Stunts (1080p; 00:03:39)
Illustrating Evil: Creating the Book (1080p; 00:06:40)
The Final Assessment
Put this horror film on your list of films to see. It's a memorable and unique take on the haunted house and domestic horror genre. The Second Sight 4K also looks solid and is packed with extras.
The Babadook is out on 4K Ultra HD in a Limited Edition Dual Format in the UK on 28 June 2021 from Second Sight Films
---
Rating Certificate: UK: 15
Studios & Distributors: Screen Australia (presents) | Causeway Films (presents) | The South Australian Film Corporation (in association with) | Smoking Gun Productions (in association with) | Entertainment One (in association with) | Second Sight Films
Director: Jennifer Kent
Written By: Jennifer Kent
Run Time: 94 Mins.
Street Date: 28 June 2021
Aspect Ratio: 2.35:1
Video Format: HEVC 2160p (4K UHD)
HDR Format: HDR10
Primary Audio: English DTS-HD MA 5.1
Subtitles: English SDH