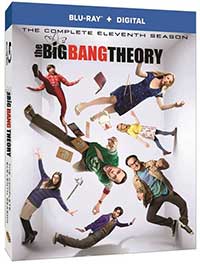 The Big Bang Theory Season 11 is the penultimate season of this long-running hit sitcom. The series has come a long way from its early years and evolved from being a show about a group of lonely geeks teaching at university to a more conventional romantic sitcom with the characters maturing and settling into marriages, having kids, and career changes.
Season 10's cliffhanger saw Sheldon (Jim Parsons) about to propose to his girlfriend Amy (Mayim Bialik) and sure enough Season 11 picks up right from him kneeling in front of Amy's door issuing his marriage proposal. In classic sitcom fashion – and this is not likely much of a spoiler – much of the season concerns itself with Amy and Sheldon planning their wedding, which caps off the season. But the season also focuses on married couple Howard (Simon Helberg) and Bernadette (Melissa Rauch) dealing with the responsibilities of raising their baby and Leonard (Johnny Galecki) and Penny (Kaley Cuoco) beginning to feel inadequate compared to their other friends who seem to be growing so much more than they are – except Raj (Kunal Nayyar), who remains single and lonely.
The Big Bang Theory Season 11 goes back to the well of pop culture references and geek culture for the occasional laugh, but the series has moved so far from where it was when it began and has used so many of its tropes so many times that, for fans, maybe what continues to make it funny at this point is not so much innate hilarity, but, rather, a sense of familiarity.  It will no doubt go down as one of the greatest and most beloved sitcoms – 12 seasons can't be argued with – but, there is also a love/hate relationship with this show. That said, after so many years, perhaps the time has come for them to hang it up, maybe even a few years too late.
The Video
The Big Bang Theory Season 11's HD source arrives in an AVC 1080p encodement framed at its original 1.78:1. As always the series looks bright and colorful, has natural flesh tones, and primary colors that 'pop' nicely. There's little video noise and no posterization or color banding to speak of.
The Audio
The Big Bang Theory Season 11 arrives on Blu-ray with its usual English DTS-HD Master Audio 5.1 audio mix and Portuguese and Spanish Dolby Digital 2.0 dubs. The 5.1 mix is an average sitcom mix that is front-heavy with very little atmospherics in the surround channels, very little low end or dynamic range, but clear and full dialogue.
The Supplements
There's a reasonable collection of special features that includes interviews with the cast, writers, and producers. The strongest feature is the Comic-Con panel – if you're a fan, don't miss it.
Digital HD
The Big Bang Theory: 2017 Comic-Con Panel (1.78:1; 1080i/60; 00:33:31) – The cast and writers gather together and answer questions for the fans at the 2017 San Diego Comic-Con.
The Maturation Imperative (1.78:1; 1080p/24; 00:11:05) – Show creator Chuck Lorre, executive producers Steven Molaro and Steve Holland along with the cast discuss highlight from season eleven as well as one of the show's most memorable season finales, Sheldon and Amy's wedding.
A BBT History of Time (1.78:1; 1080p/24; 00:05:05) – The show pays tribute to one of The Big Bang Theory's most prominent guest stars, Stephen Hawking.
The Blueprint of Comedy (1.78:1; 1080p/24; 00:05:43) – Find out what goes into making a scene ready for air as show creator Chuck Lorre, executive producers Steven Molaro and Steve Holland and the cast examine a specific scene from an episode, revealing the method behind the hilarious madness.
Gag Reel (1.78:1; 1080p/24; 00:07:01)
The Final Assessment
The Big Bang Theory Season 11 is a pleasant watch. It's not the strongest season of this series, but it has enough funny moments and it looks great on Blu-ray, as always.
The Big Bang Theory: Season 11 is out on Blu-ray + Digital September 11, 2018 from Warner Bros.
[amazon_link asins='B0776K6V1V' template='ProductAd' store='theaterbyte-20′ marketplace='US' link_id='0c290bab-b5d8-11e8-ad9e-7326ee0b8cc6′]
Chuck Lorre Productions | Warner Bros. Television | Warner Home Video
Studios & Distributors
Creators: Chuck Lorre | Bill Prady
Writer
$49.99
MSRP
11 Sept. 2018
Release Date
English DTS-HD MA 5.1
Audio
: English SDH | French | Spanish (Castilian & Latino) | Portuguese | Danish | Finnish | Swedish
Subtitles
Spanish (Castilian) DD 2.0 | Portuguese DD 2.0
Secondary Audio
Summary
The penultimate season of The Big Bang Theory gives fans the ultimate gift with a sitcom wedding of two favorite characters.The Blu-ray set looks great and has a strong set of special features.
What people say... Login to rate
Be the first to leave a review.
Show more