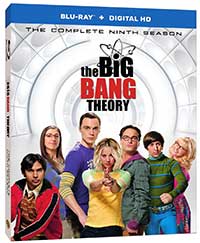 Nine seasons in, much of the humor in The Big Bang Theory is pretty settled and if you haven't seen the series by now, you've probably been living under a rock. You either love the show or you hate it. I came to the series during its fifth season and was hooked instantly. There have been some minor cast shakeups since then, such as Mayim Bialik joining as Amy Farrah Fowler, Sheldon Cooper's (Jim Parsons) equally eccentric girlfriend. She has been a very welcome and much-needed addition. Now in season 9, the writers finally brought the on-again-off-again relationship between nerdy scientist Leonard Hofstadter and his hot waitress/actress neighbor Penny (Kaley Cuoco) to its logical sitcom conclusion, and that is by having the couple elope in Las Vegas. The season also finds Sheldon and Amy working through some relationship problems in their typically enigmatic way. Amy breaks up with Sheldon and he doesn't take it well when she starts dating again. At this point, The Big Bang Theory is like a pair of well-worn slippers, the characters and jokes are all familiar and comfortable, but we still like having them around.
The Video
The Big Bang Theory is shot in HD on the Sony F55 and arrives on Blu-ray in an AVC 1080p encodement from Warner Bros. Home Entertainment. While sitcoms don't really offer much a visual palette or visual effects that really make them standout in HD, The Big Bang Theory is a colorful show and this transfer looks well enough with natural and vibrant colors, a clean image and sharp details. It looks far better than the broadcast and streaming versions of the series for sure, shedding all the macroblocking and posterization issues, so if you love this series, this is the superior way to watch it.
The Audio
There's never been much to The Big Bang Theory's sound mix and Season 9's DTS-HD Master Audio 5.1 track is no exception. The cut sequences are the only scenes that expand the soundstage with much action in the surround channels and a bit of low-end. Apart from that, theirs is extremely low-level atmospherics in the surround channels and they really only come a live a bit with the audience laughter. The dialogue is clear, but mainly in the center channel and some stereo effects can be heard, but mostly when there is some music and other sounds.
The Supplements
Digital HD UltraViolet
Get 3 new commercial-free Season 10 episodes via Amazon or VUDU
#JustAskBBT — The cast of The Big Bang Theory answers fan questions from Twitter (1.78:1; 1080p/24):

Who Will Get the Couch
If I Had to Go to Mars

The Big Bang Theory: 2015 Comic-Con Panel (1.78:1; 1080i/60; 00:26:04) – Kunal Nayyay moderates the writers and producers of The Big Bang Theory in a panel that gives you the inside story on how your favorite episodes and moments came to be.
Love is Rocket Science (1.78:1; 1080p/24; 00:11:31) – How do you define love? The cast of The Big Bang Theory answers this and many more questions about tectonic relationship shifts that happened in Season 9.
The Big 200 (1.78:1; 1080p/24; 00:05:37) – Walk the red carpet with the cast of The Big Bang Theory as they celebrate their entrance into that most exalted and exclusive club of television shows that have reached two hundred episodes!
The Big Bang Theory Gives Back (1.78:!; 1080p/24; 00:05:12) – The Cast and producers of The Big Bang Theory, led by creator Chuck Lorre, welcome the first BBT scholars onto their set to celebrate the new scholarship they created at UCLA.
Gag Reel (1.78:1; 1080p/24; 00:08:48)
The Final Assessment
In season 9 The Big Bang Theory celebrated their 200th episode joining the ranks of such classic sitcom fare as Friends, Seinfeld, and Cheers. Who woulda thunk it? The series is still funny even despite its pop-culture familiarity.
The Big Bang Theory: The Complete Ninth Season (TheaterByte Blu-ray Review)
Warner Bros.
Studios & Distributors
$49.99
MSRP
English DTS-HD MA 5.1
Audio
English SDH | French | Portuguese | Spanish (Castilian) | Spanish (Latino) | Danish | Finnish | Norwegian | Swedish
Subtitles
Portuguese DD 2.0 | Spanish (Castilian) DD 2.0 Stereo | Spanish DD 2.0 Stereo (Latino)
Secondary Audio
Summary
Despite its familiarity and now long run, The Big Bang Theory can still conjure up a good laugh in its solid ninth season.
What people say... Login to rate
Be the first to leave a review.
Show more