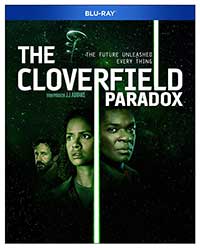 The Cloverfield Paradox was dropped by surprise on Netflix immediately after the 2018 Super Bowl. Another entry in The Cloverfield franchise and coming after the claustrophobic and highly regarded 10 Cloverfield Lane, the film took a different tack. Set mainly in space, the story follows a group of scientists on an international space station orbiting the planet on the brink of global war. The scientists are working on a new technology to bring low-cost energy to the world to end the world's energy crisis, but over the course of their work they run into a dark reality, a strange woman who warns them about their work, and dangerous alien creatures.
The film has come under a lot of criticism for being completely out of character for the franchise, hard to follow and extremely derivative, pulling from multiple sources like Aliens and Star Trek. The fact is, if one goes into The Cloverfield Paradox without a preconception of what Cloverfield is or should be, it's actually a reasonably enjoyable sci-fi movie.
The production is top notch, with superb visual effects, the sort of claustrophobic horror that Dan Trachtenberg mastered in 10 Cloverfield Lane, and excellent performances from its superb cast, albeit with a somewhat middling and at times laughable screenplay that evokes some B-Grade cult horror.
All of that said, director Julius Onah (The Girl is in Trouble) pulls these elements together relatively well for this side trip in the Cloverfield canon, and considering the uphill battle  this film had to garner praise – no prior promotion, two solid films before it, distributed on Netflix which seems to come with a built-in "ready to hate" reflex for many – it is more than worthy of watching for sci-fi fans.
The Video
On Netflix The Cloverfield Paradox streams in an available 4K Ultra HD with Dolby Vision, but the home video release is limited to Blu-ray in an AVC 1080p encodement framed at the same 2.39:1. While the picture doesn't 'pop' quite as much as the 4K HDR stream, this is still a reference quality Blu-ray that looks worthy of a cinematic quality release. We get excellent detail and color reproduction, inky blacks, strong contrasts with nuanced shadows.
The Audio
The Cloverfield Paradox on Blu-ray gets the same fantastic English Dolby Atmos mix available with the Netflix stream. This mix is atmospheric, filled with lots of sounds from all over. We get right from the opening scenes voices front, center and overhead, bleeps and blips at the sides, and big low-end. This is a reference quality track.
The Supplements
We have about thirty-minutes of special features included on disc, including an over fourteen-minute-long making of and a featurette on the cast. Nothing else, such as digital copy or DVD, is included.
Things Are Not as They Appear: The Making of The Cloverfield Paradox (1.78:1; 1080p/24; 00:14:23)
Shepard Team: The Cast (1.78:1; 1080p/24; 00:14:48)
The Final Assessment
For those without Netflix and who want to own this surprise release Cloverfield film, The Cloverfield Paradox on Blu-ray is a winner all around. While it may not be the strongest of the films in the series, it is an enjoyable diversion that has a vastly different tone from the other films. The picture and audio are both superb as well.
The Cloverfield Paradox is out on Blu-ray February 5, 2019 from Paramount
---
Bad Robot | Paramount Pictures | Paramount Home Media Distribution
Studios & Distributors
Oren Uziel (screenplay & story by) | Doug Jung (story by)
Writer
$22.98
MSRP
English Dolby Atmos (compatible with Dolby TrueHD 7.1)
Audio
English | English SDH | Danish | German | Spanish (Castilian & Latino) | French | Italian | Japanese |Dutch | Norwegian | Portuguese (Brasil) | Finnish | Swedish | Thai
Subtitles
English Audio Description | German DD 5.1 | Spanish (Castilian & Latino) DD 5.1 | French DD 5.1 | Italian DD 5.1 | Japanese DD 5.1 | Polish DD 5.1 | Portuguese (Brasil) DD 5.1
Secondary Audio
Summary
A group of scientists on a space station orbiting the planet on the brink of war try to develop a technology that will solve the world's energy crisis, but they run into a dark alternate reality and a strange woman who warns them about their work. A surprise release on Netflix immediately following the 2018 Super Bowl, this third entry in the Cloverfield franchise is the weakest, but still an enjoyable, high production value sci-fi film. The Blu-ray has superb picture -- although it doesn't look quite as good as the avail;able 4K UHD with Dolby Vision Netflix stream -- and fantastic Dolby Atmos sound.
What people say... Login to rate
Be the first to leave a review.
Show more