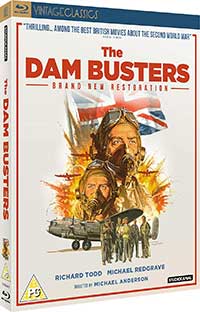 The Dam Busters is a 1955 film based on the true story of the RAF 617 Squadron and their top-secret mission to blow up the Möhne dams in Germany's Ruhr Valley. Films about World War II make up one of the most popular genres on the big screen. That time in our history continues to fascinate filmmakers to this day, from the Tarantino remake of Inglorious Basterds to HBO network's mini-series The Pacific, the popularity of the stories covering that violent and bloody war never seem to wane. The quantity of these films seemed to have peeked in the 1940's and 50's and that is exactly when this British film was made.
The mission required the invention of an entirely new weapon, the famous "bouncing bomb," that needed to be dropped over water from 60 ft. It was invented by Barnes Wallis, who fought a lot of resistance to his plan within the military and British government before getting the final go ahead to develop the weapon.
A new multinational allied squadron of highly skilled pilots had to be assembled to carry out the mission, to be led by the young Wing Commander Guy Gibson.
The film follows the invention and testing of the weapon by Barnes Wallis, played charmingly by Michael Redgrave, the training of 617 Squadron and lastly the dangerous mission into the Ruhr Valley. Richard Todd portrays Wing Commander Guy Gibson and imparts much courage, authority, and maturity to the character.
As an aside to those who have never seen The Dam Busters before, this film was produced long before the age of political correctness and as such there is a black dog with a particularly offensive name. The name is left very much intact, so be warned.
The Video
The Dam Busters hits Blu-ray from StudioCanal in a fantastic new 4K restoration coinciding with its 75th anniversary. The previous Anniversary Edition of this film on Blu-ray in the UK from Optimum Home Entertainment, which is now Studiocanal UK, looked wonderful. This has been improved upon in a slightly crisper visual presentation with wonderfully stark black and white contrast providing inky blacks and strong whites that don't bleach out, and nuanced greys in between. The picture is also clean without being smoothed over, so there's a good layer of grain structure still present.
The Audio
The original monaural track is presented in DTS-HD Master Audio 2.0 as well as a German dub in the same configuration. The audio is the weakest link, but still surprisingly good for a soundtrack of its age, with clear dialogue and good midrange.
The Supplements
This new edition of this film adds to the previously available 617 Squadron Remembers documentary with a making of, restoration featurette, and archival features that will be of interest to film and history buffs.
617 Squadron Remembers (1.78:1; SD/PAL; 00:56:29)
The Making of The Dam Busters Documentary (1.78:1; PAL; 00:39:31)
Restoration Featurette (PAL; 00:04:48)
Royal Premiere (1955) (1.37:1; PAL; 00:03:19)
Reunion (1.37:1; PAL; 00:02:59)
Footage of the Bomb Tests (1.33:1; PAL; 00:06:36)
Sir Barnes Wallis (1972) Documentary (1.37:1; PAL; 00:28:46)
Behind the Scenes Stills Gallery (1080p/24)
The Final Assessment
This is one of the classic war films and it documents a true event in the history of the Second World War. It has been brought to life again in a brilliant new 4K restoration that miraculously improves upon the already strong remaster that was previously available and adds more historically relevant and interesting special features.
This 75th anniversary 4K restoration of The Dam Busters is available on Blu-ray and a special Blu-ray Collector's Edition in the UK on 4 June 2018 from StudioCanal
Associated British Picture Corporation (ABPC) | StudioCanal
Studios & Distributors
Paul Brickhill (book) | Guy Gibson (based on Wing Comdr. Gibson's own account in
Writer
English DTS-HD 2.0 Mono
Audio
English SDH | German
Subtitles
German DTS-HD MA 2.0 Mono
Secondary Audio
Summary
The thrilling true story of how the English destroyed German damns during World War II with an innovative new "bouncing" bomb invented just for this mission. This 1955 film, here released in a brand new 4K restoration on Blu-ray from StudioCanal for its 75th anniversary, is a classic wartime film and a classic of the cinema in general.
What people say... Login to rate
Be the first to leave a review.
Show more