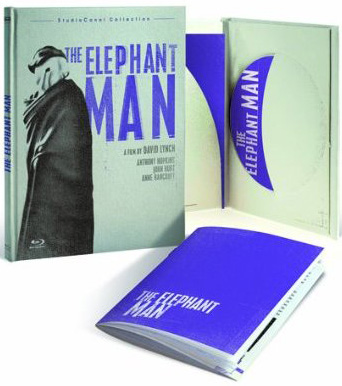 Video Codec: AVC/MPEG-4

Resolution: 1080p/24
Audio Codec: English DTS-HD Master Audio 5.1 (48kHz/16-bit); French, German, Italian, Spanish DTS-HD Master Audio 2.0

Subtitles: English, Danish, Finnish, French, German, Italian, Japanese, Norwegian, Spanish,  Swedish

Region: AB

Discs: 1
Classification: 18

Studio: Optimum Home Entertainment
Blu-ray Disc Release Date: September 28, 2009
List Price: £24.99

---


Overall

The Film

Video Quality

Audio Quality

Supplemental Materials


---
The Film

With his roots in art, writer/director made his leap into filmmaking with the surreal horror film Eraserhead. In 1980, however, after penning a screenplay entitled Bonnie Rocket, about an alien scientist, which no studio would back, he was approached with the script for The Elephant Man, which, again, could find no backing until Mel Brooks stepped in. Enthralled with Lynch after a viewing of Eraserhead, Brooks signed on to produce the film with Lynch at the helm.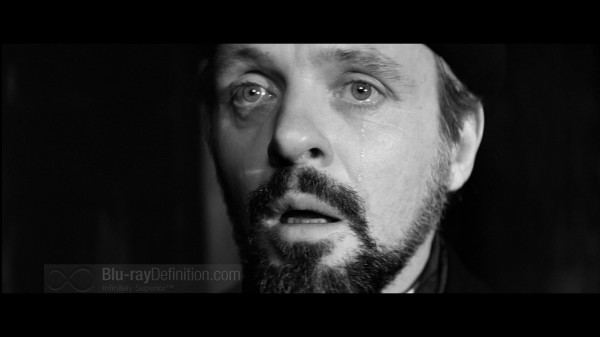 Lynch's Elephant Man tells of the historical figure, John Merrick (real name, Joseph Merrick, played here by John Hurt) whose physical deformities included an enlarged skull, twisted spine, and an unusable right arm. These grotesque deformities found Merrick on display in a circus freak show and mistreated. Doctor Frederick Treves (Anthony Hopkins) and the actress Mrs. Kendall (Anne Bancroft) would eventually champion Merrick, and the once maligned figure would become lionized in Victorian society.
Lynch's film is a dreamlike commentary on Victorian society, filmed in beautiful black and white. He uses imagery, often surreal, to draw viewers into the quiet suffering of John Merrick and to reveal that, though Merrick may be hideous on the outside, he as gentle as a lamb on the inside.
The Elephant Man was nominated for eight Academy Awards in 1981, including Best Picture, when it lost to Robert Redford's Ordinary People.
Video Quality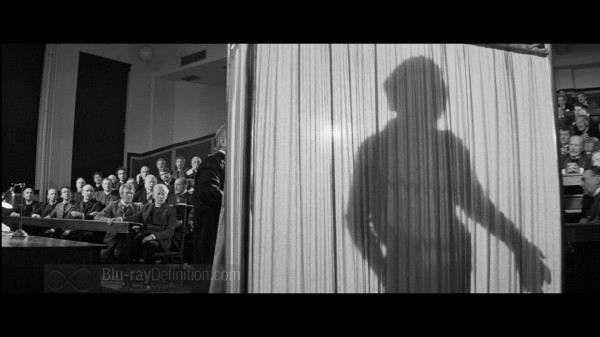 The Elephant Man's AVC/MPEG-4 1080p encoding of its original 2.35:1 black and white source looks absolutely stunning. Detail is crisp, blacks are inky, whites are clean with no noticeable clipping, and there is only some slight black crush on occasion, but not enough to damage overall detail. Film grain is nicely preserved; the source looks clean, with just some occasional scratches and specks creeping in.
Audio Quality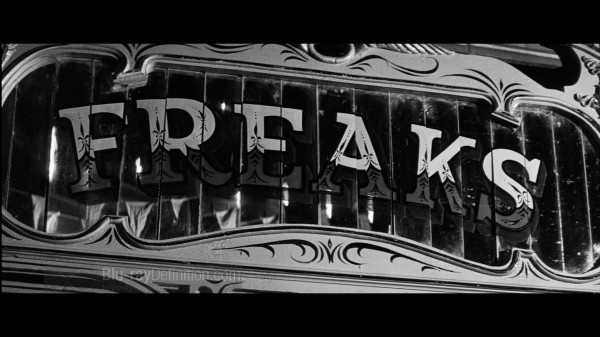 The English DTS-HD Master Audio 5.1(48kHz/16-bit) soundtrack provides a nice, open soundstage, with good depth and spread across the channels. The surround channels are populated with a good amount of low-level ambient effects that help open up the sound a tad. There isn't much low frequency extension to speak of, but the soundtrack does the job quite well for David Lynch's moody film.
Supplemental Materials

Booklet: Analysis by Tom Huddleston, writer and critic for Time Out London magazine
Joseph Merrick: The Real Elephant Man Featurette (1.78:1; SD; 0:19.53) — The differences been historical facts and the artistic license in Lynch's film are examined in this featurette.
'The Air is on Fire': Interview with David Lynch (1.78:1; SD; 0:14.50)
John Hurt Interview (1.78:1; SD; 0:20.14) — The actor discusses playing the historical figure in the film.
David Lynch Interview (1.78:1; SD; 0:24.49)
Interview with David Lynch by Mike Figgis (1.78:1; SD; 0:19.50)
BD-Live
The Definitive Word
Overall: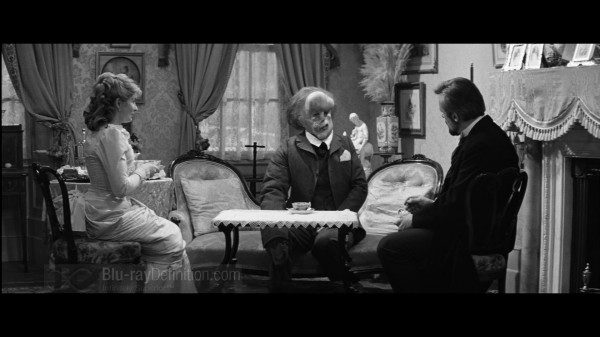 Lynch's Elephant Man is intense, artistic, and dreamlike. The visual presentation and emotional impact are immeasurable. Rather than simply present a typical Victorian docudrama, Lynch presents a piece of moving art that challenges people's morals. The Blu-ray presentation from Optimum Releasing is equally engaging, with a pristine image and subtle, but enjoyable soundtrack.