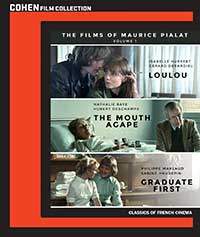 Cohen Film Collection packs together for the first time in HD three films from French auteur Maurice Pialat that all have one common thread – they examine the darker sides of human interaction. The Mouth Agape, Graduate First, and Loulou are slice-of-life dramas that find their various characters dealing with life's inevitable pitfalls mostly by trying to escape from them.
In 1974's family drama The Mouth Agape, Monique (Monique Melinand) is a woman dying from cancer. While lying in her bed at home in the apartment above the store her family owns and suffering that unknowable pain of terminal cancer, her philandering husband Roger (Hubert Deschamps) tries to carry on with his life, groping his female customers and making passes at women at the local bar, her son Phillipe (Phillipe Léotard) practically tries to will his mothers death come to its conclusion, and also carries on cheating on his wife, and her daughter-in-law, Phillipe's wife Nathalie (Nathalie Baye), sees her future self herself in Monique. The three of them can't come to grips with the tragedy staring them in the face, or even discuss it amongst themselves.
1978's Graduate First is less morbid, but no less powerful in its dramatization of the daily lives of a group of teenagers in a small town in Northern France waiting to sit their baccalaureate. While the teens just see the bacca as one-way ticket to the burdensome world of adulthood, unemployment, and being trapped in their lifeless town, their parents see it as their children's way out.
1980's Cannes Film Festival nominee Loulou stars Isabelle Hupert an unhappily married Nelly who escapes from her abusive husband when she meets the scruffy and poor Loulou (Gérard Depardieu) in a bar one night. The two start up a steamy affair of sex in hotel rooms and are soon living together, but when Nelly ends up pregnant by Loulou, he refuses to stop his life of womanizing and petty crimes, causing her to take the decision to end her pregnancy.
The overriding feeling in these realist films from Pialat is that life is rough and that people will abandon you when you are at your most vulnerable. Pialat himself has said that he made films about abandonment, and we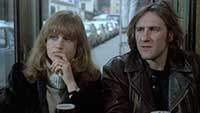 see it here in The Mouth Agape in the way Monique on her deathbed is basically abandoned by her family who are too caught up in their own nihilism to see her out of the world without at least suspending the behaviors that upset her while she was healthy. We see it in Graduate First in the teens disillusionment with society at large that has promised them success if they try hard, but offered them a future of unemployment and a dismal economy, thereby leaving them with abandoned hopes. We see it in Loulou where first Nelly is abandoned in love by her brutish husband, then abandoned again by her swaggering lover Loulou.
Pialat doesn't laden his films with too many ornaments; the lingering distance shot near the end of The Mouth Agape as the family is driving away from Monique's funeral is one of the more artistic and symbolic images in his films, almost like her spirit hovering over her loved ones for one last look. But, he allows us to get into the lives of the characters, like a documentarian, in a way, and that is the strength and power of these 1970s gems.
The Video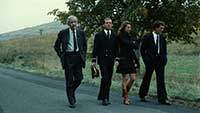 Cohen Film Collection delivers these '70s films (1974-1980) from Maurice Pialat in fairly stunning new restorations on Blu-ray in 1.66:1-framed AVC 1080p encodements. Given their ages, they truly do look breathtaking, and it is surprising that the oldest of the set, The Mouth Agape (1974), looks consistently the best. It has a nice, textured layer of grain and nuanced shadows, although there is a slightly cool hue to the palette, perhaps done on purpose to emphasize the melancholic imagery and mood of the film. Graduate First comes in as second best, with a cleaner look and thinner layer of grain most of the time, and also a slightly more natural color palette, but it does look a bit coarser in the darker scenes and almost suffers a little crush. Finally, there is Loulou, which looks the softest and coarsest of the three, but is by no means a bad-looking film. It is still quite pleasingly organic and natural. There are a fair amount of moments where even Loulou looks breathtakingly clear, such as when Nelly and Loulou are first together in bed, naked in their hotel room. Isabelle Hupert's face, pretty, almost virginal, looks breathtakingly lifelike.
The Audio
Surprisingly, this set, which has beautiful restorations of each of the three films, has been supplied with only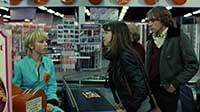 Dolby Digital soundtracks. Granted, the audio is only monaural, and the 2.0 Dolby tracks sound good, but one can't help but think that maybe lossless tracks would have given them just a bit more sparkle? That said, the oldest track is the best sounding one. The Mouth Agape is full and clean. Graduate First definitely has some mild sibilant distortions that are audible in the dialogue, and Loulou is second best, clear, but with the occasional clipping and just a little claustrophobic.
The Supplements
Cohen Film Collection packs this three-disc set with over four hours of bonus materials, including a 2007 feature-length documentary Maurice Pialat: Love Exists, and a number of new interviews with the actors. A thin booklet is also included that has chapter listings, credits, and some production stills.
Loulou Extras:

Interview with Dominique Maillet (1.78:1; 1080p/24; 00:20:01)
Interview with Isabelle Hupert (1.78:1; 1080p/24; 00:14:18)
Interview with Patrick Grandperret (1.78:1; 1080p/24; 00:28:07)
Interview with Pierre-William Glenn (1.78:1; 1080p/24; 00:32:02)
Interview with Yann Dedet (1.78:1; 1080p/24; 00:13:03)
Original Trailer (1.66:1; 1080p/24; 00:02:06)
2016 Re-release Trailer (1.66:1; 1080p/24; 00:01:32)

Blu-ray Bonus Disc:

Feature Length Documentary – Maurice Pialat: Love Exists (1080p/24; 01:25:10)
Graduate First Extras:

Interview with Patrick Grandperret (1.78:1; 1080p/24; 00:11:04)
Original Trailer (1.66:1; 1080p/24; 00:02:29)
2016 Re-release Trailer (1.66:1; 1080p/24; 00:01:11)

The Mouth Agape Extras

Deleted Scenes (1.66:1; 1080p/24; 00:11:26)
Interview with Micheline Pialat (1.78:1; 1080p/24; 00:11:56)
Interview with Nathalie Baye (1.78:1; 1080p/24; 00:08:06)
Original Trailer (1.66:1; 1080p/24; 00:02:56)
2016 Re-release Trailer (1.66:1; 1080p/24; 00:01:26)
The Final Assessment
Life, love, and the almost unbearable conflicts of life unfold in The Mouth Agape, Graduate First, and Loulou, part of Cohen Film Collection's extraordinarily done The Maurice Pialat Film Collection Volume 1 on Blu-ray. The films have all been beautifully restored with organic-looking HD transfers and the discs come packed with interviews, trailers, and a feature-length documentary. Highly recommended.
The Films of Maurice Pialat: Volume 1 (TheaterByte Blu-ray Review)
Cohen Media Group
Studios & Distributors
Maurice Pialat (The Mouth Agape, Graduate First), Arlette Langmann (scenario, adaptation) Maurice Pialat (adaptation) (Loulou)
Writer
$49.98
MSRP
French Dolby Digital 2.0 Mono (English Subs.)
Audio
Summary
The Maurice Pialat Film Collection Volume 1 offers a wonderful look at the French auteur's powerful 1970s work with beautifully restored transfers culminating with the 1980 Cannes nominee Loulou.
What people say... Login to rate
Be the first to leave a review.
Show more