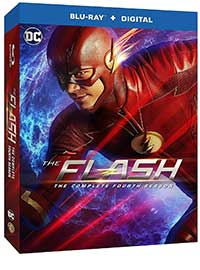 After a very dark third season of The Flash, DC goes for just a little more levity in season four by bringing in the character Ralph Dibny or the Elongated Man (Hartley Sawyer), a cynical, wisecracking private dick who joins the team as a first-time superhero who has to reluctantly learn the ropes from Barry Allen (Grant Gustin. But it's not all fun and jokes as The Flash and his allies find themselves up against the genius villain DeVoe/The Thinker (Neil Sandilands) who has been killing metahumans and absorbing their powers to build a superweapon that will "enlighten" the people of Central City – and he is always several steps ahead of Team Flash.
The Flash is always an enjoyable series. Not as dark as Gotham, not as madcap as DC's Legends of Tomorrow, and not as off the rails as Arrow which lost momentum forever ago. In this season, The Fastest Man Alive, is back on track saving his city from supervillains. The season features a number of tasty villains outside of DeVoe including Amunet, played by sci-fi fan favorite Katee Sackhoff (Battlestar Galactica). The story arc in the fourth season may conclude predictably, but it is still one that pulls the viewer in with suspense, and as always, The series is full-up with allusions to the comics for fans.
The Video
The Flash comes in an AVC 1080p encodement framed at 1.78:1. There's good detail and contrast, but there is some noise and a few spots with some color banding.
The Audio
The series has an English DTS-HD Master Audio 5.1 audio mix on Blu-ray. Like most of the DC series from Warner, the series has never had an exceptional audio mix, but its serviceable. It favors atmospherics over discrete effects, the dialogue is clean and low end, while not staggering, is weighty enough to bring heft to the action sequences.
The Supplements
There are a collection of strong featurettes and documentaries featuring interviews with the cast and crew. The best special feature is Flash Time on Amunet Black with Katee, Eric, and Sterling, which is a combination video of an audio commentary interspersed with interview segments.
Digital HD
All 4 DC Super Hero Crossover Episodes with Arrow, DC's Legends of Tomorrow, and Supergirl are included in this collection
Deleted Scenes
Gag Reel (1.78:1; 1080p/24; 00:08:58)
The Elongated Man (1.78:1; 1080p/24; 00:10:09) – The ductile detective makes his way into the Flash universe. Ralph Dibny, the Elongated Man, adds just the right touch of levity to Team Flash.
Flash Time on Amunet Black with Katee, Eric, and Sterling (1.78:1; 1080p/24; 00:13:23) — Join actress Katee Sackhoff and Flash storytellers Eric Wallace and Sterling Gates as they take part in an entertaining visual commentary discussing he villainous Amunet Black.
The Best of DC TV's Comic-Con Panels San Diego 2017 (1.78:1; 1080i/60; 00:58:27) – The best moments of your favorite DC Comics TV show panels from the 2017 San Diego Comic-Con are combined.
The Fastest Mind Alive: The Thinker (1.78:1; 1080p/24; 00:15:43) – Clifford DeVoe wants to "enlighten" mankind, but will his extreme intelligence prove too fast for The Flash: A revelation of what makes the most dangerous mind tick, is in this documentary.
The Final Assessment
A solid season of The Flash that maintains the watchability of the show and likability of the characters, introducing more characters from the comics and a convincing supervillain. This Blu-ray set is a satisfying release with a strong collection of special features.
The Flash: The Complete Fourth Season is available on Blu-ray August 28, 2018 from Warner Bros.
[amazon_link asins='B0776K4VGV' template='ProductAd' store='theaterbyte-20′ marketplace='US' link_id='3e56c40b-b125-11e8-a6c8-6dc1e6adc921′]
Berlanti Productions | DC Entertainment | Warner Bros. Television | Warner Home Video
Studios & Distributors
Creators: Greg Berlanti | Geoff Johns | Andrew Kreisberg
Writer
$39.99
MSRP
English DTS-HD MA 5.1
Audio
English SDH | French | Spanish (Castilian & Latino) | Dutch | Korean | Portuguese | Danish | Finnish | Norwegian | Swedish
Subtitles
Spanish (Castilian) DD 2.0 Stereo | Portuguese DD 2.0 Stereo
Secondary Audio
What people say... Login to rate
Be the first to leave a review.
Show more