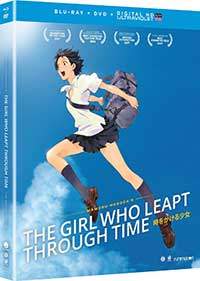 The Girl Who Leapt Through Time is the 2006 film from director Hosoda Mamoru, director of such anime fare as Summer Wars and Wolf Children. The science fiction/romance/adventure film from a screenplay by Okudera Satoko, was produced by anime studio Madhouse.
The story follows the high school girl Kanno Makato who explains that she is just an average girl in just about every way – she doesn't get great grades, but generally gets acceptable grades; she usually avoids awkward social situations, and she's not really a klutz, but not exceptionally skilled physically either. On this particular morning, however, everything goes wrong for Makato. She wakes up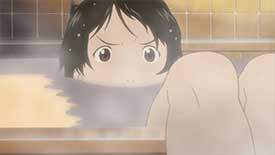 late, she misses her breakfast, she fails a pop quiz, she starts a fire in home economics class, and finally, she has what she knows is going to be a fatal accident when the brakes on her bike fail and she goes flying right in front of an oncoming train. But she doesn't die. Instead, Makato discovers she has the ability to leap back in time.
Now Makato believes she has the best ability in the world, and she sets about correcting all the bad things from her worst day ever, like retaking her pop quiz, avoiding the fire she avoided, and trying to set things right with her two best friends Tsuda Kousuke and Mamiya Chiaki, two guys she likes to play baseball with afterschool everyday, never knowing that one them has harbored a crush on her all long – until now. What Makato hadn't realized is that all of her leaping backwards to fix things has messed things up for other people, and even for herself.
Like much of Hosoda's other works, The Girl Who Leapt Through Time has the distinct feel of a Miyazaki film in both look and feel. That's not to say it is a blatant rip-off, not all. It's more like Miyazaki has had an obvious influence on Hosoda in the best way possible. The film is an entity unto itself and has a lot to teach young adults about personal responsibility and the inability to change what amounts to the inevitabilities of life, even as it wraps itself in the trappings of a sci-fi adventure and teen romance. Makato is a very likable character as are her two close friends, but one flaw is that the peripheral characters could be fleshed out a bit more. The animation, on the other hand, is without reproach, even if it does owe much to Studio Ghibli and the works of Miyazaki. When Makato starts to dart up her school's stairway and leap, it's breathtaking to watch. Another beautiful moment is when Makato tries to run to catch Chiaki and the "camera" struggles to keep her in frame, it's pure genius.
The Video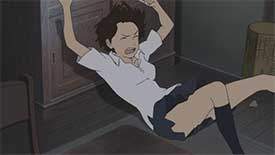 The digital animation for The Girl Who Leapt Through Time looks beautiful. The 1.78:1 AVC 1080p encodement from FUNimation is one of the best I've seen from the distributor, having no real flaws. The colors are beautiful, richly saturated without looking unnaturally so, the detail is crisp, and no anomalies like jagged edges, motion artifacts or color banding creep in.
The Audio
The Girl Who Leapt Through Time comes with the original Japanese soundtrack and an English dub both in Dolby TrueHD 5.1. While the overall mastering level is just a tad low, the sound is still beautiful and dynamic range is not hampered much. The mix is subtle, but not a boring one. This is the sort of mix that has lots of little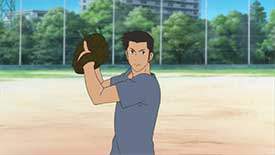 things going on, little atmospheric effects that bring you into the story like the buzzing of cicadas, the hush of breezes, and other sounds that fill the channels. Reverberation sounds warm with short reflections, rather than very cavernous, but this works well and gives the mix a very warm and intimate feel. The dialogue is clear and full. Stick with the excellent Japanese voice cast. This is the sort of film, like a Studio Ghibli, that, when it comes to the English dub, cries out for an A-list cast, but it doesn't have one, unfortunately.
The Supplements
W get a good mix of commentaries and storyboard plus commentary options with this release. Plus FUNimation includes the DVD and UltraViolet as well.
DVD of Feature
Digital HD UltraViolet
Feature Commentary
Feature with Storyboard
Feature with Storyboard Commentary
S. Trailer (1.78:1; 1080p/24; 00:02:02)
FUNimation Trailers
The Final Assessment
The Girl Who Leapt Through Time is one of those anime feature films that should be in every anime fan's collection. Anyone who enjoys Studio Ghibli films is sure to enjoy this film as well and it has a good message for young adults to boot. The FUNimation release on Blu-ray looks and sounds gorgeous. The film is available in this stand-alone version and as part of the Hosoda Collection.
The Girl Who Leapt Through Time (TheaterByte Blu-ray Review)
Madhouse/FUNimation Entertainment
Studios & Distributors
$34.98
MSRP
Japanese Dolby TrueHD 5.1 | English Dolby TrueHD 5.1
Audio
Summary
Hosoda Mamoru has crafted a timeless classic in this beautifully animated story about a high school girl who tries to fix her mistakes by leaping backwards in time. The Girl Who Leapt Through Time should be in the collection of all anime and animation fans.
What people say... Login to rate
Be the first to leave a review.
Show more