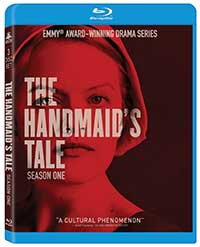 Canadian author Margaret Atwood released her dystopian sci-fi novel The Handmaid's Tale in 1985 at the height of the televangelist movement in the United States with preachers like Jerry Falwell and Billy Graham dominating the airwaves and having a growing influence on politics. Atwood has said the response to the release was different in different places. In Britain, to paraphrase Ms. Atwood, they said she really had a vivid imagination, while in her native Canada, the response was a nervous questioning of whether the events of her novel could happen there. In the United States, meanwhile, the response, Atwood said, was "how long do we have?" Perhaps Ms. Atwood was being hyperbolic, but the question is certainly not out-of-place with the ever-tightening grip of the Evangelic right on American politics, a radical fundamentalist who in his home state passed anti-gay legislation and laws forcing women who had miscarriages to pay for funerals for the fetuses as Vice President, as well as a President who stands accused by nearly twenty women for sexual assault and has endorsed an accused pedophile for the United States senate while not losing his solid base of Evangelical Christian supporters.
The Handmaid's Tale, a Hulu Originals from MGM Television, is a dystopian nightmare set in a shattered, near future where the United States, fractured by fear, a collapsed government, terrorist attacks, and a high rate of infertility amongst the populace due to sexually transmitted diseases and environmental pollution, has given rise to a radical Christian Fundamentalist totalitarian government called Gilead that seizes power after a civil war, stripping women of their rights and imposing their twisted views of religiosity on the public. The fertile women are forced to become "Handmaids" taken from a twisted interpretation of scripture, and in misogynistic, newly structured hierarchy the women are assigned into separate groups and classes, identified by the colors they are allowed to wear: the red-clad Handmaids are assigned to elite couples and forced to bear the children of powerful men. Women of other social status also assigned different duties and divided into a range of categories: Marthas (the housekeepers and cooks) wear green, and Wives (who are expected to run their households) wear blue. Aunts (train and oversee the Handmaids), wear khaki. Then there are the Jezebels who can't not assimilate. They are sent to the seedy, "red light" district and made to work as sex workers servicing the elite men. It is ostensibly illegal yet tolerated.
The story is told from the perspective of one such Handmaid, June Osborne (Elisabeth Moss), renamed to Offred. She was captured by Hunters while trying to escape Gilead to Canada with her husband and daughter. June is assigned to the house of Commander Fred Waterford (Joseph Fiennes), a high-ranking Gilead official who becomes her master and basically her monthly rapist, and his wife Serena Joy Waterford (Yvonne Strahovski) a cold and cruel woman obsessed with having Offred bear their child.
It is the little moments of resistance in The Handmaid's Tale that are often the most powerful, so times when the women steal private conversations or when you realize that they have their underground resistance that June will eventually find herself wrapped up in even in the face of such overwhelming oppression. The underlying story has been updated to reflect the new millennium, but it is no less potent than it was in 1985, perhaps even more so – and even more relevant than ever.
There was a 1990 film adaptation staring Natasha Richardson, Faye Dunaway, and Aidan Quinn that was much less successful, critically, commercially, and artistically than this riveting series. Season two should hopefully be even better.
The Video
The Handmaid's Tale was original shot in 4K resolution on the Alexa Mini with Canon lenses and a Sony a7S (PL mount). Originally framed at 2.00:1, it comes to Blu-ray re-framed at 1.78:1 in an AVC 1080p encodement that looks incredibly film-like and detailed, with rich colors, and nuanced shadows. There ae some spots where shadows on the red cloaks crush completely, but that looks to be an artistic choice rather than a problem.
The Audio
There's a competent English DTS-HD Master Audio 5.1 mix provided for The Handmaid's Tale: Season One on Blu-ray. It offers up some low-level atmospherics in the surround channels, clear dialogue and balanced mixture of the score into soundtrack.
The Supplements
The special features are disappointingly slim on this release of The Handmaid's Tale, coming with only two brief making of featurettes that include interviews with Elisabeth Moss and Margaret Atwood.
Script to Screen: The Salvaging (1.78:1; 1080p/24; 00:08:01)
Hope in Gilead (1.78:1; 1080p/24; 00:05:32)
The Final Assessment
A gripping, powerful, and often shocking drama that will keep you glued to the screen with its powerful performances, perfect writing, and topical storyline. The Blu-ray from Fox is well done, but disappointingly barebones.
The Handmaid's Tale: Season One is available now on Blu-ray & DVD from Fox
[amazon_auto_links id="109456"]
MGM Television | Hulu | Fox Home Entertainment
Studios & Distributors
Bruce Miller (Creator) | Margaret Atwood (Based on the novel by)
Writer
English DTS-HD MA 5.1
Audio
English SDH | Spanish | French | German
Subtitles
German DTS 5.1
Secondary Audio
Summary
In a powerful and painfully relevant adaptation of Margaret Atwood's 1985 novel, a woman (Elisabeth Moss) is forced to live as a surrogate mother and concubine for an elite couple in a dystopian future where infertility caused by sexually transmitted diseases and pollution has affected the entire world at an alarming rate and a radical, misogynistic, fundamentalist christian government has taken over the United States after a civil war. The series is vastly superior to the 1990 film adaptation and looks excellent in this Blu-ray release despite its reframing to 1.78.
What people say... Login to rate
Be the first to leave a review.
Show more