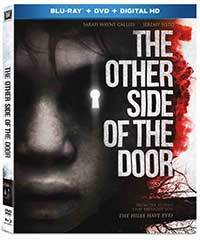 Horror director Johannes Roberts (Storage 24) helms this haunted house thriller starring The Walking Dead's Sarah Wayne Callies. The Other Side of the Door follows an American married couple living in India who loses their son in a tragic accident. When the woman, Maria (Callies) can't let go and learns of a ritual that can allow her to talk to her son again, she goes to a Hindu temple and performs the ritual, but she unleashes deadly paranormal forces that begin to haunt her family.
There's nothing very original in The Other Side of the Door, neither in the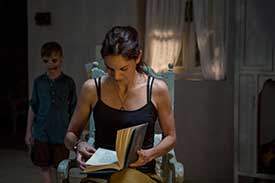 screenplay co-written by Callies with Ernest Riera nor in the imagery. The film comes across like any number of so-called "J-Horror" films combined with such past haunted house genres as Amityville Horror or The Others, only in the "exotic" setting of India. Of course, none of the lead characters are actually Indian they are all White. Only the scary people are Indian, save for the "ghost."
It's not that this film doesn't have its scares. There's plenty of atmosphere, shadows, jump scares, the unexpected noise from behind you. Most of the moments are predictable, however, such as when our hapless couple's Indian housekeeper, the very woman who warned Maria about what she unleashed and what she needed to do to try to free herself of the troubles, herself falls into the dangerous trap. It's both idiotic and telegraphed that it's going to happen.
The Video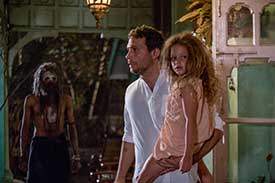 The Other Side of the Door was shot on the Red Epic and arrives on Blu-ray in an AVC 1080p transfer from Fox Home Entertainment. The movie looks about as good as it gets for a horror film, with deep inky blacks, good nuance in the shadows, although there is some crush, and bright outdoor scenes with vibrant colors. We see lots of texture and background detail in the image with a clean, filmic appearance. No signs of color banding, posterization, or compression noise can be spotted.
The Audio
The Other Side of the Door has an excellent soundtrack, one really befitting a horror film. The English DTS-HD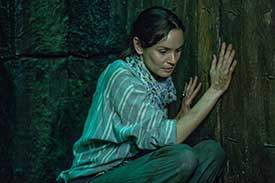 Master Audio 5.1 mix is full of atmospherics and solid sound effects that come from all around. But, it is not all right in your face and at the highest levels – it has a lot of dynamic range and subtlety, getting loud when it needs to and silent as whisper when it needs to. Moments like rainstorms may be typical, but when it's dark and there may or may not be something dead about to creep up behind you, the sound of that rain surrounding you is very chilling indeed.
The Supplements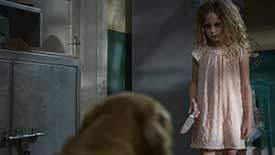 None of the on-disc extras supplied with this release are really worth watching. The deleted scenes don't bring much to the table and the one "behind the scenes" featurette is so brief it really just feels like a somewhat lengthy promo. The gallery of production stills and behind the scenes shots may be of interest to some.
iTunes Digital Copy & Digital HD Digital Copy
DVD
Deleted Scenes (2.35:1; 1080p/24; 00:07:41)
Behind the Door (1.78:1; 1080p/24; 00:01:55)
Gallery (1080p/24; 00:02:13)
Theatrical Trailer (2.35:1; 1080p/24; Dolby Digital 5.1; 00:02:25)
The Final Assessment
With a more original story The Other Side of the Door would be an even stronger film, because Johannes Roberts definitely shows a talent for directing atmospheric horror. That said, this film is just more of a lot of what we've already seen before.
The Other Side of the Door (TheaterByte Blu-ray Review)
R (for some bloody violence)
Rating Certificate
42, Fire Axe Pictures/20th Century Fox
Studios & Distributors
Johannes Roberts, Ernest Riera
Writer
$29.99
MSRP
English DTS-HD MA 5.1 | English Descriptive Audio 5.1 | French DD 5.1 | Spanish DD 5.1
Audio
English SDH | French | Spanish
Subtitles
Summary
In The Other Side of the Door an American couple in India are haunted by malevolent beings after the woman performs a Hindu ritual to speak to their dead son again. The film is atmospheric and has some scares, but anyone familiar with the haunted house and J-Horror genres will be very familiar with everything they're seeing.
What people say... Login to rate
Be the first to leave a review.
Show more