If you are now or have ever been a fan of Charles M. Shulz's Peanuts comic strip, then The Peanuts Movie will seem instantly familiar to you thanks to director Steve Martino and writers Bryan and Craig Shulz and Cornelius Uliano. For me personally, I found the movie very reminiscent, if not identical, to my fifth grade school play of You're a Good Man, Charlie Brown! minus the musical numbers. Charlie Brown (Noah Schnapp) has anxiety over the new little Red-Haired Girl (Francesca Capaldi) that has caught his eye. In his year-long quest to get her attention, our perpetually accident prone but lovable Chuck manages to end up embarrassing himself on several occasions. Meanwhile everyone's favorite beagle Snoopy is off on his fantastical journey's of imagination with Woodstock along for the ride as he battles his nemesis The Red Baron atop his cherry red doghouse and tries to win the attention of a French poodle named Fifi (vocalized in squeaks and purrs by Kristin Chenoweth).
The plot of The Peanuts Movie flows like a carefree series of vignettes culled from the Peanuts comic strips and various holiday specials. It is this looseness that keeps it breezy and easily digestible, however, given how well put together it actually is. Then there is the surprisingly well way Blue Sky Studios (the studio responsible for Rio and Ice Age) brought Peanuts into the world of 3DCG. It is a subtle compromise that works. The characters look rounded and have a sheen to them and Snoopy looks a little fuzzy, but certain effects like eyes or motion effects are still rendered in that 2D, hand drawn style made famous by the Shulz strips and the TV specials.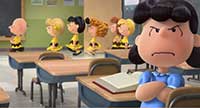 It must also be mentioned that the vocal cast made up of young actors sound almost eerily identical to the characters from the old specials we all know and love. Whether it is due to the casting directors were hyper-vigilant about that, the kids are excellent impersonators or some level of manipulation was used in the digital audio realm would be wild speculation on my part.
In the end, one can hardly find much to complain about in this feel-good film that offers up the rich world of Charlie Brown and his friends in a new medium with careful attention paid to tradition. The whole family can enjoy this one.
The Video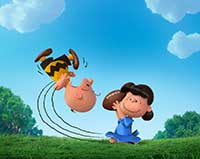 Peanuts really looks beautiful in this AVC 1080p Blu-ray release from Fox Home Entertainment. The digital animation is clear, crisp and colorful with no issues concerning noise or aliasing and detail is superb. One can spot the little strands of fur sticking up on Snoopy's head easily.
The Audio
The Peanuts Movie gets an excellent DTS-HD Master Audio 7.1 mix that is wonderfully balanced, as full clean dialogue, a clean natural high-end with a deep yet not boomy low-end. The surround and surround back channels are utilized to carry lots of atmospherics and solid sound effects. Music is nicely spread and dynamic through the soundstage.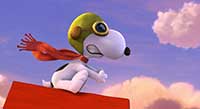 The Supplements
DVD
iTunes Digital HD Digital Copy & Digital HD UltraViolet
Snoopy Snippets (1.78:1; 1080p/24; 00:02:45) – Snoopy does his thing in these brief animated snippets.
You Never Grow Up Charlie Brown (1.78:1; 1080p/24; 00:30:17) – This 30-minute behind-the-scenes featurette explores the making of The Peanuts Movie with interviews from the crew.
Snoopy's Sibling Salute (1.78:1; 1080p/24; 00:01:55) – A special tribute to Snoopy's siblings.
Learn to Draw Snoopy with Steve Martino (1.78:1; 1080p/24; 00:04:13)
Learn to Draw Woodstock with Steve Martino (1.78:1; 1080p/24; 00:03:04)
Learn to Draw Charlie Brown with Steve Martino (1.78:1; 1080p/24; 00:04:02)
Get Down with Snoopy and Woodstock Music Video (1.78:1; 1080p/24; 00:02:17)
"Better When I'm Dancin'" Meghan Trainor Lyric Video (1.85:1; 1080p/24; 00:03:01)
"Better When I'm Dancin'" Meghan Trainor Music Video (1.78:1; 1080p/24; 00:03:08)
Behind the Scenes of "Better When I'm Dancin'" (1.78:1; 1080p/24; 00:02:53)
Snoopy's Playlist – Go to the musical pieces in the film
Gallery
Trailers:

Official Trailer 1
Official Trailer 2
Teaser Trailer 1
Teaser Trailer 2
Official Holiday Trailer
The Final Assessment
The beloved Peanuts comic strip gets new life breathed into it once again in The Peanuts Movie, which pays homage to the comic strip and the TV specials while bringing the characters into the updated world of 3DCG without turning its back on the traditions that people love about Peanuts. The movie looks and sounds great on Blu-ray.
The Peanuts Movie (TheaterByte Blu-ray Review)
Blue Sky Studios/Fox Home Entertainment
Studios & Distributors
Bryan Shulz, Craig Shulz, Cornelius Uliano
Writer
$39.99
MSRP
English DTS-HD MA 7.1
Audio
Summary
The Peanuts Movie preserves the traditions of the Shulz comic strip and TV specials while successfully transitioning the characters to the modern 3DCG animation world. Great fun for the whole family!
What people say... Login to rate
Be the first to leave a review.
Show more
A Limited Edition with Stuffed Snoopy Toy is also Available