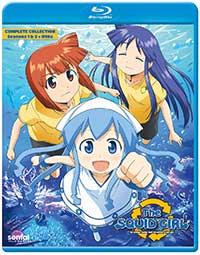 The Squid Girl is based on the Japanese manga series by Anbe Masahiro, which was serialized in Akita Shoten's Weekly Shōnen Champion between July 2007 and February 2016. The series is a slice-of-life comedy revolving around female protagonist Squid Girl, a girl from the ocean with squid-like characteristics who comes to the surface to invade and conquer humanity. Her nominal reasons for the invasion are humanity's disregard and disrespect for the sea. Her invasion really only gets as far as the beachfront restaurant Lemon Beach House, run by sisters Eiko and Chizuru who live above the restaurant with their younger brother Takeru.
When Squid Girl arrives at Lemon Bach House and declares her intentions for invasion, the plucky Eiko pays her no mind and instead pressed her into service in the restaurant to help serve the customers during their busiest time of day, and that is how Squid Girl ends up "invading" Lemon Beach House, and becoming basically a part of the community there. She eventual moves in with Eiko and Chizuru earning her keep as a waitress at Lemon Beach House, making friends with the sweet next-door neighbor Sakura Kiyomi and also trying to avoid her stalker Nagatsuki Sanae, who has a masochistic attraction to Squid Girl and enjoys getting beat up by her.
This oddball comedy is really quite sweet and easy to watch. Each episode is split into three parts and characters have a very moe design that makes them all highly appealing, and quite adorable really. The idea of a part squid girl climbing out of the sea to invade and control humanity sounds like it would read like something horrifying on paper, but the way it is handled in this 24-episode series (and three additional OVAs) is more cute than creepy. The hours fly by and there are plenty of moments of genuine comedy as well as heart, such as when Eiko and Squid Girl get into a fight and stop talking to each other, but then realize how much they really do care about each other when Squid Girl goes missing at a festival. It is always moments like that that help to define most slice-of-life series and this one has a ton of them.
The Video
The Squid Girl comes in an AVC 1080p encodement framed at 1.78:1. The picture is clean with good detail, brightness, and color reproduction.
The Audio
The collection has both the original Japanese-language mix and English dub in DTS-HD Master Audio 2.0 stereo. It would be nearly impossible to improve upon the excellent work the original voice actors did with this series, but the English cast do a surprisingly good job, especially Christine Marie Cabanos as Squid Girl. The English translation also helps out a lot capturing the eccentric squid-lish affectation in Squid Girl's speech rather well. As for the audio itself, the stereo mix is good, with a decent amount of stereo panning and dynamic range and excellent dialogue, but this being a slice of life comedy, there isn't that much activity or many sound effects to really set the speakers on fire.
The Supplements
The Squid Girl Complete Collection set may not be as packed at the Premium Edition, but the special features on disc are still really good especially compared to what we get for the usual Sentai Filmworks set. There are five "commentaries" with the voice actors in character in addition to shorts with mini Squid Girl, the usual clean openings and closings, and Japanese Promos. An extra Blu-ray is also included with the three OVA episodes.
Clean Opening and Closing Animations
Season 1 Japanese Promos
Season 2 Japanese Promos
Japanese Commentaries:

Season 1 Episode 1 Squid Girl Chat
Season 1 Episode 3 Squid Girl Chat
Season 1 Episode 5 Squid Girl & Eiko Chat — Commentary with Hisako Kanemato (Squid Girl) and Ayumi Fujimura (Eiko)
Season 1 Episode 8 Squid Girl & Eiko Chat — Commentary with Hisako Kanemato (Squid Girl) and Ayumi Fujimura (Eiko)
Season 1 Episode 12 Squid Girl Chat (1.78:1; 1090p/24; 00:03:30)

Mini Squid Girl Short Stories (1.78:1; 1080p/24; 00:09:27)
"I Th-INK That's English!?" Clean Version
OVAs 1-3
The Final Assessment
The Squid Girl is fun, cute, and easy to sit through. Both audio options are satisfying whether you like to watch with subs engaged or listen to dubs. Plus, this Complete Collection set comes with a surprising amount of on-disc special features making it easy to recommend this collection.
The Squid Girl Complete Collection is out now on Blu-ray from Sentai Filmworks
[amazon_auto_links id="107923"]
Sentai Filmworks
Distributor
Mizushima Tsutomu
Director
$99.98
MSRP
Japanese DTS-HD MA 2.0 Stereo
Audio
English DTS-HD MA 2.0 Stereo
Secondary Audio
Summary
A girl from the sea with squid-like features comes to the surface to invade and control humanity, but only gets as far as a beachfront restaurant in this fun, slice-of-life comedy series in a feature packed set on Blu-ray from Sentai Filmworks.
What people say... Login to rate
Be the first to leave a review.
Show more