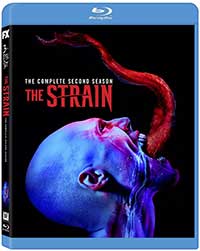 I somehow missed the first season of this horror/thriller from Guillermo del Toro and Chuck Hogan that runs on FX in the United States. I've been dropped into this series, having to pick it up from the second season, with no time in my schedule to go back and sit through Season One, and I have to say, I loved it anyway. I wouldn't have expected any less from Guillermo del Toro, the man responsible for Pan's Labyrinth, The Hobbit trilogy, Pacific Rim, and Hellboy. In this series, he and Chuck Hogan (13 Hours) take us on a gripping ride into a shadowy world of Nazi vampires, viral outbreaks, and nightmarish violence.
This season sees the viral outbreak that began in season one taking a further hold on New York City while the level of panic begins to rise leading to the appearance of a fascistic city council leader who takes the opportunity to put together what is quite possibly an unconstitutional force to clear out the infected and the "Strigoi." Meanwhile, doctors Ephraim Goodweather (Cory Stoll) and Nora Martinez (Mia Maestro), still on the run, desperately try to create a virus that will wipe out the monsters. While they are busy doing that, the impossibly ageless holocaust survivor and Strigoi hunter Abraham Setrakian (David Bradley) is seeking the ancient religious tome that hold the key to wiping out the Strigoi. But the "Master" has not been idle; he has created a new crop of creatures faster, stronger, more bloodthirsty that come after our band of resisters.
We get in this second season what I imagine are a lot of revelations and answers to questions that were posed in season one, but likewise, the season also brings some shocking moments. Without giving anything away, I was stunned, absolutely taken aback when the season came to a close. I am hooked and readily await the season 3 première.
The Video
It seems rather than progressing, the production on The Strain has gone backwards. Season One was shot in 4K on the Red Epic, but Season 2 was shot in 2K on the Arri Alexa. Both seasons used a 2K Digital Intermediate, however, but it still seems strange to go back to standard HD resolution when everything is moving toward 4K/UHD. In any case, the series looks excellent on this Blu-ray release in AVC 1080p. The colors, shadows, and textures are all superb. I spotted one scene where there was very strong color banding in the sky, but that went away and banding wasn't an issue from then on, which led me to think it may have been inherent to the source or cameras.
The Audio
The English DTS-HD Master Audio 5.1 soundtrack does not have very discrete sound effects in the surround channels, but it is atmospheric and dynamic with wide stereo imagery and the dialogue is full and clear. The low-end is deep, but not boomy.
The Supplements
Quite typically of Fox TV series releases on Blu-ray, we get no DVD or Digital Copy, just the on-disc extras, which are only okay. There's a grand total of 1 audio commentary for the episode "Night Train" with Carlton Cuse, various deleted scenes, and some odds and ends featurettes and a gag reel.
Audio Commentary on "Night Train" Featuring Carlton Cuse
Deleted Scenes
Meet the Crew of The Strain (1.78:1; 1080p/24; 00:07:31)
The White Room (1.78:1; 1080p/24; 00:03:54)
Gag Reel (1.78:1; 1080p/24; 00:02:19)
Beyond the Page (1.78:1; 1080p/24; 00:11:02)
Sentient Strigoi (1.78:1; 1080p/24; 00:07:08)
The Final Assessment
Gory, horrifying, and riveting, this is horror on television done the right way. The Strain is my new favorite horror show, and I haven't even seen the first season.
The Strain: The Complete Second Season (TheaterByte Blu-ray Review)
Fox Home Entertainment
Studios & Distributors
$49.99
MSRP
23 August 2016
Release Date
English DTS-HD MA 5.1
Audio
English SDH | Spanish | French | French (Québécois) | Dutch | German | Portuguese
Subtitles
French DTS 5.1 | German DTS 5.1
Secondary Audio
Summary
The Strain: The Complete Second Season offers up riveting, bone-chilling horror that is guaranteed to give the squeamish nightmares on a gorgeous Blu-ray set from Fox Home Entertainment.
What people say... Login to rate
Be the first to leave a review.
Show more