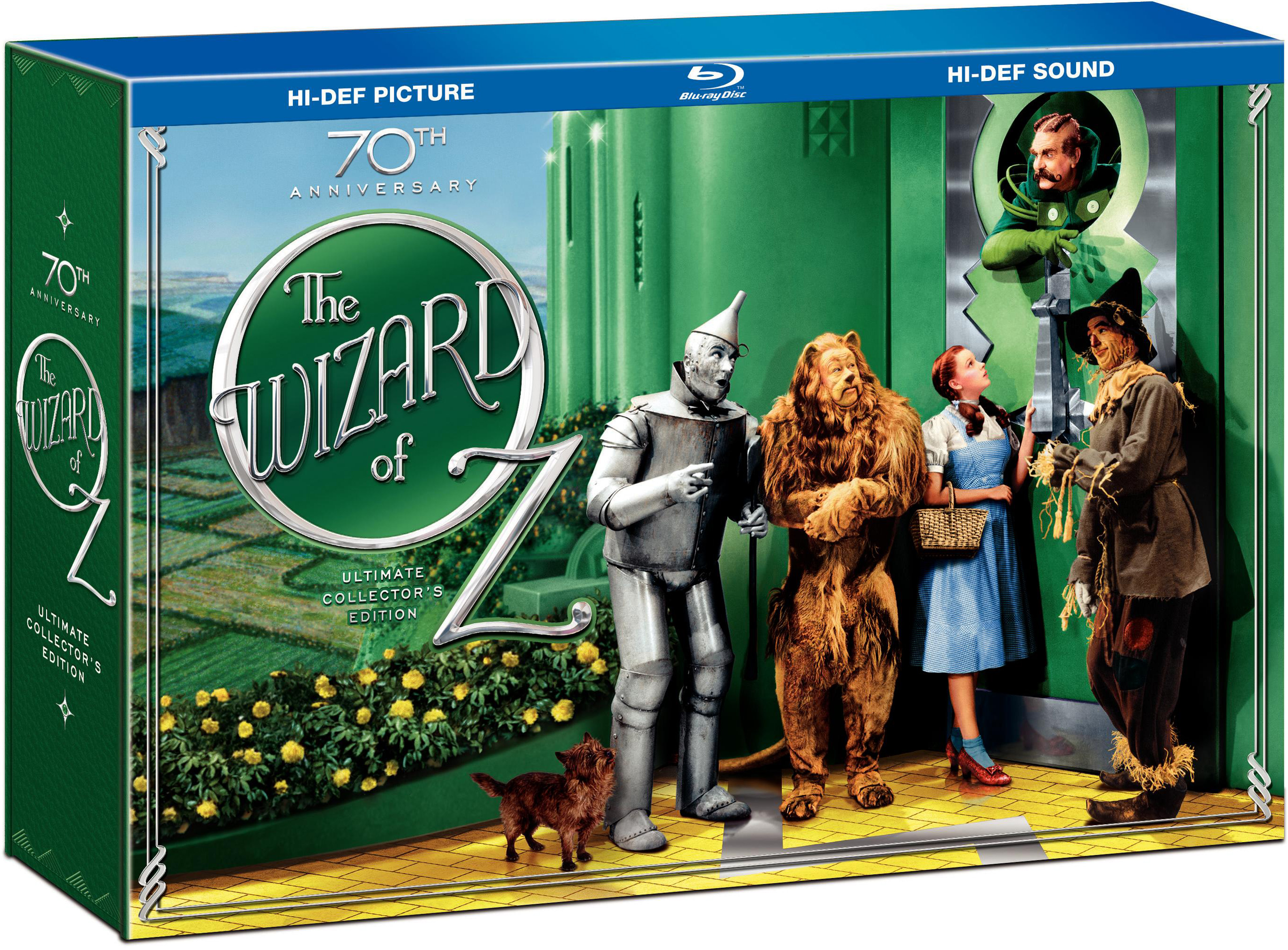 – –
More Screen Captures (26 Total)
The Film

It's been seventy years and MGM's telling of the L. Frank Baum children's tale still captivates us all. Judy Garland as Dorothy and her motley crew of companions, The Scarecrow seeking a brain (Ray Bolger), The Tin Man in need of a heart (Jack Haley) and the Cowardly Lion looking for courage (Bert Lahr) battling the wicked witch of the west in the candy-colored land known as Oz on their journey down the yellow brick road to go see the all-powerful wizard, (Frank Morgan) so that he may grant each of them what they seek has entered the world's collective consciousness. It has gone beyond become simply a movie and has become a cultural icon. It has given us phrases that have entered the common dialogue, like "we're not in Kansas anymore" and timeless songs, like "Somewhere Over the Rainbow." The film is as much a symbol of Americana as cowboys, baseball, and apple pie. When Bernie Taupin and Elton John set out to write their ode to Americana, what else would they seize upon but the iconographic imagery of The Wizard of Oz in their double-album, Goodbye Yellow Brick Road?
The stories of the tribulations on set and are now legendary. The switching between three directors, actors falling ill, the horrendous working conditions and the hazards of the still new special effects. It didn't seem to matter. At the end of if all, The Wizard of Oz all fell into place to become the beloved classic that it is today. Ironically, the film might not have seen the light had it not been for the tremendous success of the previous year's Snow White and the Seven Dwarfs from Walt Disney, a film many had doomed to failure before it hit the screens. The Wizard of Oz would not reap the same financial rewards of Snow White on its initial run, however. Due to its exorbitant budget and enormous competition from other films in the same year, such as Gone with the Wind and Wuthering Heights, Oz would have to wait. Its success would grow over the years as it was re-released to theatres by MGM and, eventually, with the advent of television, The Wizard of Oz would become an annual event and seen by more people around the world than any other film.
I remember watching The Wizard of Oz on television as a small boy in the 1970s. The first time I saw it, it must have been on a tiny black and white screen that couldn't have been any larger than ten-inches, but it didn't matter to me. In fact, it was some years later that I finally discovered that the film switched from black and white to color once Dorothy entered the world of Oz. But even in that tiny grey world, the power of Oz was enough to capture my imagination.
The film has influenced every fantasy film that has come after it. It is a classic that is loved by children and adults alike and everyone should have this film in their collection.
Video Quality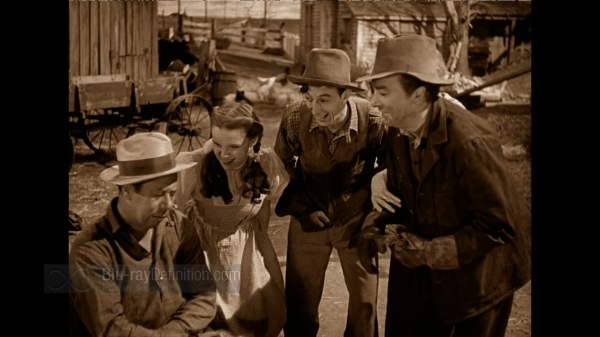 For this Blu-ray Disc release, Warner has gone back to the original three-strip Technicolor camera negatives and scanned each at 8k from which a 4k 1.37:1 master was produced. The resultant VC-1 encoding taken from that new restoration master looks absolutely beautiful. From the sepia toned world of Dorothy's Kansas to the candy-colored splash that is Oz, this seventy-year-old film has never looked better.
Of course, the transfer to high definition has the consequence of exposing some of the detail never before seen in the film, like faint seams in the set backdrops or some of the more obvious uses of older special effects. None of it takes away from the magic of this film, however. Kudos should go to Warner for keeping all the grain in there, which looks sharp and film-like. Textures look organic, colors are nicely saturated, from the yellow brick road to Dorothy's ruby slippers everything pops in Oz. Blacks are deep and stable. There are only some occasional moments of softness in the detail of background and distance shots, but, overall, this has to be the best looking catalogue release I have ever seen on Blu-ray Disc, especially given its age.
Audio Quality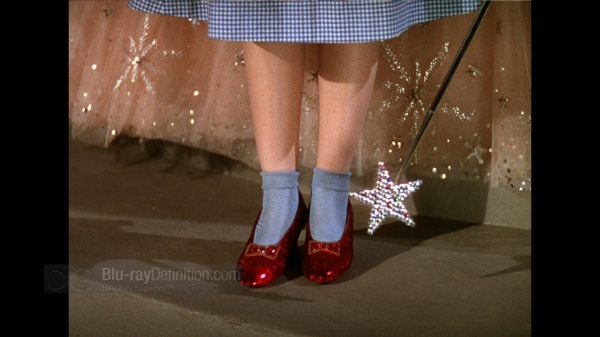 The newly remixed Dolby TrueHD 5.1 soundtrack sounds wonderfully clean and dynamic. Little details can be heard that perhaps were hidden before, the swoosh of the witch's broom or the sounds of birds chirping in the forest as Dorothy and her companions make their ways down the yellow brick road. There is even some occasional "oomph" in the subwoofer. For those looking for more authenticity, Warner has also provided the original monaural soundtrack in a Dolby Digital 1.0 configuration. There is more obvious crackle there, but it's difficult to deny the appeal of watching The Wizard of Oz while hearing it as it was originally intended.
Supplemental Materials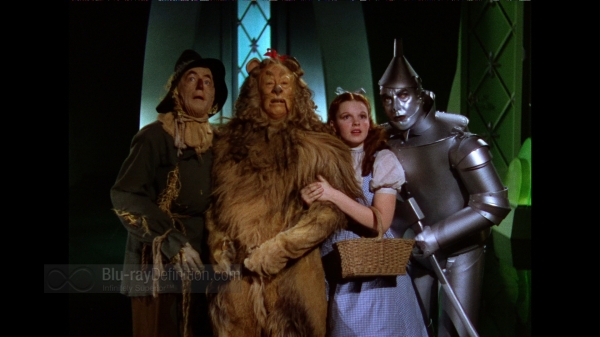 This is the collection to get for lovers of this classic film. It has been labeled "The Ultimate Collector's Edition" with good reason. It is packed to the brim with collectible items and special features.
Collectible items in this set:
Limited Edition 70th Anniversary Watch with Genuine Crystals
Original 1939 Campaign Book Reproduction
Behind the Curtain of Production 1060 52-page Commemorative Book
Replica of Original Movie Budget
Supplements available on this release are:
Disc 1:
Behind the Story:
Commentary by John Fricke with Barabar Freed-Saltzman, Margaret Hamilton, Ray Bolger, Jack Haley, John  Lahr, Jane Lahr, Hamilton Meserve, Dona Massin, William Tuttle, Buddy Ebsen, Mervyn LeRoy, and Jerry Maren
The Wonderful Wizard of Oz: The Making of a Movie Classic (1.33:1; 480i/60; 0:50.49)
The Art of Imagination: A Tribute to Oz (1.33:1; 480i/60; 0:29.45)
Because of the Wonderful Things it Does: The Legacy of Oz (1.33:1; 480i/60; 0:25.05) — The Wizard of Oz on television and its influence on pop culture and fantasy films.
Memories of Oz (1.33:1; 480i/60; 0:27.39) —  Actors
The Wonderful Wizard of Oz Storybook (1.33:1; 480i/60; 0:10.27) — A brief animated telling of the original L. Frank Baum storybook.
Prettier than Ever: The Restoration of Oz (1.33:1; 480i/60; 0:11.27)
We Haven't Really Met Properly… — Brief actor bios:

Frank Morgan as The Wizard of Oz/Professor Marvel (1.33:1; 480i/60; 0:02.39)
Ray Bolger as The Scarecrow/Hunk (1.33:1; 480i/60; 02.12)
Bert Lahr as The Cowardly Lion/Zeke (1.33:1; 480i/60; 0:02.13)
Jack Haley as The Tin Man/Hickory (1.33:1; 480i/60; 0:02.16)
Billie Burke as Glinda, The Good Witch of the North (1.33:1; 480i/60; 0:02.36)
Margaret Hamilton as The Wicked Witch of the West/Miss Gulch (1.33:1; 480i/60; 0:02.38)
Charlie Grapewin as Uncle Henry (1.33:1; 480i/60; 0:02.20)
Clara Blandick as Auntie Em (1.33:1; 480i/60; 0:02.22)
Terry as Toto (1.33:1; 480i/60; 0:02.06)
Audio:
Music and Effects Track
Original Mono Track
Jukebox — Session recordings from The Wizard of Oz:

Over the Rainbow
Munchkinland Medley Rehearsal Recordings
Munchkinland Medley Sequence Recordings
Munchkinland Medley Voice Tests
If I Only Had a Brain
We're Off to See the Wizard
If I Only Had a Heart
If I Only Has a Heart
If I Only Had the Nerve/Were Off to See the Wizard
Emerald City/The Merry Old land of Oz
If I Were King of the Forest
The Jitterbug
Over the Rainbow/Triumphal Return to Emerald City
Kansas Underscoring
Munchkinland Underscoring
The Road to Oz Underscoring
Emerald City Underscoring
The Witch's Castle Underscoring
Finale Underscoring
Leo is on the Air Radio Promo
Good News of 1939 Radio Show
12/25/1950 Lux Theater Broadcast
Sing-Along
Extras:
Another Romance of Celluloid: Electrical Power (1.33:1; 480i/60; 0:10.31)
Cavalcade of the Academy Awards Excerpt (1.33:1; 480i/60; 0:02.14)
Texas Contest Winners (1.33:1; 480i/60; 0:01.26)
Off to See the Wizard Excerpts (1.33:1; 480i/60; 0:03.57)
Stills Galleries
Trailers:
1939 What is Oz? Teaser
1940 Loews Cairo Theater Trailer
1949 Reissue Trailer
1949 Grownup Reissue Trailer
1970 Children's Matinee Reissue Trailer
1998 Warner Bros. Reissue Trailer
Additional Footage:
Harold Arlen's Home Movies (1.33:1; 480i/60; 0:04.40) — Oz composer's personal 16mm footage.
Outtakes and Deleted Scenes (1.33:1; 480i/60)
It's a Twister! It's a Twister! The Tornado Tests (1.33:1; 480i/60; 0:08.17)
Disc 2:
Behind the Story:
Victor Fleming: Master Craftsman (1.33:1; 480i/60; 0:34.08)
L. Frank Baum: The Man Behind the Curtain (1.33:1; 480i/60; 0:27.45)
Hollywood Celebrates Its Biggest Little Stars! (1.78:1; 480i/60; 0:10.23)
Extras:
The Dreamer of Oz (1.33:1; 480i/60; 1:32.48)
The Wonderful Wizard of Oz (1910) (1.33:1; 480i/60; 0:13.18)
His Majesty, The Scarecrow of Oz (1914) (1.33:1; 480i/60; 0:59.07)
The Magic Cloak of Oz (1914) (1.33:1; 480i/60; 0:43.15)
The Patchwork Girl of Oz (1914) (1.33:1; 480i/60; 0:50.43)
The Wizard of Oz (1923) (1.33:1; 480i/60; 1:11.53)
The Wizard of Oz (1933) (1.33:1; 480i/60; 0:08.13)
Disc 3 (DVD):
MGM: When the Lion Roars — A Six Hour Documentary on the heyday of MGM and its stars, narrated by Patrick Stewart.
Disc 4:
The Definitive Word
Overall: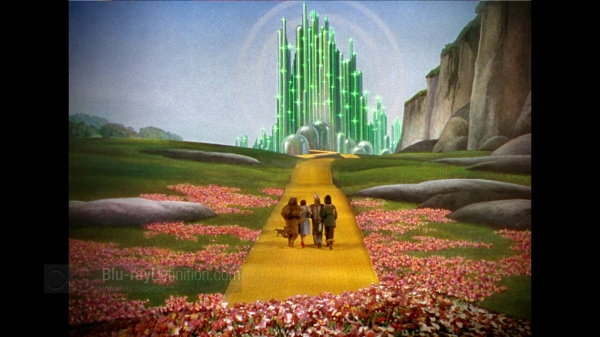 This reissue of The Wizard of Oz is truly magical and Warner has packed full of so many supplements and extras that it is worthy of a spot on anyone's collection. I highly recommend this to everyone.
[amazon-product]B002HMDOAW[/amazon-product]