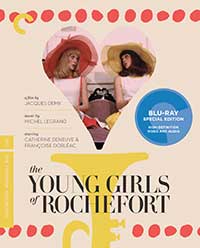 In 1967, Jacques Demy wrote and directed this follow-up to his successful musical The Umbrellas of Cherbourg. The Young Girls of Rochefort (Les Demoiselles de Rochefort) was decidedly less melodramatic, but no less romantic and colorful than its predecessor. It diverged from Cherbourg in that not every line was sung, and it was more of a straight tribute to the big Hollywood musicals of the 1940s.
Starring Catherine Deneuve, her sister Françoise Dorléac, Jacques Perrin, Michel Piccoli, Danielle Darrieux, George Chakiris, Grover Dale and Gene Kelly. With choreography by Norman Maen and a score by Michel Legrand to Demy's lyrics, the film takes place over one weekend in the sleepy seaside town of Rochefort. It centers on twin sisters Delphine (Deneuve) and Solange (Dorléac), who run a school teaching singing and dancing. The sisters long for romance and to escape to an exciting life in Paris away from Rochefort. With a fair coming into town, the two sisters just may get the opportunity, especially when they meet two worldly carnies, Étienne (George Chakiris) and Bill (Grover Dale). Meanwhile, their single mother, Yvonne (Danielle Darrieux), who runs a café in town, is pining for her once love Simon (Michel Piccoli), who she'd abandoned years ago because of his embarrassing last name "Dame." Little does she know that her lost love Simon has returned to Rochefort with his friend, a pianist named Andy Miller (Gene Kelly). Then there's Yvonne's regular customer, a sailor named Maxence (Jacques Perrin) who is also artistically inclined. He's longing for his "ideal love" and the painting of his imagined ideal woman he has drawn just happens to look like Delphine, even though he has never met her. Things are really about to heat up for every one over this exciting weekend in Rochefort.
While The Young Girls of Rochefort was successful for Demy inside of France it did not quite garner the same sort of immediate praise elsewhere as Umbrellas, and with good reason. It isn't as inventive and we don't ever care as much about the characters' lives as we did in the powerful star-crosses love story that was Umbrellas. That said, Young Girls is hardly a lost cause and certainly not a bad film by any means. The jazzy score from Michel Legrand is delightful and visually, the pastel-colored world that often plays on the "bleu-blanc-rouge" of the French flag is also downright gorgeous to look at. Gene Kelly puts on his dancin' shoes and puts in a wonderful performance well suited to his abilities, elevating the film to another level, and, of course, the lovely Catherine Deneuve is always a delight, as was her sister Françoise Dorléac. Tragically, The Young Girls of Rochefort was to be Dorléac's last film as she died in a car accident after completing filming and the world lost another delightful actress.
The Video
Like The Umbrellas of Cherbourg Demy's widow Agnès Varda undertook, oversaw, and approved the restoration of The Young Girls of Rochefort. Digimage Classics in Paris did the transfer in 2K from the original 35mm camera negatives on an ARRISCAN film scanner in 2011. Digimage also did the restoration work in Paris in 2011. That restoration appears here on Blu-ray in an AVC 1080p encodement from the Criterion Collection. It looks very good given its age, with relatively vibrant colors that do not look artificially saturated. The grain structure is just a little coarse, but very natural and there is enough detail and grain is certainly not overwhelming. I'd like for overall brightness to have been a little stronger, but it looked good.
The Audio
The included French DTS-HD Master Audio 5.1 soundtrack was remastered from a six-track sound mix created for the original 70mm release. Just like the 5.1 soundtrack for The Umbrellas of Cherbourg, this 5.1 "mix" is average at best and disappointing at the worst. While it may present an authentic experience to what one would have experienced if one saw a 70mm presentation of this film, that isn't saying much. There are hardly any surround atmospherics, little use of the LFE, and certainly no solid discrete effects in the surround channels. The mix does have a good amount of dynamic range and strong stereo effects, and the musicality is wonderful, I just don't think the extras channels bring that much to the table here. A stereo mix would do just as well, apart from the more pinpoint center dialogue and vocals that the multichannel excels at.
The Supplements
The Criterion Collection curates a strong collection of on-disc extras that includes archival interviews, TV show appearances, and a 1993 documentary. I recommend watching every minute to learn about Demy and this film.
Cinéma (1.33:1; 1080p/24; 00:11:02) – In this interview from a 1966 episode of the French television program Cinéma, director Jacques Demy and composer Michel Legrand talk about their process for creating the music for The Young Girls of Rochefort.
Jean-Peirre Bethomé and Jacqueline Moreau (1.78:1; 1080p/24; 00:26:01) – In this conversation, recorded by the Criterion Collection in 2013, film scholar Jean-Pierre Berthomé talks to costume designer Jacqueline Moreau, the wife of production designer Bernard Evein, about her and her husband's decades-long collaboration with the director Jacques Demy.
Behind the Screen (1.33:1; 1080p/24; 00:34:59) – In 1966, documentary filmmaker André Delvaux made a six-part series about the production of The Young Girls of Rochefort for the Belgian television program Behind the Screen. Presented here is episode two, which features Bernard Evein discussing his designs for the film.
The Young Girls Turn 25 (1.37:1; 1080p/24; 01:06:52) – For this 1993 documentary about the making of The Young Girls of Rochefort, filmmaker Agnès Varda, director Jacques Demy's widow, returned to the town of Rochefort for the film's twenty-fifth anniversary, In it, she interviews actors Catherine Deneuve, Jacques Perrin, and George Chakiris, as well s townspeople who were present during the filming.
Trailer (2.35:1; 1080p/24; 00:01:48)
The booklet is thin, featuring only a single essay from film critic Jonathan Rosenbaum and the usual credits and details on the transfer. All comers to this film should read the essay.
The Final Assessment
The Young Girls of Rochefort has gained prominence over the years as a delightful companion piece to the more experimental The Umbrellas of Cherbourg. Here in this Blu-ray release of the 2011 restoration overseen by Demy's widow Agnès Varda, it looks and sounds as good as it ever has.
[amazon_auto_links id="100115"]
Parc Film | Madeleine Films | Beta Film | Ciné Tamaris |The Criterion Collection
Studios & Distributors
French DTS-HD MA 5.1
Audio
Summary
A sugary and visually stunning follow-up to Jacques Demy's The Umbrellas of Cherbourg,The Young Girls of Rochefort is not quite as inventive as its predecessor but is still filled with numerous delights.
What people say... Login to rate
Be the first to leave a review.
Show more