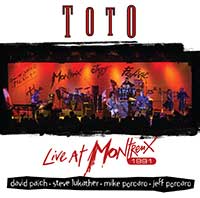 I'm no fan of Toto, let me say that right from the beginning, so when this concert disc came across my desk to review, the second from the band in the past couple of years, I wasn't exactly jumping for joy, but I was willing to be objective. You never know, right? My extent of knowledge about Toto extends to their two hits "Africa" and "Rosana" two songs I find mildly pleasing but was definitely sick of hearing back when they were actually hits. This concert from Montreux in '91 apparently comes from a period when the band was briefly touring as a four piece centered around Steve Lukather on guitar & lead vocals, David Paich on keyboards & vocals, Jeff Porcaro on drums & percussion and Mike Porcaro on bass, and took place shortly before the untimely death of Jeff Porcaro. This lineup went on to record the Kingdom of Desire album, released in 1992, and this concert contains some unreleased tracks from that album as well as some highly glossy, yet tightly played cover versions of Sly Stone ("I Want to Take You Higher") and Jimi Hendrix (Red House") classics. Still, the highlights of Toto's '80s era watered down, radio-friendly prog-rock style remain "Africa" and "Rosanna." When the band starts to try to "rock out" so to speak, on tracks like "On the Run" it just sounds inauthentic. If I want to hear real hard rock, I'll listen AC/DC or Metallica. Heck, even Genesis or Yes can rock out better than these guys.
The Video
This was shot in 1991, and I was trying to find out if it was shot on film, because it doesn't look like it was. Since this is not labeled an SD Blu-ray release, my guess is this could very well be an extremely early appearance of an HD video shoot – yes, rudimentary HD was in fact around in those days, even if it was rare, and not quite up to the standards we are familiar with today. The concert comes to Blu-ray in an AVC 1080i that looks decent for 1991 concert video, although it is a bit soft and video noise can be seen.
The Audio
I was disappointed in the sound quality on this concert video release. There are two mixes, the lossless 5.1 in DTS-HD Master Audio and the stereo mix in LPCM 2.0.Neither mix sounds particularly well-balanced, but the 5.1 suffers a bit from being a little too boomy, having too much reverb, and making the vocals get lost in the mix. The stereo track doesn't suffer as much from the dropping vocals, but it isn't necessarily clear either.
The Supplements
There aren't any on-disc extras in this release, but we get the entire concert on both Blu-ray and CD plus the included booklet with liner notes from Steve Lukather and David Paich.
The Final Assessment
I'm sure Toto have their fans; in fact I know they do, but this collection of excellent musicians have always sounded better to me as session musicians backing up other people, not as a band making their own original tunes. That said, if you're a fan, you may like this concert, other than the fact that something is off with the sound.
Toto: Live at Montreux 1991 (TheaterByte Blu-ray Review)
Eagle Rock
Studios & Distributors
$26.98
MSRP
16 September 2016
Release Date
LPCM 2.0 Stereo
Secondary Audio
Summary
The sound is a bit off and this rare four-man lineup were still best when they stuck to the lighter fare like "Rosanna" and "Africa."
What people say... Login to rate
Be the first to leave a review.
Show more