– –
The Series
[Rating:4/5]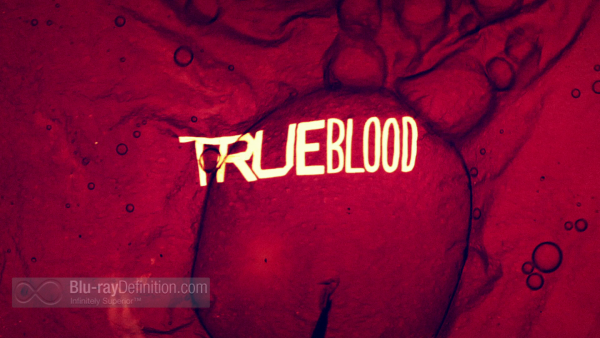 Season 4 of True Blood ended with a major cliffhanger – Sookie's (Anna Paquin; Scream 4; The Piano; Castle in the Sky) best friend Tara (Rutina Wesley; Last Weekend; TV's The Cleveland Show) was shot in the head by the werewolf Alcide's (Joe Manganiello; Magic Mike; TV's How I Met Your Mother) jealous ex while trying to protect Sookie. Well, we find out pretty quickly the outcome of that situation as Tara has now been turned into a vampire by Pam (Kristin Bauer van Straten; TV's Once Upon a Time; TV's The Secret Life of a Teenager) at the behest of a desperate Sookie and Lafayette (Nelsan Ellis; The Help; Secretariat) Season 5 also sees The Authority come more into focus, as Bill (Stephen Moyer; The Barrens) and Eric (Alexander Skarsgård; Melancholia) are taken prisoner by the Vampire ruling authority and become reluctant allies in a race against time to stop an underground religious movement of Vampires from rebelling against mainstreaming and declaring all-out war against humanity. Meanwhile, Sookie's life, as usual, becomes ever more complicated as her friends, co-workers, and lovers begin to crumble all around her.
The season is filled with too many twists and turns to go into detail about without spoiling all the fun for those who haven't seen it, but let's just say that all the campy, sexy, horror madness you've come to expect from this blood-dripping series is all here in spades. Not every season of True Blood has been top notch, but Season 5, in my opinion, is among the best, for its sheer amount of surprises and new sense of energy. It even ends with a wild cliffhanger that tops even season 4's completely unexpected doozie. While the season was building towards it in a way, I don't think it is expected. The writers keep you wondering if it could really be true, until it actually happens. When you see it, you'll know what I mean.
Video Quality
[Rating:4.5/5]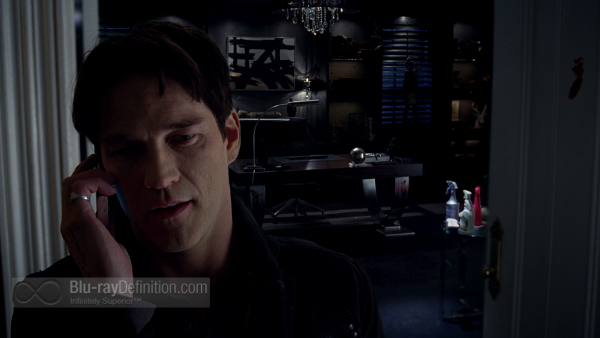 True Blood continues to be filmed on 35mm, Super 35 (3-perf) medium to high speed Kodak Kodak Vision2 200T 5217 and Vision2 Expression 500T 5229 film stocks with Arricam LT and Arricam ST cameras utilizing Cooke S4 and Angenieux Optimo lenses. In this AVC/MPEG-4 1080p encodement from HBO, the series looks about as good as it can get, being vastly superior to the 1080i broadcasts (as compared to both FIOS and RCN digital cable services). The contrast is stronger, noise is gone and blacks are stable. There is strong textural information and a natural layer of grain that makes the image look crisp. That being said, the image does have a tendency from time to time to get just a little gritty and diffuse, mostly from the production and the cameras, as opposed to the encodement. Black levels, while inky, are prone to crushing, which can lower the extension of detail in this series that takes place so often in the shadows. All in all, however, it is a strong effort that will satisfy anyone who has watched this via cable or streaming services.
Audio Quality
[Rating:5/5]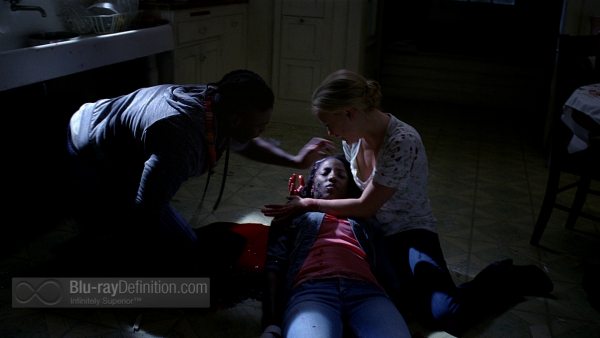 The English DTS-HD Master Audio 5.1 (48kHz/24-bit) soundtrack that is supplied is fantastic. From the ringing out of gunshots through the room or the growl of werewolves behind you, to the subtlest drip, drip, drip in a darkened hallway, this one captures it all with natural dynamics, ambience, and atmosphere. Dialogue is clear and the mix is finely balanced with good low frequencies and clear, natural highs.
Supplemental Materials
[Rating:4.5/5]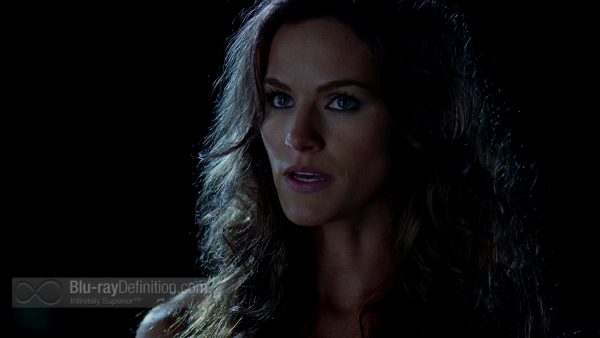 A hefty dose of extras accompanies the series in this 7-disc set from HBO. The Enhanced Viewing  Mode is a particulary cool way to experience the season.
The supplements:
UltraViolet & iTunes Digital Copy
DVDs – 2-sided Standard DVD copies of the entire series
Enhanced Viewing Mode – Viewing in this mode allows you to see factoids, character backstories, Vampire Histories, flashbacks, flashforwards, and even Authority Confessionals. All of this helps take you deeper into the True Blood mythology and makes for a fun way to view the series.
Inside the Episodes (HD)
5 Audio Commentaries with Cast and Crew including Alan Ball, Anna Paquin, Stephen Moyer, Denis O'Hare, Carrie Preston, and more.
True Blood Episode Six: Autopsy (1.78:1; 1080p/24; 01:03:38) – Go behind the scenes on the making of episode six with the cast and crew.
True Blood Lines – An interactive guide to the various beings in True Blood, both human and supernatural, their lineage and character connections.
The Definitive Word
Overall:
[Rating:4.5/5]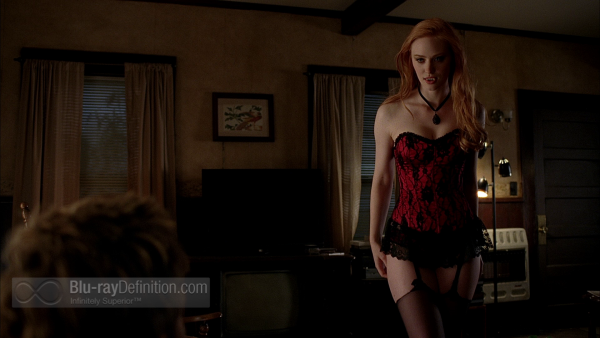 The sexy vamp series carries on, and it's soon to be returning for another, sixth season, in the meantime, catch up on Sookie and all her misadventures with this solid set from HBO. I recommend watching in the enhanced viewing mode for an extra special treat.
Additional Screen Captures
[amazon-product]B0092QDMQ2[/amazon-product]
Purchase True Blood: The Complete Fifth Season on Blu-ray Combo Pack at CD Universe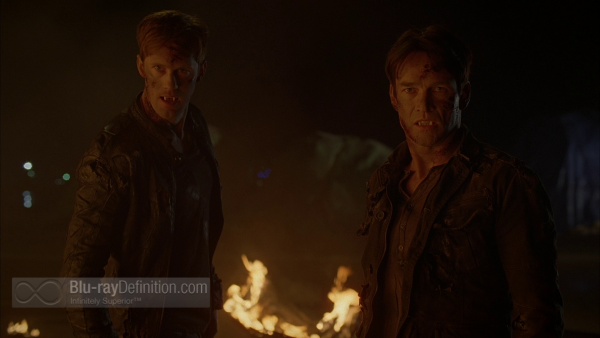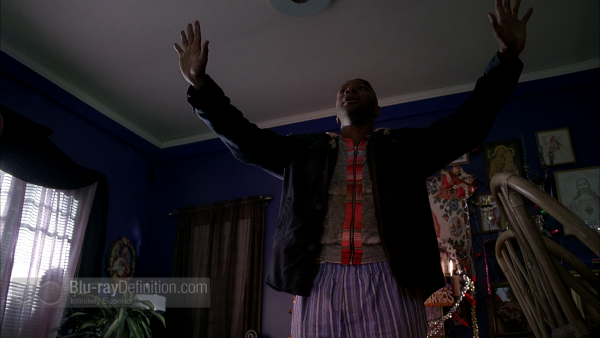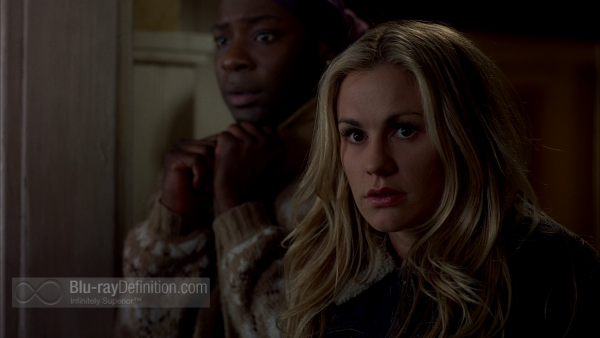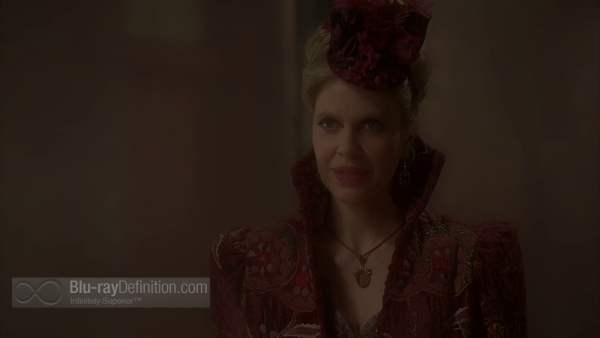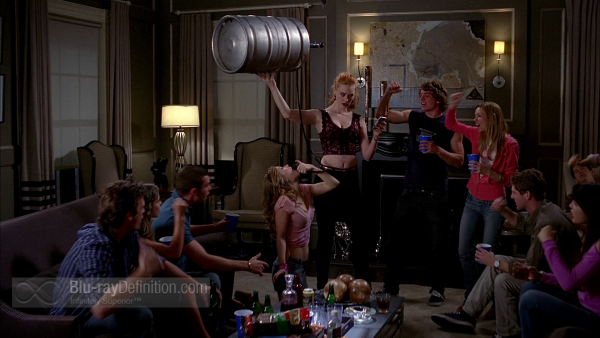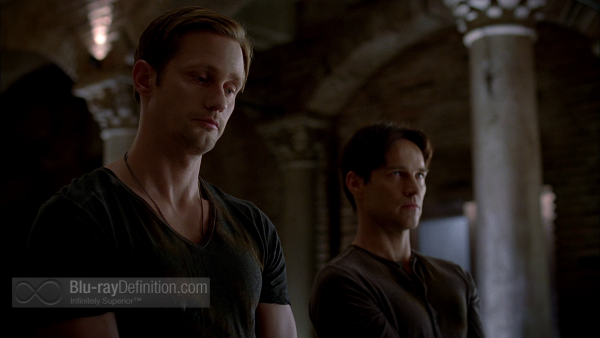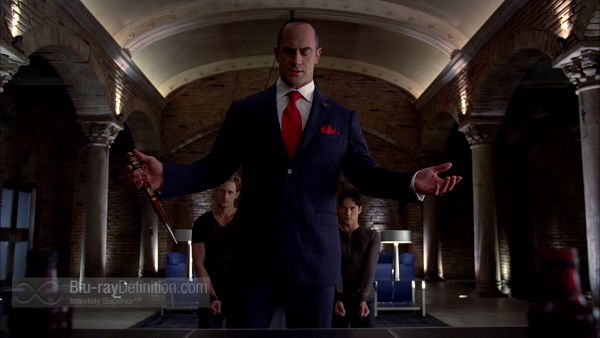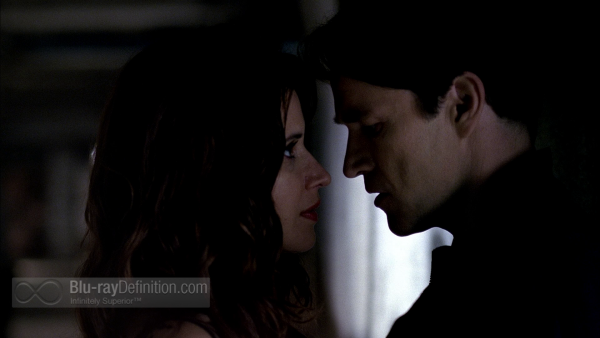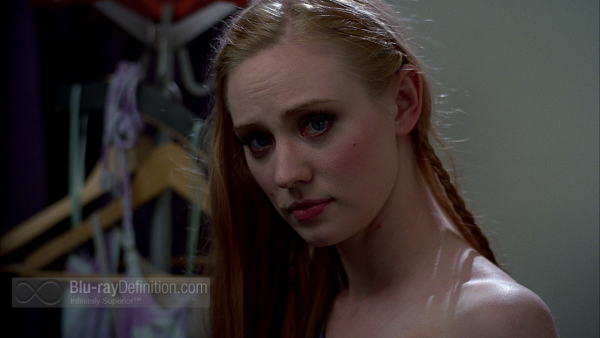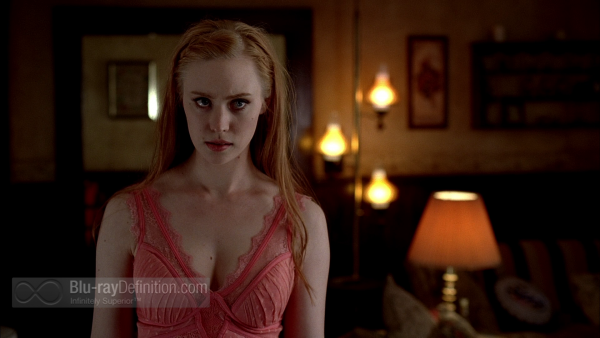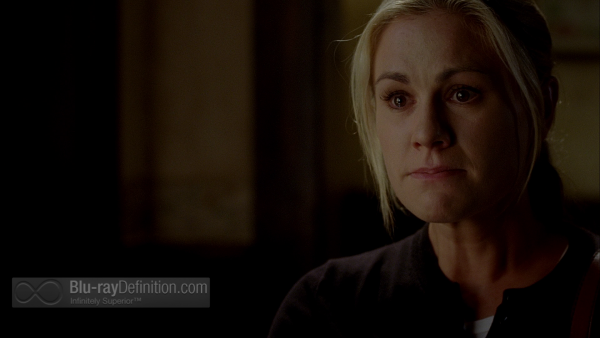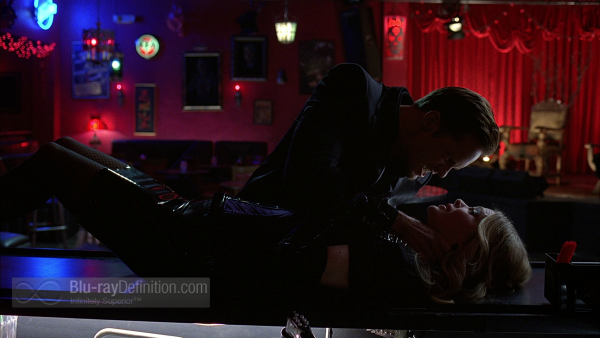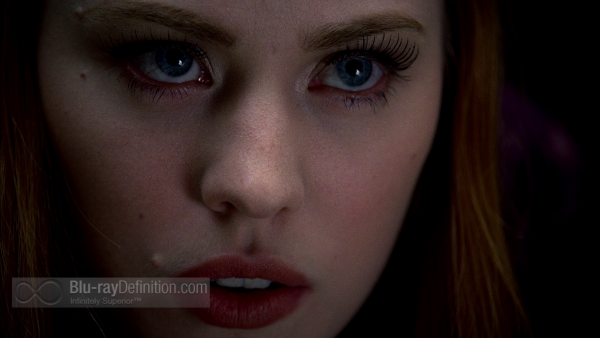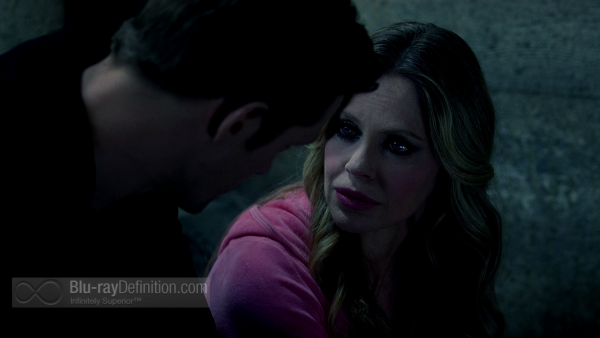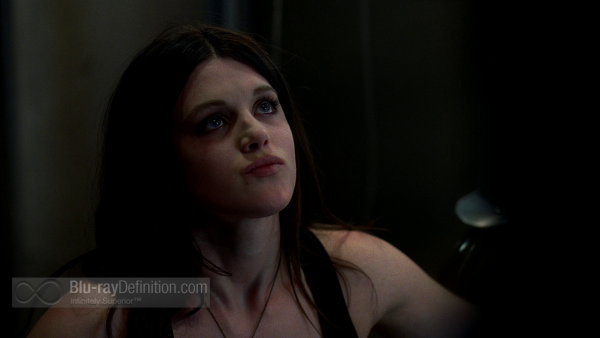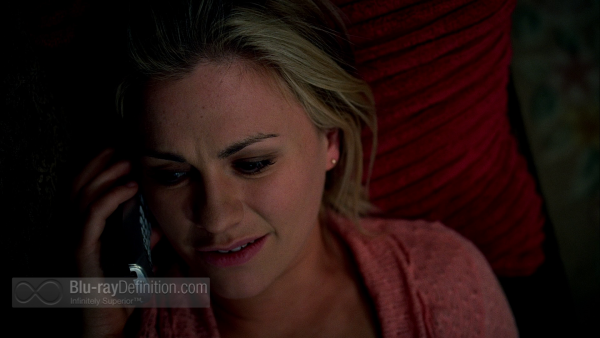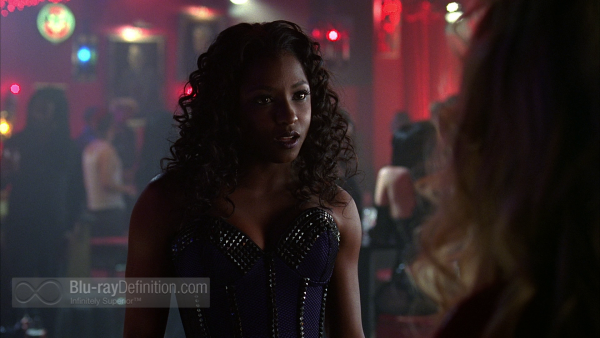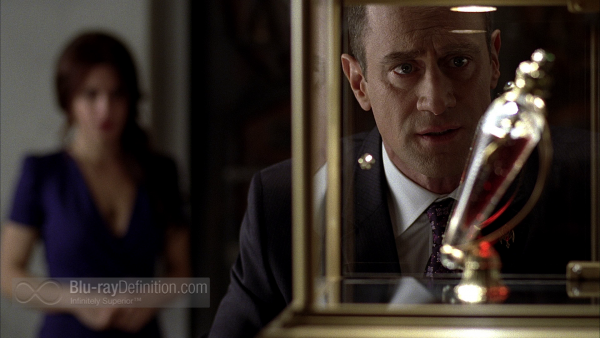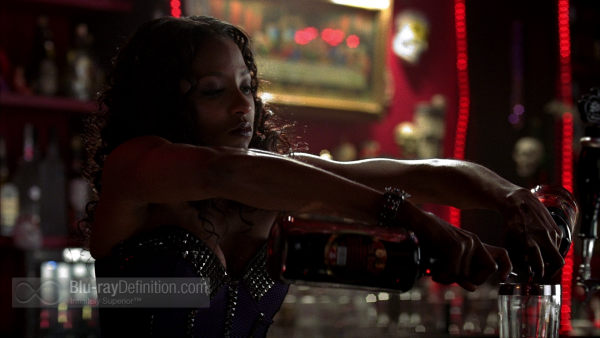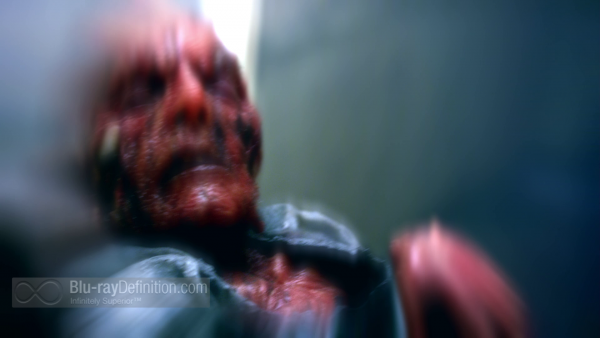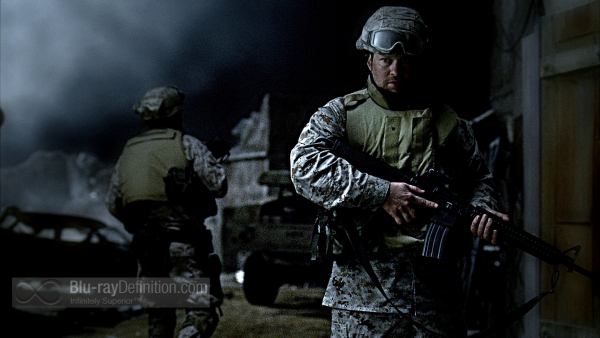 [amazon-product]B0092QDMQ2[/amazon-product]
Purchase True Blood: The Complete Fifth Season on Blu-ray Combo Pack at CD Universe