Aspect Ratio: 1.78:1

Video Codec: AVC/MPEG-4 (2D); MVC (3D)

Resolution: 1080p/24 (23.976Hz)

Audio Codec: English Dolby TrueHD 7.1 (48kHz/24-bit), English Descriptive Video Service Dolby Digital 2.0, English Dolby Digital 5.1 EX, French (Québecois) & Spanish Dolby Digital 5.1 EX

Subtitles: English, English SDH, French, Spanish

Subtitles Color: White

Region: ABC (Region-Free) (Blu-ray 3D; Blu-ray Bonus Disc), A (Blu-ray 2D Feature Disc)

Rating: PG

Run Time: 96 Mins.

Discs: 5 (1 x Blu-ray 3D + 2 x Blu-ray + 1 x DVD + 1 x Digital Copy)
Digital Copies: iTunes Digital Copy

Studio: Walt Disney Video

Blu-ray Release Date: December 4, 2012

List Price: $49.99
–
Overall
[Rating:4.5/5]
The Film
[Rating:4/5]
Video Quality
HD: [Rating:5/5]
3D Effect: [Rating:5/5]
Audio Quality
[Rating:4.5/5]
Supplemental Materials
[Rating:4.5/5]
Click thumbnails for high-resolution 1920X1080p screen captures
(All TheaterByte screen captures are lightly compressed with lossy JPEG at 100% quality setting and are meant as a general representation of the content. They do not fully reveal the capabilities of the Blu-ray format)
–
The Film
[Rating:4/5]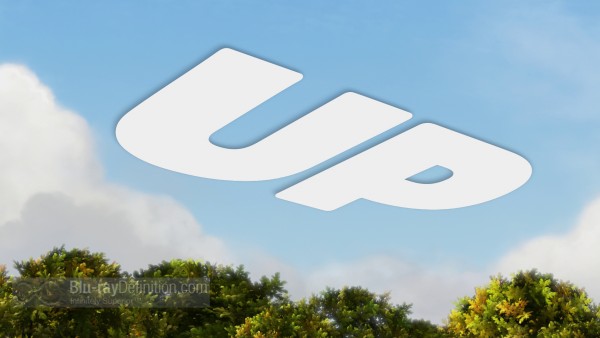 Pixar challenged the prevailing wisdom of what children need out of animation with their dialogue-free first act in WALL●E. The idea that animated films were required to be loud, blundering affairs, with numerous site-gags, celebrity voices, and paper-thin stories in order to be successful was thankfully set aside for a more scaled back approach. The quiet courtship of WALL●E and EVA laid the groundwork for what was to come from Pixar and that the film was so successful meant that Pixar was free to explore even further their artistic muse.
Up's opening is similarly quiet and laid back, but even more complex and mature than WALL●E. We see Carl Fredrickson, a quiet young boy, befriended by the tomboy Ellie. The two strike up a growing friendship through their enthrallment with the explorer Charles Muntz, promise each other to go on their own adventures together down to South America, and visit the magical Paradise Falls. But they fall in love, and in a silent sequence we see their entire lives together, as they marry, build a house, work together, and, in one especially touching moment, find out they can't have children. Eventually Ellie dies, and we see Carl (Ed Asner), now in his seventies, alone and feeling the despair that he never gave his beloved Ellie the adventure he promised her. His house is now surrounded by construction and a developer wants his land, but he won't give it up. One day, he has an unfortunate confrontation with a construction worker and he is declared a public menace. Defiant to the end, Carl ties thousands of helium balloons to his house and flies it away before he can be taken away to the Shady Oaks Retirement Home, only to find he has an unexpected stowaway — a chubby eight-year-old boy named Russell (Jordan Nagai).
Together the two head off for South America for a new adventure, to head for Paradise Falls; Carl, literally dragging his past in the form of his house behind him and Russell desperately trying to earn one last Wilderness Badge for "assisting the elderly" in the hopes that it will bring his father back. The two of them both have holes in their hearts that need filling, and perhaps this adventure is just what they need.
In South America, the tone of Up lightens up just a bit, as the two come across Dug, a sort of golden retriever/labrador with an electronic collar that allows him to speak his feelings and a female bird named Kevin that is being chased by a pack of trained dogs, also with talking collars, that turn out to be owned by none other than the adventurer Charles Muntz (Christopher Muntz). It's another turning point for Carl, however, when things quickly turn dangerous, and he ends up in a confrontation with his childhood idol.
The changing moods and slight inconsistencies in style keep Up from being quite on the same level as previous Pixar fare such as Ratatouille and WALL●E, but the opening act alone is enough to make it one of the best films of 2009. If Up doesn't make you cry, then you are dead inside. This is more proof from the brilliant storytellers and animators at Pixar that animation doesn't have to pander to the lowest common denominator and that it is truly a respectable, intelligent art form worthy of the highest consideration. It's about time films like these started winning Oscars in the general categories and stopped being relegated to simply "Best Animated Feature."
Video Quality
HD: [Rating:5/5]
3D Effect: [Rating:5/5]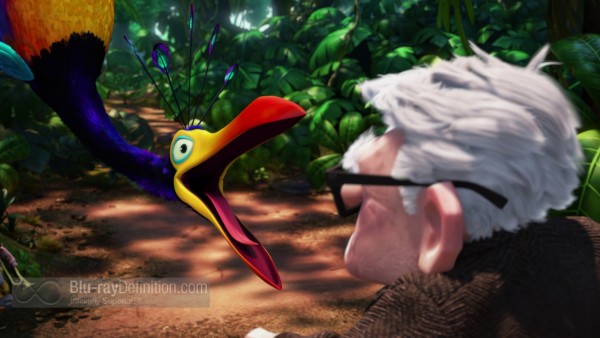 Since apparently this 2D Blu-ray is identical in every way to the previous release already reviewed here, even insofar as to be region-locked to Region A when the outer packaging states this is an ABC (region-free) release and all other Blu-ray Discs  in the package are, in fact, region-free, I won't focus on the 2D transfer other than to say it still looks still looks wonderful. The 3D transfer is something new to home video, however, and must be addressed in more detail. Thankfully, it is every bit as good as we have come to expect from Pixar to date. The opening newsreel segments do not necessarily bring out the best the format has to offer, but once we get into the meat of the film, we are blown away, no pun intended. When Carl's house lifts off with the balloons, the colors and dimensionality are awesome as they soar through the clouds. The bird Kevin provides ample "pop" with its technicolor feathers, and overall front-to-back extension is rather natural and deep.
Audio Quality
[Rating:4.5/5]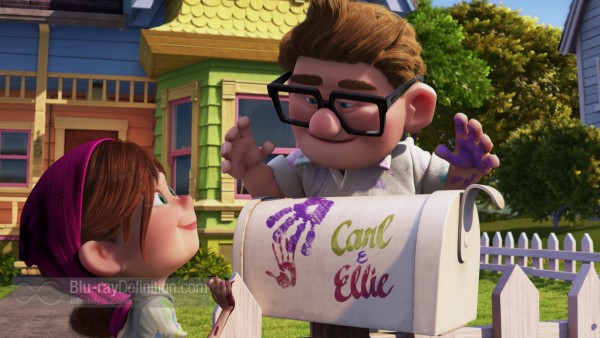 Audio doesn't change either, keeping the DTS-HD Master Audio 5.1 ES (48kHz/24-bit) track for both 3D and 2D versions. More subtle than mixes from some other Pixar releases such as Cars 2 or Wall•E, the audio for Up is still equally engaging with a balanced approach. It captures both subtle sounds and loud ones smoothly and realistically with a wide dynamic range, extended lows, and natural highs. The dialogue is clear straight through and never falls below the sound effects.
Supplemental Materials
[Rating:4.5/5]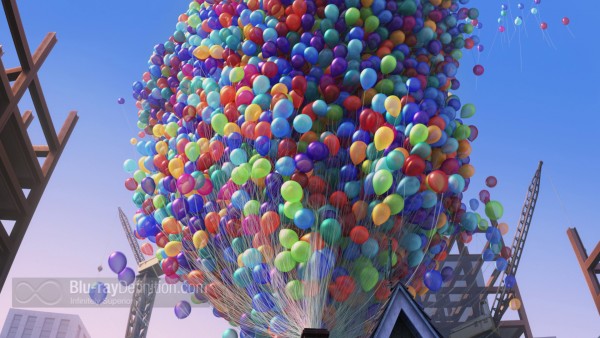 No new supplemental materials are included on disc in this release and Up arrives with everything ported over from the previous Blu-ray release.
The supplements:
Blu-ray 2D (Feature Disc):
Partly Cloudy: Theatrical Short (1.78:1; 1080p/24; Dolby Digital 5.1) — In this animated short, on cloud's creations for his stork too deliver to their happy parents are just a little on the dangerous side.
Dug's Special Mission Original Short (1.78:1; 1080p/24; Dolby Digital 5.1) – Dug is tormented by his pack with difficult missions, but he comes out the winner in the end.
Adventure is Out There (1.78:1; 1080p/24; 00:22:18) — The Pixar team discusses scouting on location in remote areas of South America for their inspiration.
Alternate Scene: The Many Endings of Muntz (1.78:1; 1080p/24; 00:04:56)
BD-Live
Bonus Disc (Blu-ray 2D):
Documentaries — In these behind-the-scenes featurettes and interview segments, the Pixar team discusses developing the different characters, set designs, music, and storylines for the film:

Geriatric Hero (1.78:1; 1080p/24; 0:06.24)
Canine Companions (1.78:1; 1080p/24; 0:08.26)
Russell: Wilderness Explorer (1.78:1; 1080p/24; 0:09.03)
Our Giant Flightless Friend, Kevin (1.78:1; 1080p/24; 0:05.04)
Homemakers of Pixar (1.78:1; 1080p/24; 0:04.38)
Balloons and Flight (1.78:1; 1080p/24; 0:06.27)
Composing for Characters (1.78:1; 1080p/24; 0:07.37)

Alternate Scene: Married Life (1.78:1; 1080p/24; 0:09.13)
Up Promo Montage (1.78:1; 1080p/24; 0:05.52)
Global Guardian Badge Game (Powered by BD-Live) — This BD-Live powered game allows you to travel the globe with your balloon in order to answer multiple-choice questions and win your Wilderness Explorer badges.
Worldwide Trailers:

Theatrical Trailer #2 (1.78:1; 1080p/24; Dolby Digital 5.1)
Theatrical Trailer #3 (1.78:1; 1080p/24; Dolby Digital 5.1)
Additional:
DVD
Digital Copy – iTunes Digital Copy
The Definitive Word
Overall:
[Rating:4.5/5]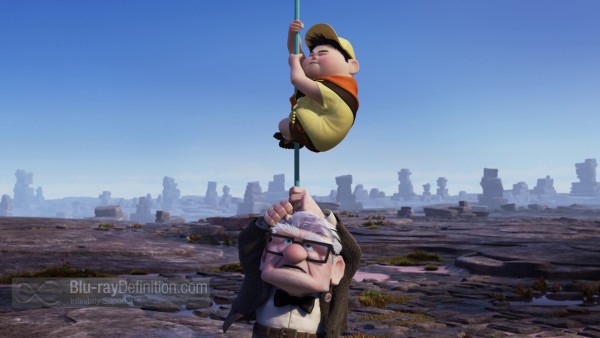 This 3D reissue of Up doesn't add anything new besides 3D, but for those with the capability who enjoy the format, this is a splendid way to watch the fantastic, big-hearted film.
Additional Screen Captures
[amazon-product]B005ZMTXMY[/amazon-product]
[amazon-product]B001KVZ6G6[/amazon-product]
[amazon-product]B00867GKIK[/amazon-product]
Purchase Up on Blu-ray 3D Combo Pack at CD Universe
Shop for more Blu-ray titles at Amazon.com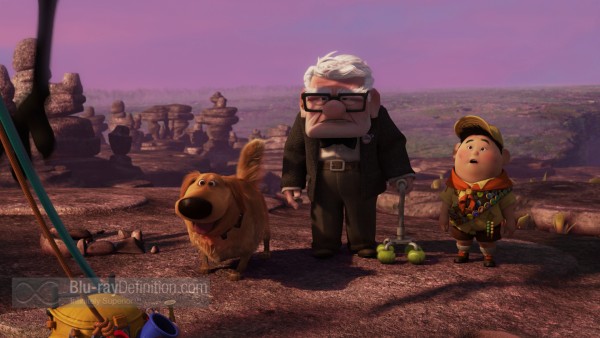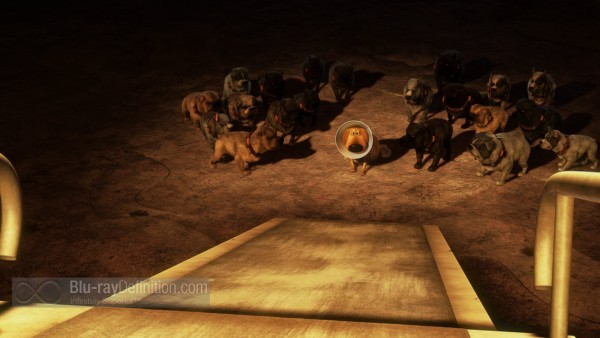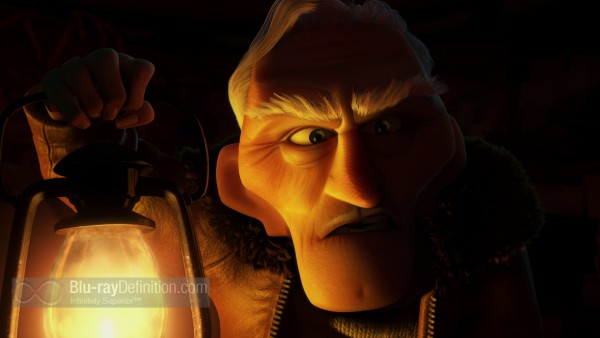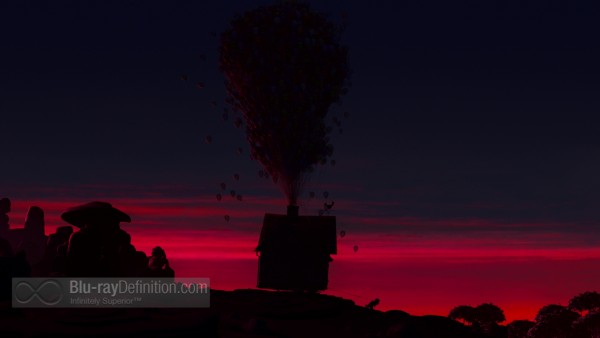 –
[amazon-product]B005ZMTXMY[/amazon-product]
[amazon-product]B001KVZ6G6[/amazon-product]
[amazon-product]B00867GKIK[/amazon-product]
Purchase Up on Blu-ray 3D Combo Pack at CD Universe
Shop for more Blu-ray titles at Amazon.com