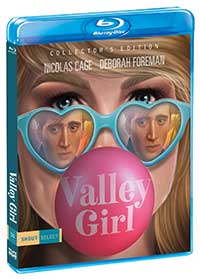 Valley Girl is one of the few teen romance films to come out of the '80s that was not linked to John Hughes, but somehow still manages to be enduring and for a number of reasons. It's "gnarly" new wave soundtrack, big hair, and core story of teens from different worlds who fall in love.
Nicolas Cage and Deborah Foreman star as Randy and Julie Richman, a punk rocker from Hollywood and a Valley Girl from the San Fernando Valley suburbs who meet at a house party in the Valley when Randy and his friend decide to crash it after overhearing about it at the beach. Julie is just getting over her breakup with the annoying preppie Tommy (Michael Bowen), who won't leave her be. So, after Randy and his friend are beat up and ousted from the parted by Tommy and his friend, Julie takes off from the party with Randy – who came back for her — dragging her friend along, and they have a wild night together, seeing Randy's seedier hangouts on the Hollywood strip. The two strike up an unlikely romance, but when Julie's friends start pressuring her to, like, ohmygod, seriously dump Randy so she can get back together with Tommy, who they feel is more respectable – and normal, by their standards, she has a serious and heartbreaking decision to make.
Valley Girl is a sweet film, despite its, apparently gratuitous topless scenes, which were a prerequisite for distribution (see special features) and the typical over-the-top Cage who was at this point just a bit more reined in. All these years later, it is like an anthropological study of not only Valley Girl speak, but the dichotomy of the Southern California music scene in the early '80s, which would have a profound influence on popular music throughout the decade and beyond.
Out of all the cast members, only Nicolas Cage has really gone on to be a big star, but director Martha Coolidge extracts fine performances from everyone here, including the sugary sweet Julie Richman is an excellent counterweight to Cage's more hammy portrayal. Coolidge also created a visually appealing film with Valley Girl, sculpting what could only be described as a love letter to SoCal – hitting all the popular spots in "The Val" and Hollywood and filming them so beautifully it would make even the most hardened New Yorker like myself want to travel back in time to the Southern California of the 1980s.
The Video
Valley Girl has been remastered from a new 4K scan of the original camera negative and brought to Blu-ray in an AVC 1080p encodement framed at 1.85:1. Apart from some minor dirt on the lenses here and there that most likely couldn't be removed without doing irreparable harm to the image and some dirt and scratches early during the opening credit sequence, this transfer looks wonderful. It's crisp and somewhat grainy looking film, but there's lots of clarity and excellent color. The night scenes can look a bit mushy, but this is likely more to do with the low-budget and filming choices than the transfer and encodement. The film has never looked better apart from when it first ran in theaters.
The Audio
We get both the original stereo mix in DTS-HD Master Audio 2.0 and a 5.1 remix in DTS-HD Master Audio and both sound quite fine with good dynamics and clear dialogue. The 5.1 mix adds more atmospherics and wider stereo soundstage with even clearer dialogue, seeming to lift a bit of a veil.
The Supplements
This set comes stuffed with special features, including three new HD interviews/conversations with the cast and director, plus an audio commentary with the director and 20th anniversary archival speciasl features.
Commentary by Martha Coolidge
(NEW) Valley Girl in Conversation (1.78:1; 1080p/24; 00:50:11)
(NEW) Greetings from the San Fernando Valley (1.78:1; 1080p/24; 00:19:44)
Show and Tell (1.78:1; 1080p/24; 00:04:47)
(NEW) Storyboard to Film Comparison (1.33:1; SD; 00:11:30)
In Conversation: Martha Coolidge and Nicolas Cage (1.33:1; SD; 00:20:00)
20 Totally Tubular Years Later (1.33:1; SD; 00:24:15)
The Music of Valley Girl
The Girls (1.33:1; SD; 00:47:51)
The Boys (1.33:1; SD; 00:54:09)
The Parents (1.33:1; SD; 00:42:59)
The Bands (1.33:1; SD; 00:54:11)
The Producers – Writers (1.33:1; SD; 00:14:17)
Music Videos (1.33:1; SD; 00:08:13)
Trailer (1.78:1; 1080p/24; 00:02:27)
The Final Assessment
Although Valley Girl is very much rooted in a time from its vernacular to it dress to its soundtrack, its central themes of love across boundaries and peer pressure still resonate today. It may not be the strongest of the teen flicks to come out of the '80s, but it is still surprisingly enjoyable to watch. This new Shout Select restoration on Blu-ray looks and sounds wonderful and is feature-rich.
Valley Girl is out on Blu-ray October 16, 2018 from Shout! Factory
Valley 9000 Productions | MGM | Shout! Factory
Studios & Distributors
Andrew Lane | Wayne Crawford
Writer
$34.93
MSRP
English DTS-HD MA 5.1
Audio
English DTS-HD MA 2.0 Stereo
Secondary Audio
Summary
A punk rocker from Hollywood (Nicolas Cage) and a Valley Girl from the San Fernando Valley (Deborah Foreman) meet at a houseparty in "The Val" and fall in love, but peer pressure threatens to push the two opposites apart in this teen romantic comedy that acts as a pastiche of early '80s fashion, and new wave musical styles. This new 4K restoration on Blu-ray from Shout! is like totally tubular.
What people say... Login to rate
Be the first to leave a review.
Show more