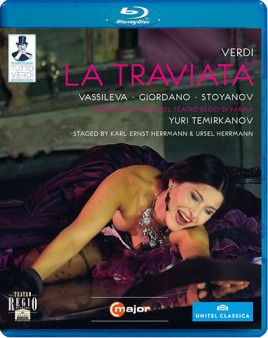 Click thumbnails for high-resolution 1920X1080p screen captures
(The below TheaterByte screen captures were taken directly from the Blu-ray Disc and losslessly compressed in the PNG format. There should be no loss of picture quality with this format. All screen captures should be regarded only as an approximation of the full capabilities of the Blu-ray format.
The Performance
[Rating:3/5]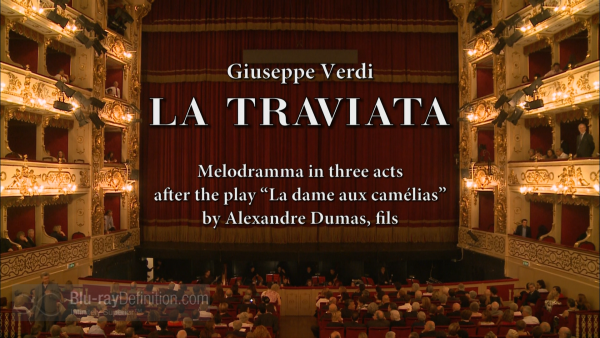 La Traviata comes near the end of Verdi's productive middle period, debuting in 1853. It has always been a crowd-pleaser, being the Maestro's most frequently performed opera. This is a 2007 Teatro Regio di Parma production, part of the continuing Tutto Verdi cycle on blu-ray disc that concludes this year with the composer's bicentenary.
Act I opens in Violetta Valery's (Svetla Vassileva) home where a grand party is being held. Violetta, a woman of "easy virtue," meets a young suitor, Alfredo Germont (Massimo Giordano) and sparks instantly fly. The hitch is that Violetta is ill with the early stages of consumption (tuberculosis) but, Alfredo, unaware of her illness, convinces the courtesan to become his lover.
In Act II, the lovers are living blissfully in Violetta's country home; however, their money is running out. Alfredo's father, Giorgio Germont (Vladimir Stoyanov) arrives unexpectedly and asks Violetta to leave his son so that this scandalous relationship will not mar his daughter's impending nuptials. Reluctantly, Violetta agrees and as she departs for a fete at the Parisian house of her friend Flora Bervoix (Daniela Pini), she leaves Alfredo a farewell note. Alfredo catches up with Violetta at the party and shocks the crowd, including his father, by abusing his former lover. An offended Barone Douphol (Armando Gabba) challenges Alfredo to a duel as the act ends.
Act III is set in Violetta's bare apartment. Outside it is Carnival season, but inside, Violetta is in the final stages of her illness and has sold her possessions.  Alfredo (who had to leave the country after wounding the Baron) arrives only to have Violetta die in his arms.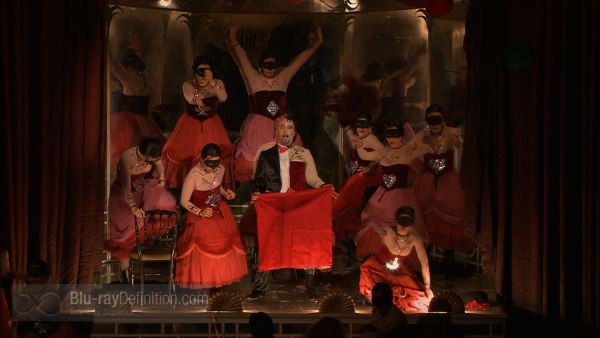 I was delighted to see age-appropriate casting for the three principals, adding to the credibility of the drama. Tenor Giordano has a nearly perfect voice for Alfredo, replete with sparkle and ping.  Bulgarian soprano Vassileva has a nice stage presence and is in better voice than when I last saw her in Verdi's Giovanna D'Arco. However, she has periodic pitch problems and encounters some tough sledding with this role's demanding bel canto moments. As father Germont, Stoyanov has a more youthful voice than some of his competitors but delivers a quite moving "Di Provenza il mar, il suol." Conductor Yuri Temirkanov, as I noted previously in his handling of Il Trovatore, is not an idiomatic Verdian, often allowing the musical pulse to droop.
Video Quality
[Rating:4/5]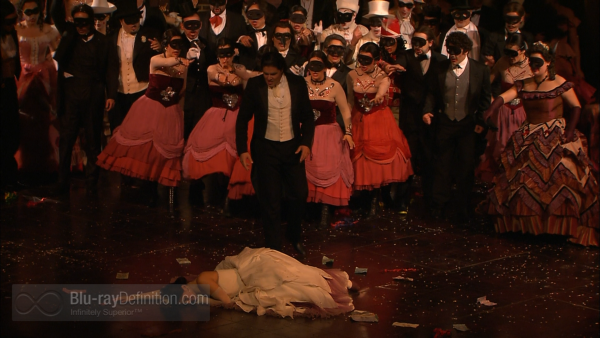 Having seen director, Tiziano Mancini's previous work in this house, I expect a well videoed production, and this one is no exception.  Working with a small stage and less than lavish sets, we get a good sense of this opera's intense drama. The period costumes are well done; the colors are nicely presented.
Audio Quality
[Rating:3/5]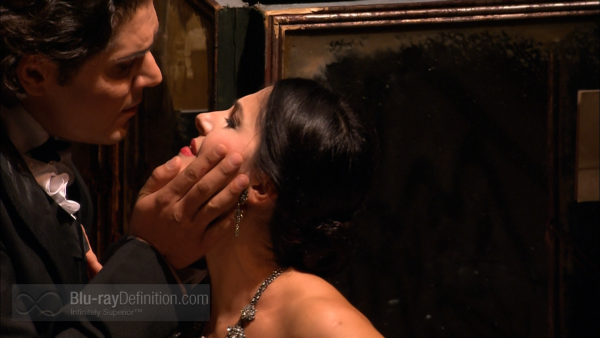 The surround sound track is not only fairly flat but the balance between voices and orchestra definitely favors the latter making some of the singing more difficult to discern.  There is also boxiness and an occasional hollow echo that is distracting. The matrixed 2-channel version brought things into more balanced sonic perspective. Given previous well-recorded blu-ray performances from this same house, I was quite disappointed by the job turned in by the audio engineers.
Supplemental Materials
[Rating:2/5]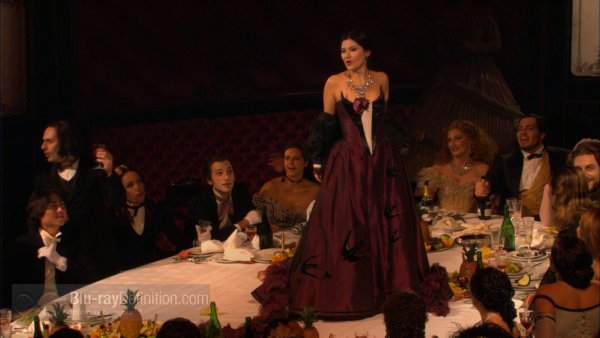 The Tutto Verdi series provides a 10-minute  historical background and synopsis with scenes from this production. Trailers for other C Major releases in this collection are the only other visual fare. A program booklet is included that contains more background material, a synopsis of each act, and a list of the vocal selections.
The Definitive Word
Overall:
[Rating:3/5]
Can La Traviata succeed with a less than stellar performance of its doomed heroine? My verdict, here, is probably not.  While there are some most enjoyable moments provided by the Germonts, pere et fils, this is not what audiences most look for in this opera. Unfortunately, this production also has sub-par sound recording and uninspired musical direction. The Blu-ray Traviata field already has some excellent (and far better) alternatives: Opus Arte's Covent Garden performance with Renee Fleming, and a visually arresting Sydney production with Emma Matthews. Those interested in a great buy, should check out the 2007 La Scala disc with Angela Gheorgiu (a steal at $9.99)
Additional Screen Captures
[amazon-product region="uk" tracking_id="bluraydefinit-21″]B0094AH3PM[/amazon-product]
[amazon-product region="ca" tracking_id="bluraydefinit-20″]B0094AH3PM[/amazon-product]
[amazon-product]B0094AH3PM[/amazon-product]
Purchase on Blu-ray at CD Universe
Shop for more Blu-ray titles at Amazon.com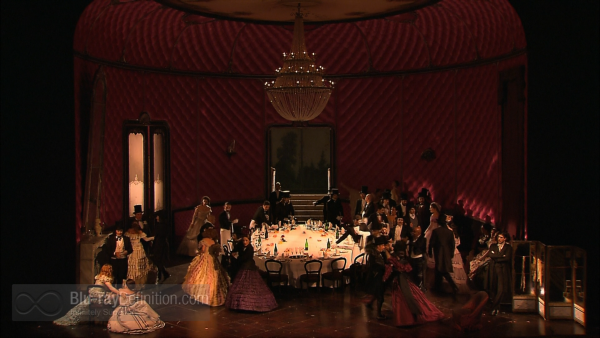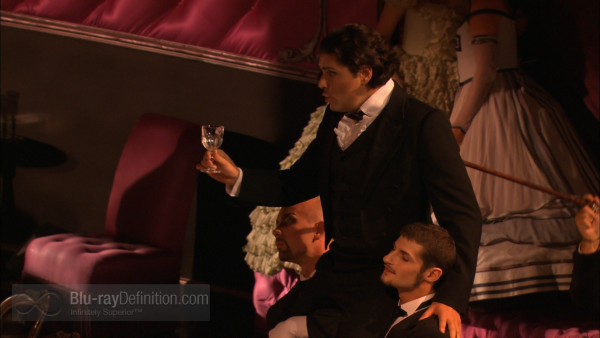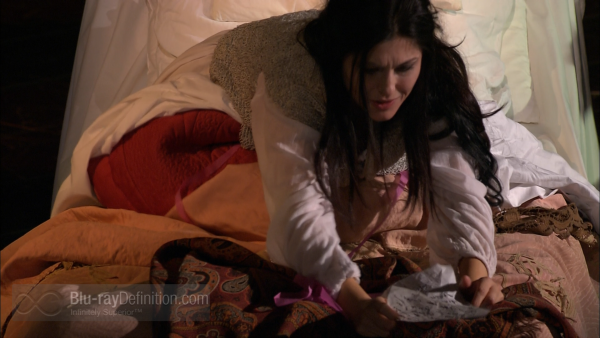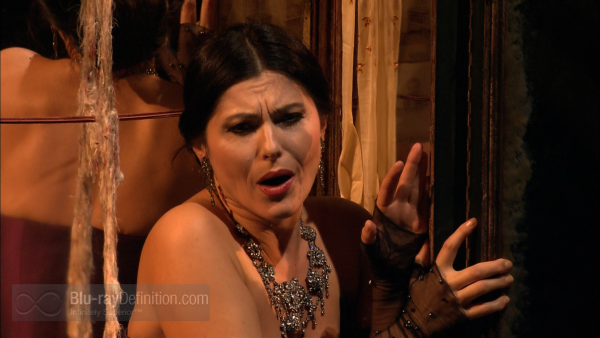 [amazon-product region="uk" tracking_id="bluraydefinit-21″]B0094AH3PM[/amazon-product]
[amazon-product region="ca" tracking_id="bluraydefinit-20″]B0094AH3PM[/amazon-product]
[amazon-product]B0094AH3PM[/amazon-product]
Purchase on Blu-ray at CD Universe
Shop for more Blu-ray titles at Amazon.com
Overall
[Rating:3/5]
The Performance
[Rating:3/5]
Video Quality
[Rating:4/5]
Audio Quality
[Rating:3/5]
Supplemental Materials
[Rating:2/5]