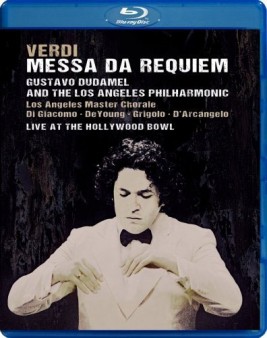 – –

The Performance
[Rating:4/5]
Hard on the heels of a Verdi Missa Da Requiem from La Scala led by Daniel Barenboim and four fine soloists, comes this 2013 outdoor performance from the Hollywood Bowl delivered by the Los Angeles Philharmonic Orchestra and Los Angeles Master Chorale led by its boyish star maestro, Gustavo Dudamel. This production features soprano Juliana DiGiacomo, mezzo-soprano Michelle De Young, tenor Vittorio Grigolo, and bass Ildebrando D'Arcangelo. This iconic outdoor venue adds a sense of occasion to a piece that is typically performed in a concert hall or opera house.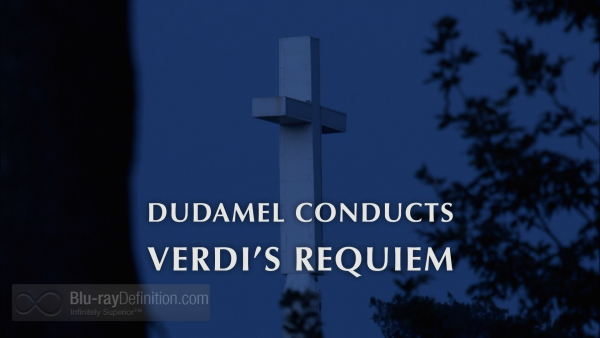 Cast in the typical liturgical form of a requiem mass, there are seven principal sections, each with individual pieces for a varying combination of soloists and chorus. Mood shifts are frequent, opening quietly with the Requiem aeternam, intersposed with some massive sound pictures (Dies Irae, Rex Tremenda), and otherworldly moments (Tuba Mirum, Recordare, Lacrymosa).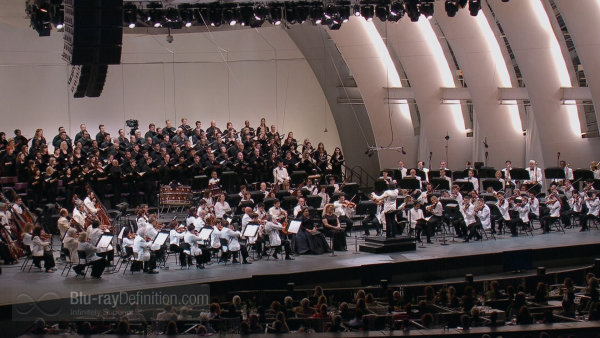 In his brief tenure as director of a major US symphony, Dudamel has already made his mark with some extraordinary performances, particularly considering that he was only 32 years old at the time of this concert. While maestro Dudamel had conducted the Verdi Requiem a few years earlier, his conceptualization of this work resulted in much downplaying of the more dramatic moments, going for a more intimate approach. The soloists were somewhat of mixed bag with mezzo De Young and bass D'Arcangelo turning in excellent renderings of their solo and ensemble pieces. Soprano DiGiacomo has a pleasant if somewhat self-effacing delivery while tenor Grigolo goes in the opposite direction with a more histrionic performance.
Video Quality
[Rating:4.5/5]
Director Michael Beyer is one of the best on the planet and of his videos that I have had the pleasure of seeing, he works some minor miracles with a venue that had difficulties with lighting. Camera work is deft and Beyer is constantly giving us orchestral details that elude most other concert videographers. Colors and details are ravishing.
Audio Quality
[Rating:4/5]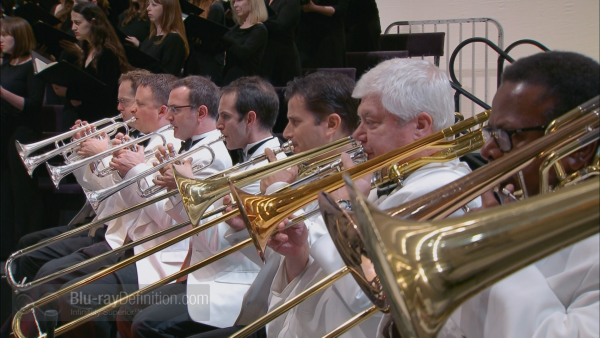 The upfront sonic presentation is remarkably clear for an outdoor recording. The nature of venue results to little effect in the surround channels of the DTS-HD Master Audio 5.1 soundtrack. The LPCM 2-channel version is nearly as good. Listeners should be aware that there is intermittent wind noise as the Bowl is in a canyon.
Supplemental Materials
[Rating:2.5/5]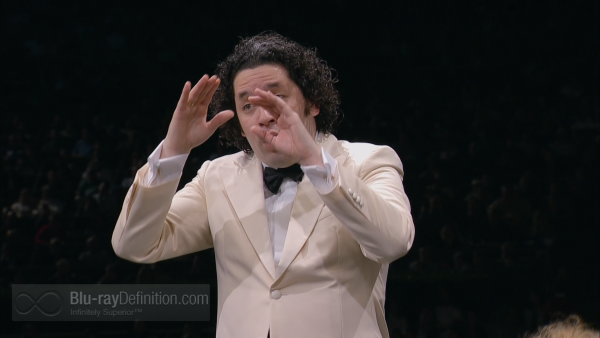 In addition to a program booklet, there is an 18 minute "behind the scenes" featurette (LPCM Stereo 48kHz/16-bit) offering interview and rehearsal footage with maestro Dudamel. There are the usual C Major trailers.
The Definitive Word
Overall:
[Rating:3.5/5]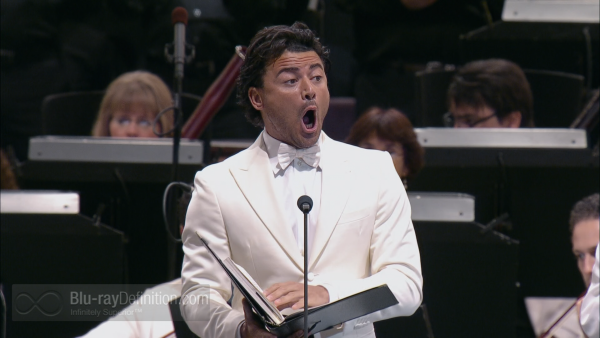 The Verdi Requiem was criticized at the time of its premiere as being excessively melodramatic and not in keeping with the subject matter of the mass. Fortunately, time has proven such critics work and the power of this piece is what has made it so popular with concertgoers. Dudamel's approach, being smaller scale than usual, may not appeal to those who prefer the more traditional heaven-and-hell renderings of Herbert von Karajan or more recently Daniel Barenboim (both with La Scala forces).  I must count myself in that number as I believe that Verdi, thinking this to be his retirement composition, would have wanted every last ounce of emotion to be wrung out of it. That aside, in spite of superior visual properties, the soloists come up against some really stiff competition. An interesting Verdi Requiem, no doubt, but, musically, a second-placer to the Barenboim/La Scala Blu-ray.
Additional Screen Captures
[amazon-product region="uk" tracking_id="bluraydefinit-21″]B00FEMGCH4[/amazon-product]
[amazon-product region="ca" tracking_id="bluraydefinit-20″]B00FEMGCH4[/amazon-product]
[amazon-product]B00FEMGCH4[/amazon-product]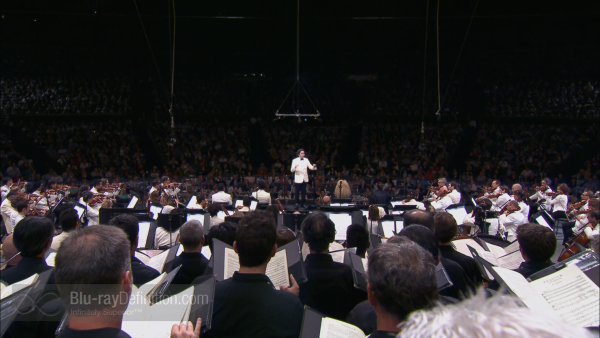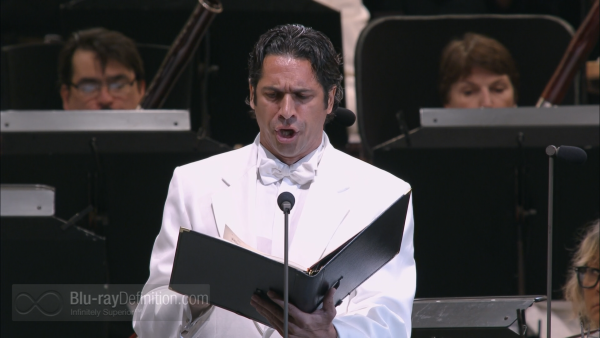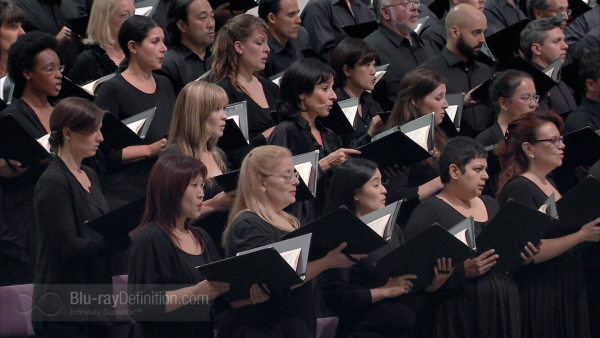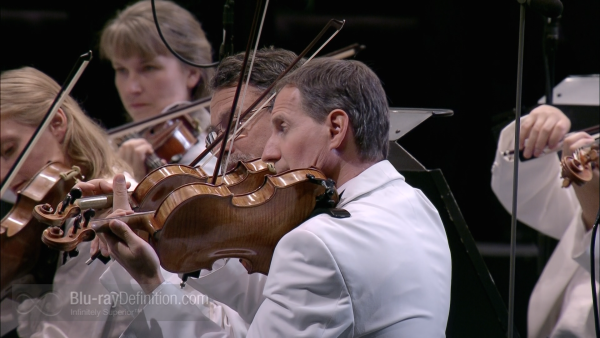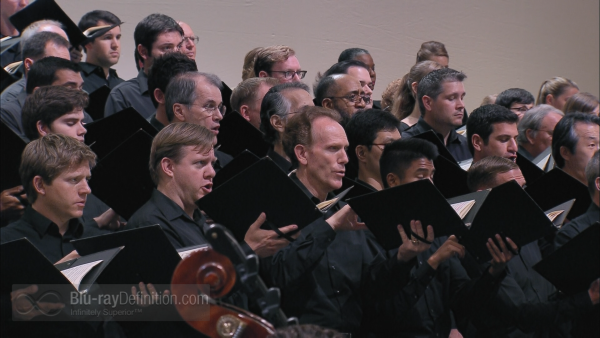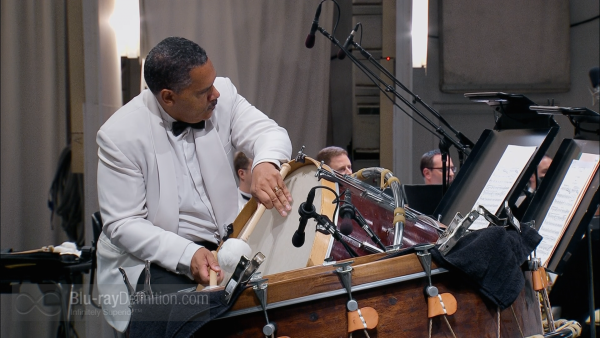 [amazon-product region="uk" tracking_id="bluraydefinit-21″]B00FEMGCH4[/amazon-product]
[amazon-product region="ca" tracking_id="bluraydefinit-20″]B00FEMGCH4[/amazon-product]
[amazon-product]B00FEMGCH4[/amazon-product]