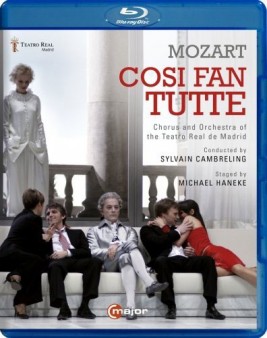 – –

The Performance
[Rating:4/5]
Probably Mozart's most popular rom-com opera, Cosi Fan Tutte (All Women Are Like That), is given a serious updating with a mostly youthful cast in this March 2013 Teatro Real de Madrid production, led by maestro Sylvain Cambreling and staged by Michael Haneke.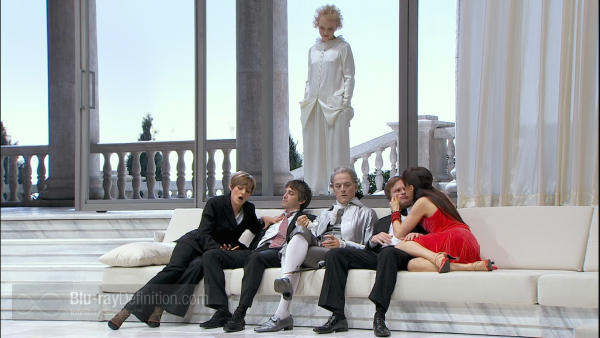 Two young sisters,  Fiordiligi (Anett Fritsch) and Dorabella (Paola Gardina), are engaged to Guglielmo (Andreas Wolf) and Ferrando (Juan Francisco Gatell), respectively. The young officers are convinced of their fiancées' fidelity but old Don Alfonso (William Shimell) bets them that he can prove them to be unfaithful in a single day. The plan is that the officers will pretend that they have been called up to active duty but each will return in disguise to woo the other's woman. Fiordiligi and Dorabella are crushed by the news of their fiances' departure and when they sail off, Don Alfonso is convinced that his plot will work.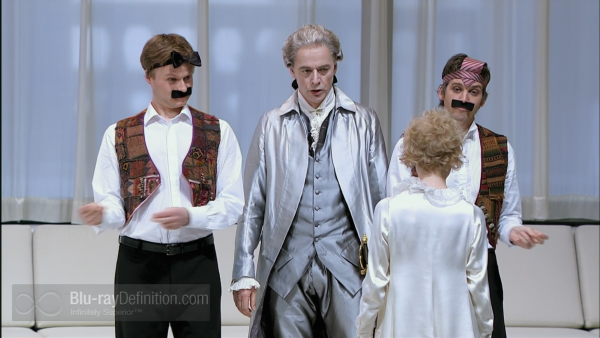 The miserable sisters encounter their maid Despina (Kerstin Avemo) who suggests that they find new lovers while their men are away. Later Alfonso, afraid that Despina will see through the men's disguises, pays her to cooperate with his plan. Ferrando and Guglielmo return disguised as "Albanians" and then begin to woo the sisters who resist their advances. The "Albanians" declare that they will poison themselves if they cannot pursue Dorabella and Fiordiligi; they drink a fake potion, sham unconsciousness and are revived by a disguised Despina. On regaining "consciousness" they demand a kiss from the sisters who continue to resist them.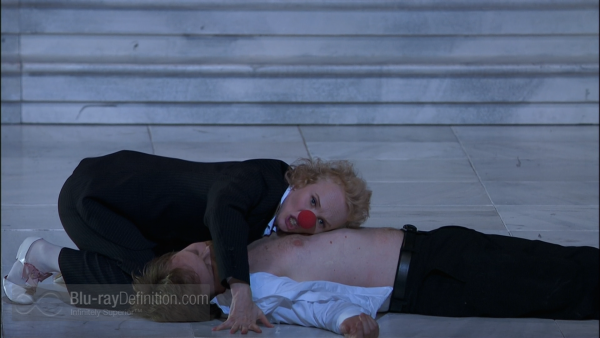 Dorabella and Fiordiligi decide that it would be all right to have an innocent affair while their men are away at war. Each pairs off with the other's fiancé and Guglielmo soon succeeds with Dorabella. Fiordiligi, at first reluctant, later gives in to Ferrando. Don Alfonso has won his bet and tells the men to take back their fiancées. A joint wedding ceremony begins with each man signing a contract with the other's fiancée.  Suddenly, the music heralds the return of the officers. Ferrando and Guglielmo run off to change out of their disguises. When they return and see the signed marriage contracts, they act as if infuriated but eventually reveal their duplicity to the sisters and all seemingly ends well.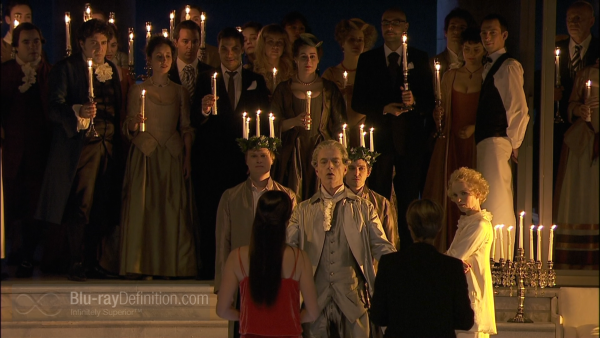 Cosi Fan Tutte is a true small ensemble piece and sinks or swims on the strength of the characters' interactions on stage. Director Haneke makes this magic happen consistently from scene to scene.  This is a beautifully executed performance with strong contributions from all of the principals and sensitive leadership from the orchestra pit.
Video Quality
[Rating:4.5/5]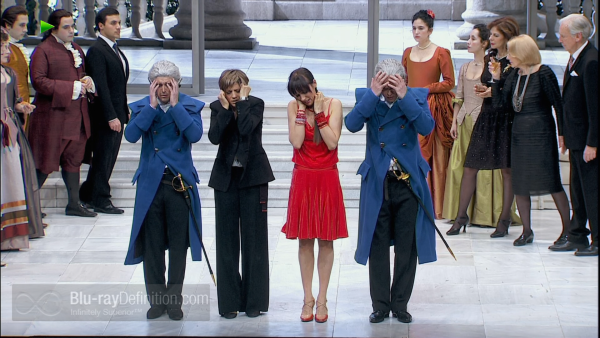 With beautiful costumes, albeit a mixture of 21st century (the sisters, Despina, and the officers) with 18th century (Don Alfonso and other guests), and a strikingly elegant modern set, the videographers give us one stunning shot after another. Close ups, so essential to this opera da camera, are just gorgeous as are the colors and details. While no one should have been fooled by the "Albanian" disguises, I have yet to see a single production in which Ferrando and Guglielmo should not have been instantly recognized by their women.
Audio Quality
[Rating:4/5]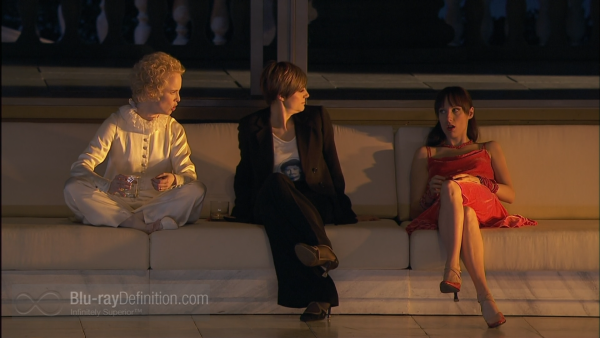 This is a proscenium-oriented recording with very modest ambience in the surround channels making the DTS-HD Master Audio 5.1 soundtrack not much better than the two-channel alternative. Both are very clear with good balance between the singers and the Teatro Real de Madrid orchestral forces.
Supplemental Materials
[Rating:2.5/5]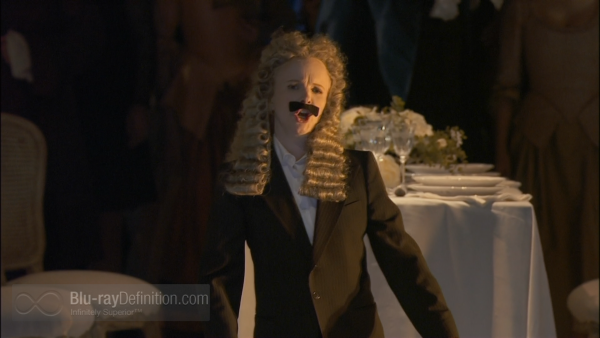 In addition to a program booklet, there is an 22 minute "behind the scenes" featurette (LPCM Stereo 48kHz/16bit) offering interview and rehearsal footage with Austrian director Haneke, who won an Oscar for his fabulous French film Amour.  We also get some C Major trailers.
The Definitive Word
Overall:
[Rating:4/5]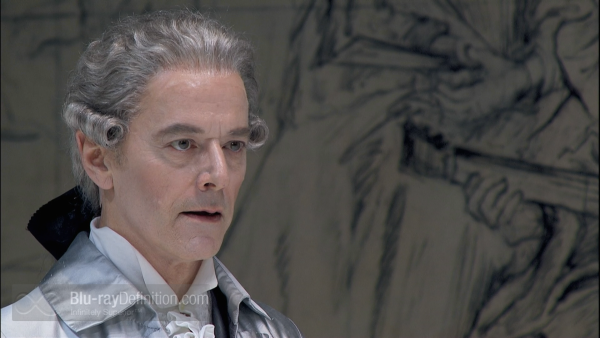 Cosi Fan Tutte has been reasonably lucky in its three prior Blu-ray incarnations with two period productions (directed respectively by Nicholas Hytner and Sven-Eric Besthof) and a similarly updated one directed by Claus Guth. While most of cast members will be unfamiliar names and faces to audiences outside of Europe, they all carry off their roles superbly with nary a weak link. What may be the deal maker or breaker for potential buyers rests on director Haneke's recasting of the Despina character who, in this production, is a young immigrant married to Don Alfonso.  She is occasionally depressed and frequently visits the well-stocked open bar on the set,  quite at odds with the Mozart and Da Ponte's original concept of a sunny, minx-like woman. There is also more contrast between the two couples than we are accustomed to seeing. From my perspective,  this whole rethinking just works to perfection and should delight those who have always loved this opera.
Additional Screen Captures
[amazon-product region="ca" tracking_id="bluraydefinit-20″]B00F8I434S[/amazon-product]
[amazon-product region="uk" tracking_id="bluraydefinit-21″]B00F8I434S[/amazon-product]
[amazon-product]B00F8I434S[/amazon-product]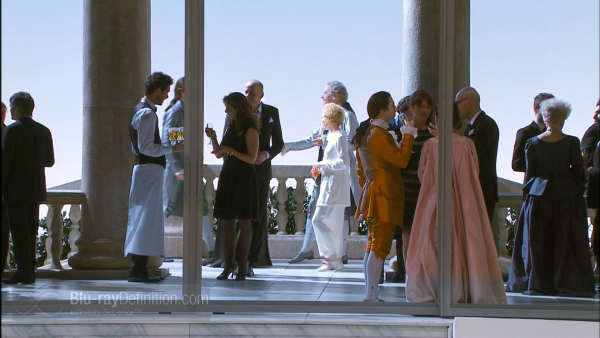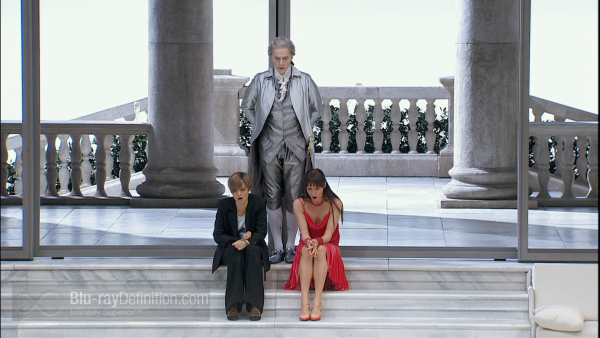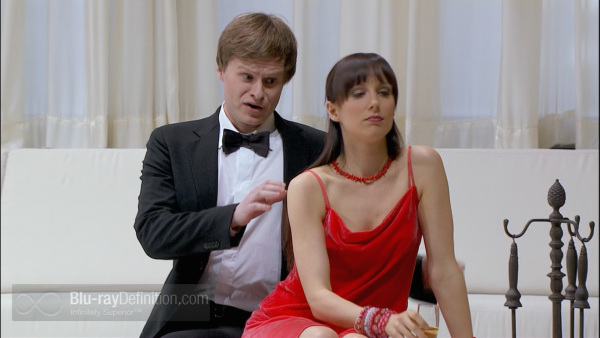 [amazon-product region="ca" tracking_id="bluraydefinit-20″]B00F8I434S[/amazon-product]
[amazon-product region="uk" tracking_id="bluraydefinit-21″]B00F8I434S[/amazon-product]
[amazon-product]B00F8I434S[/amazon-product]