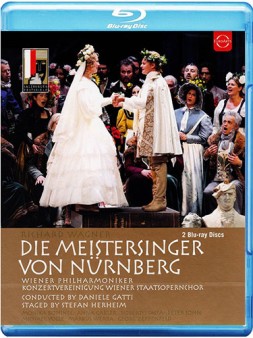 – –

The Performance
[Rating:4.5/5]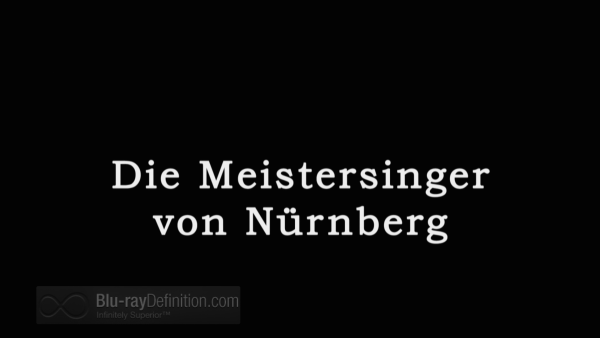 Richard Wagner's only operatic rom-com, Die Meistersinger von Nürnberg (The Mastersingers of Nuremberg) is a lighthearted love quadrangle in which the heroine is object of three men's desires: one too old, one too fussy, and one (eventually) just right. This 2013 Salzburg Festival production, directed by Norwegian avantgardiste Stefan Herheim has him putting the cast in 19th century period costumes of Wagner's own era and surrounding them with rather fanciful sets. Maestro Daniele Gatti, a first-rate Wagnerian, leads the Wiener Philharmoniker and Konzervereinigung Wiener Staatsopernchor in perfectly paced reading. The cast has a few familiar names but most of this large ensemble is better known in European than in United States opera houses.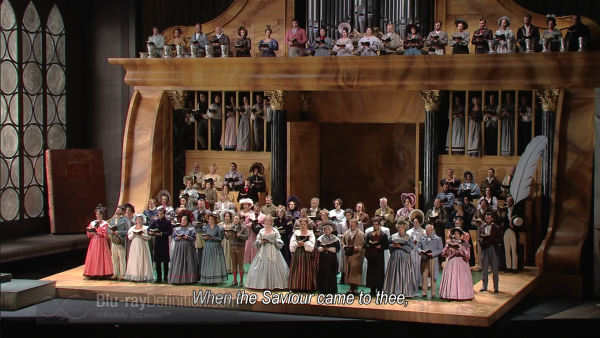 The guilds of Nuremberg provide  the context for a delightful story of young love and  hurdles that must be surmounted. Hans Sachs (Michael Volle), a middle-aged widower and cobbler, secretly loves Eva (Anna Gabler), daughter of wealthy goldsmith Veit Pogner (Georg Zepperfeld). Sachs cannot express his true feelings for Eva as he feels that he is too old for her. Enter dashing Walther von Stolzing (Roberto Sacca), a young knight. who fears nothing and wants everything. He sees Eva, is immediately smitten by her beauty, and decides to make her his own.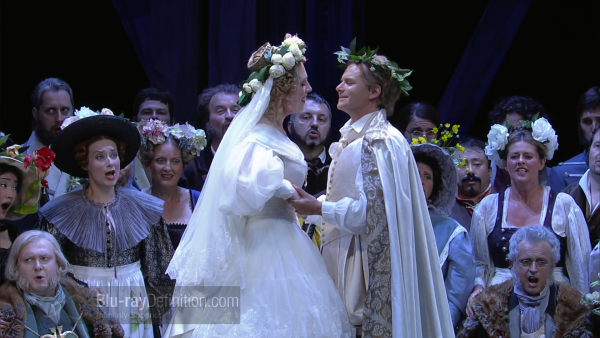 Eva's hand will go to the winner of the annual Nuremberg singing contest and Walther must engage Sach's aid if he wants this prize. Walther's rival for Eva is the punctilious town clerk, Sixtus Beckmesser (Markus Werber) who fancies himself quite a singer. The amorous relationship between Eva's nurse Magdalene (Monika Bohinec) and Sach's apprentice David (Peter Sonn) serves as a comic foil for that of Eva and Walther.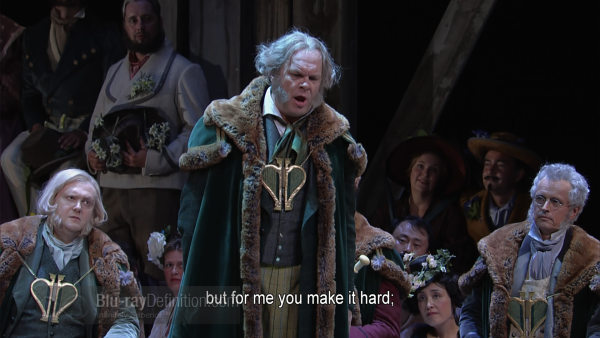 In the spirit of television's reality show, "The Voice," Walther receives a crash course in singing from mastersinger Hans Sachs. By the day of the contest, Walther must perform an original song worthy of a winner.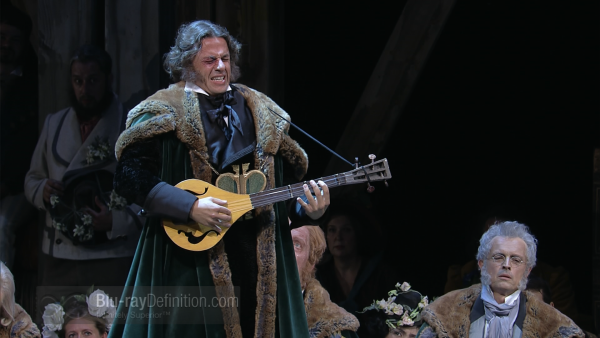 Beckmesser sneaks into Sach's home to make off with what he thinks will be his prize song (that Sachs has written with Walther).  Little does he know, that Sachs has  left the verses incomplete so that when the song is performed it will be utter nonsense. The big festival day arrives, Beckmesser is publicly humiliated (and deservedly so) and Walter's performance carries off the day and the girl.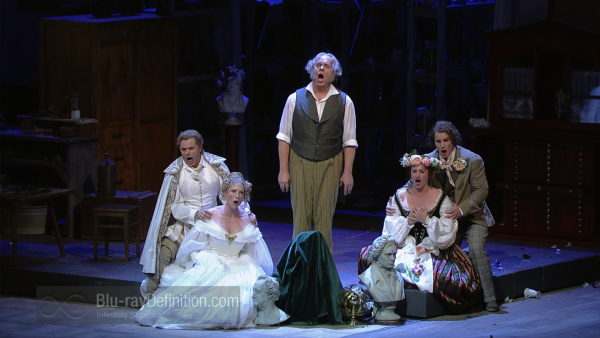 The principals, tenor Sacca and soprano Gabler are both visually and vocally appealing (albeit Sacca does look a bit mature for a young knight), qualities essential to the romantic nature of this opera, while tenor Sonn and mezzo-soprano Bohimec are equally youthful in appearance and voice. We are also in luck with the other two principals, Werber and Volle, both of whom are perfectly suited for their roles in the voice and acting departments. The chorus, an essential character in this opera, is consistently superb.
Video Quality
[Rating:4.5/5]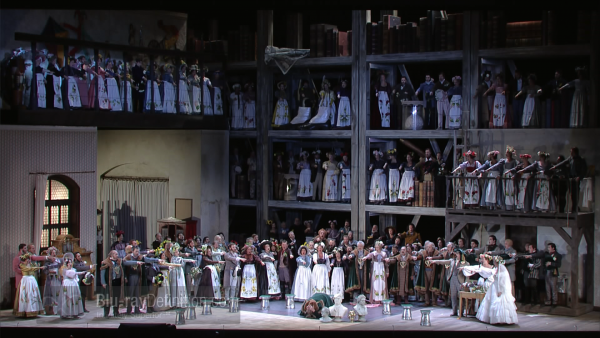 Video director Hannes Rossacher's cameramen give us excellent stage coverage, mixing distant perspectives with sharp close-ups of the generally attracive cast.  Colors and costumes are gorgeous, particularly in the festival scene. The first two acts have larger-than-life sets: Act I is staged on Sach's large writing desk, and Act II in Sach's atelier, with a huge shoe and hammer. Act III has a normally proportioned cobbler's shop that is transformed into a huge open space for the finale. There is much stage business that draws out this comedy's inherent humor and, if Walther's sword brandishing seems excessive, most of Herheim's stageplay works quite well. Careful viewers will note the prominent placement of  a bust of Richard Wagner in Acts II and III!
Audio Quality
[Rating:4.5/5]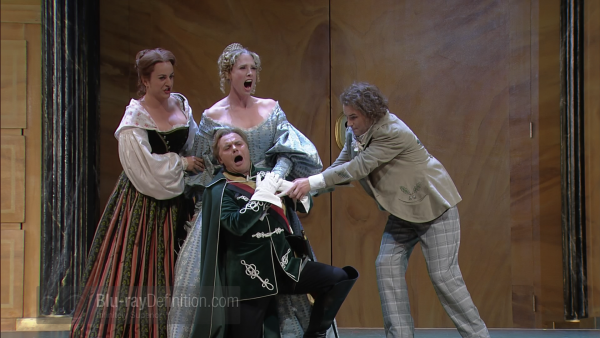 The Grosses Festspielehaus is a splendid acoustic venue and the sound engineers give us a very well balanced account of both voices and instruments. For listeners who want to hear how to record ensembles, the Act III quintet ("Selig, wie die Sonne") is absolutely ravishing with each voice crystal clear. The surround version has more ambience than its two-channel alternative.
Supplemental Materials
[Rating:2.5/5]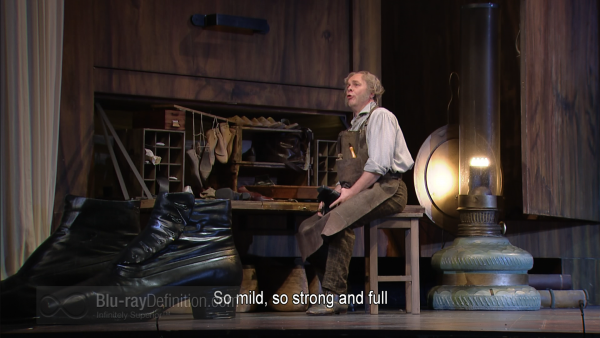 There is a featurette "The Making of Meistersinger" (16:25) (German LPCM Stereo 48kHz/24-bit) that exposes director Herheim's concepts for this opera and how he worked to get them into this production. A program booklet gives us cast, production credits, and a background essay by Alexander Meier-Dorzenbach. EuroArts also gives us the usual trailers.
The Definitive Word
Overall:
[Rating:4.5/5]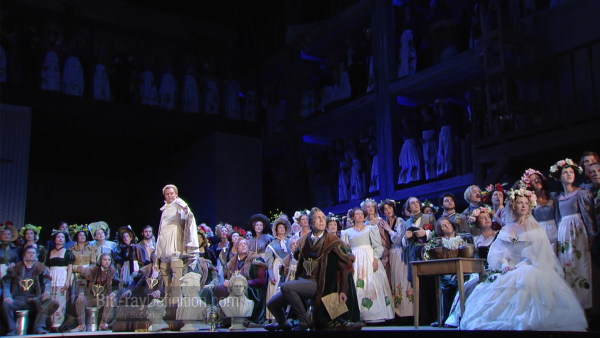 After the Blu-ray premiere of a terrific new Glyndebourne Festival production of Die Meistersinger von Nürnberg, starring Gerald Finley as a more youthful Hans Sachs, and well conducted by Vladimir Jurowski, this Salzburg Festival version provides a distinct contrast.  Vocally, this production is stronger with Volle's Sachs being more deeply felt than Finley's, showing an artist who has lived much longer in this character's skin.  Young bass-baritone Werber delivers a refreshing spin on Beckmesser, making him out to be more of a nerd than a villain.  Soprano Anna Gabler is in better vocal estate than she was at Glyndebourne and tenor Sacca outpoints his Glyndebourne counterpart Marco Jentsch at every turn. Nods also go to the superior leadership of maestro Gatti who makes four hours pass quite quickly. Director Herheim's fresh perspective on a venerable opera has far more hits than misses with never a dull moment and repeatedly pointing out that this is supposed to be a fun story. This EuroArts release is now my top recommendation in the Blu-ray Die Meistersinger von Nürnberg sweepstakes.
Additional Screen Captures
[amazon-product region="uk" tracking_id="bluraydefinit-21″]B00KVOBZXQ[/amazon-product]
[amazon-product region="ca" tracking_id="bluraydefinit-20″]B00KVOBZXQ[/amazon-product]
[amazon-product]B00KVOBZXQ[/amazon-product]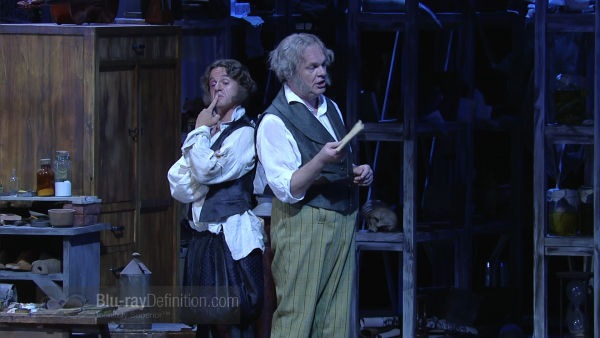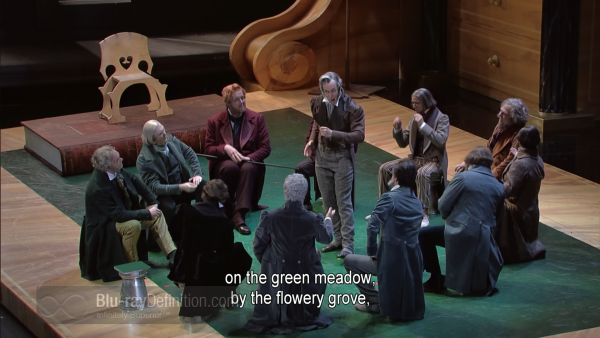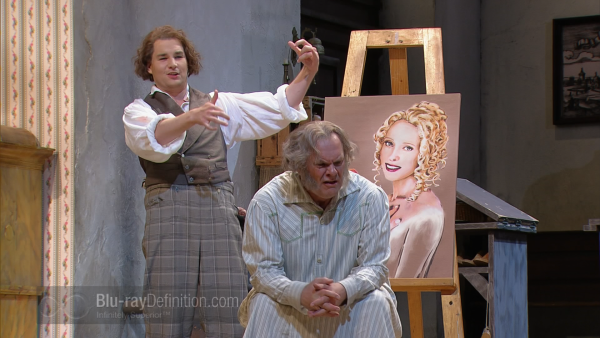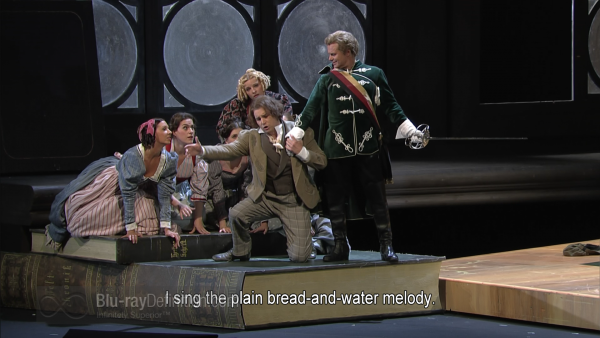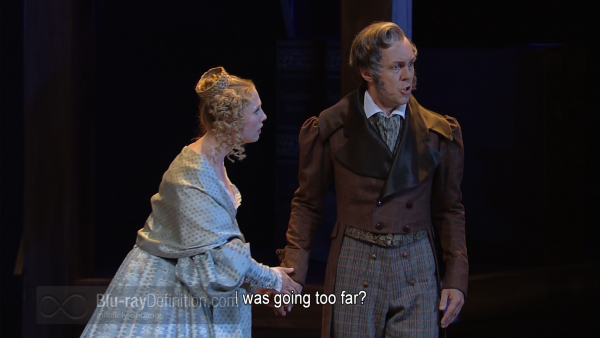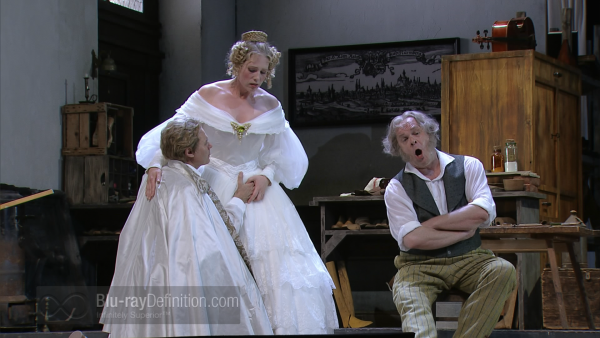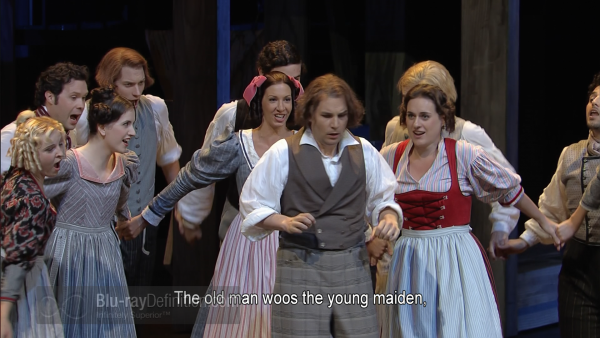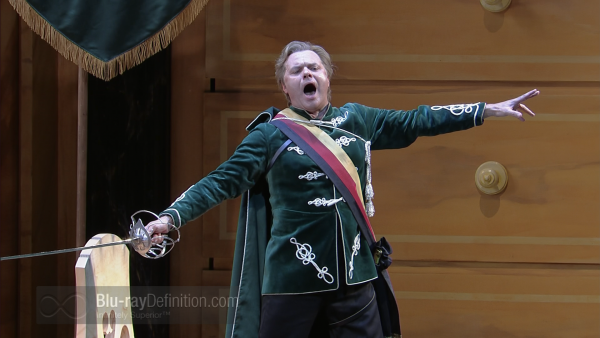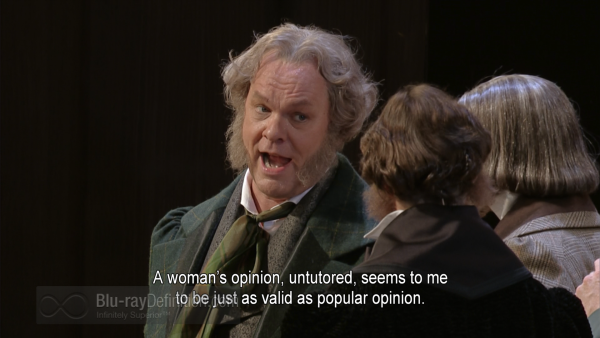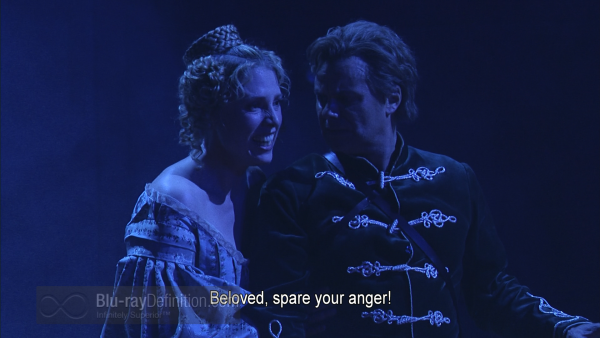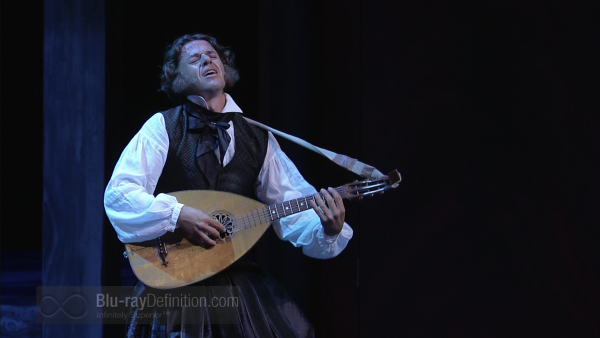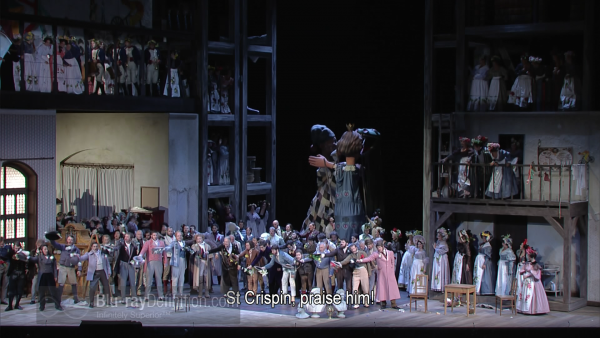 [amazon-product region="uk" tracking_id="bluraydefinit-21″]B00KVOBZXQ[/amazon-product]
[amazon-product region="ca" tracking_id="bluraydefinit-20″]B00KVOBZXQ[/amazon-product]
[amazon-product]B00KVOBZXQ[/amazon-product]