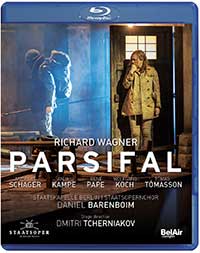 This Parsifal was a much-anticipated 2015 production from the Deutsche Oper's Easter festival that received a new staging by the mercurial director Dmitri Tcherniakov. Dealing with such subjects as faith, sin, and redemption, Parsifal was Richard Wagner's final and most challenging opera to compose, spanning a quarter of a century from concept to completion.
At the castle of Montsalvat, the Knights of the Holy Grail protect a chalice that once contained the blood of Jesus Christ. Their leader Amfortas (Wolfgang Koch) was seduced by the wizard Klingsor's (Tomas Tomasson) daughter Kundry (Anja Kampe) and received an open and unhealed wound from the spear that struck Jesus. Only a "blameless fool made wise through pity" can make the ailing knight whole again. Parsifal (Andreas Schager) enters the castle with several knights after he has carelessly killed a swan. The avuncular Gurnemanz (Rene Pape) cannot get Parsifal to reveal his name. When the youth witnesses the holy rites of the Grail, he does not understand them and Gurnemanz then drives him away for being a fool.
Far from Montsalvat, Parsifal wanders into Klingsor's realm and encounters flower maidens ranging from mere children to fully-grown adults. Klingsor instructs his daughter Kundry to enthrall Parsifal and she tells him that he was responsible for his mother's death. Caught off-guard, Parsifal nearly succumbs to Kundry's blandishments until he remembers his time spent with the knights and suddenly feels Amfortas's pain. Kundry asks for Klingsor's assistance and the wizard goes at Parsifal with the same spear that wounded Amfortas. Parsifal wrests the spear away, killing Klingsor and destroying his magic kingdom.
Many years have passed, Amfortas's father Titurel (Matthias Holle) has died, and the knights' community is in disarray. Gurnemanz has left Montsalvat and finds Kundry lying unconscious. As he revives her, a stranger appears with a spear; it is Parsifal. Sadly, Gurnemanz tells him that Amfortas can no longer perform his duties so the only hope for the Knights of the Holy Grail is for Parsifal to become their spiritual leader. Parsifal blesses Kundry and heals Amfortas's wound with the touch of his spear.
Tcherniakov's set designs include a stark industrial workshop for Montsalvat, and a largely empty room for Klingsor's garden. Elena Zayetseva's costumes flatter no one, as examples the drab workmen's clothes for the knights and Kundry, and Raggedy Ann dresses for the flower maidens. The director's perverse take on the Parsifal legend presents a sexually conflicted hero who finally becomes the leader of a cult. The final lip lock between Amfortas and Kundry who is then stabbed by Gurnemanz is an ending that would have made Wagner himself cringe. Nonetheless, this extremely strong cast goes all in for it and produces a tremendous sing. Rene Pape is the Gurnemanz of our times and I cannot recall seeing better renditions of the title role or the conflicted Kundry than those by Shager and Kampe. The real hero of this production is maestro Daniel Barenboim who leads a measured yet very moving performance of Wagner's longest score.
The Video
Two of the three acts are shrouded in darkness and this noticeably affects their colors and details. All is well in the brightly lit stage of Act II. We are rewarded with Andy Sommers's excellent videography that brings the opera to life.
The Audio
The balances between the singers and the orchestra are well handled by audio producer Friedemann Engelbrecht's recording team. The DTS-HD Master Audio 5.1 surround sound track is a slight improvement over the LPCM 2-channel option as there is little happening in the extra channels.
The Supplements
BelAir Classiques is not usually generous in the extras department and we get only a slight program booklet with cast and production credits, track listings, and synopsis.
The Final Assessment
Parsifal is one of the most challenging watches in the traditional operatic repertory, yet its ultimate message is one of hope and the absolution of sin. This new release may not displace the Metropolitan Opera's recent over-the-top production that starred Jonas Kaufmann but it does bring another point of view to a work that stands as the final and transcendental statement by one of opera's greatest composers. If you can work around Tcherniakov's odd dramaturgy, you will be rewarded with vocal performances that are as good as Parsifal usually gets.
Wagner: Parsifal [Staatskapelle Berlin/Barenboim] (TheaterByte Blu-ray Review)
Summary
If you can overlook this production's odd dramaturgy. this is a Parsifal with vocal performances as good as it gets.
What people say... Login to rate
Be the first to leave a review.
Show more