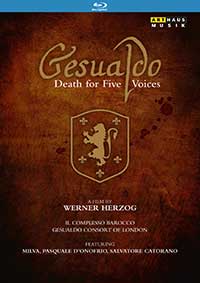 One of the greatest composers of the Renaissance, Carlo Gesualdo, Prince of Venosa, led a personal life that was neither conventional nor virtuous by the standards of his time. After abandoning an ecclesiastical career, Gesualdo married his first cousin, Donna Maria d'Avalos, whom he later discovered in bed with Duke Fabrizio Carafa. Gesualdo not only murdered the couple but also mutilated their bodies and then put their corpses on public display. All of this notwithstanding, the Prince continued to write trailblazing chromatic music that was unlike any composed during this era, marked by its dissonance and expressionism.
Legendary German film director Werner Herzog (Fitzcarraldo and Aguirre, Wrath of God) takes viewers on another historic journey, Gesualdo: Death for Five Voices, this time returning to Gesualdo's home and retelling stories both true and contrived with a contemporary cast that recreates the era of the Italian Renaissance. Interspersed are performances of Gesualdo's five-part madrigals by two ancient musical groups, Il Complesso Barocco under Alan Curtis and the Gesualdo Consort of London directed by Gerald Place, on location in the Italian countryside. Herzog's musician contributors give us a critical view of a musical genius  who wrote music that was perhaps centuries ahead of his time.
Piece by piece, Gesualdo's life is reconstructed via various sources assembled for this film. Adding a "human" touch is a description of Gesualdo's wedding dinner by some local chefs who continually refer to the Prince as a "diavolo" (devil). Moving to modern times, we revisit the Naples palace where Gesualdo murdered his wife and her lover, including a grisly exhibit of two preserved skeletons that might just have been the unlucky pair. Famed Italian actress Milva Bolcati briefly takes us back to the scene of the crime. Later, the Prince D'Avalos entertains us in his summer palace and shares his views on Gesualdo's music as well as his own (an opera based on the death of his ancestor, Maria d'Avalos). The Gesualdo tour continues with stops at other sites that played a role in his troubled life, concluding with a Gesualdo festival, complete with a costumed cast representing the battle between good (an uniformed angel) and evil (the devil himself). This documentary includes several narrators (including Herzog) and interviews that add a vestige of "reality" television to the story and, as only Herzog can do, makes a four-century old tale of love, intrigue, and genius quite relevant to our modern times.
The Video 
This is a two-decades old film that frequently betrays its age with loss of detail and some obvious grain. Even with that, Herzog's cameras give us an intimate portrayal of a remote place and time that is compelling and evocative.
The Audio
The LPCM 2.0 soundtrack is reasonably good if not up to today's best. Some of the interviews are a bit boxy and there is not much surround effect going on here.
The Supplements
Arthaus Musik gives us a booklet with a good background essay and cast/production credits. There is also a dual-track commentary by director Herzog in English and in German. The usual trailers for other Arthaus Musik classical Blu-ray discs fills out the supplements..
The Final Assessment
Werner Herzog, throughout his career, has never made a film that will not provoke its audience. The magic here lies in this director's ability to travel back four centuries and deliver a compelling story about a composer who is probably unfamiliar to all but musicologists and Renaissance madrigal fanciers. This hour's journey to the past should at the very least, generate interest in hearing more of this composer's vocal works.
Gesualdo: Death for Five Voices (TheaterByte Blu-ray Review)
Not Rated
Rating Certificate
Arthaus Musik
Studios & Distributors
$29.99
MSRP
LPCM 2.0 (48kHz/16-bit)
Audio
Summary
Werner Herzog has never not made a film that is, if nothing else, provocative. Death for Five Voices travels back four centuries in time and delivers a compelling story about a composer who may be unfamiliar to modern audiences but wrote music that was well ahead of its time and well worth discovering.
What people say... Login to rate
Be the first to leave a review.
Show more