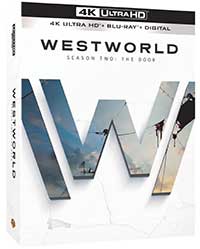 HBO's Westworld Season One, subtitled "The Maze", took writer/director Michael Crichton's 1973 sci-fi action/thriller about a robot Disneyland for adults gone haywire starring Yul Brynner as a robot gunslinger with his wires crossed who turns on park guests James Brolin and Richard Benjamin, hunting them down relentlessly and turned it into a sleek and philosophical exploration of what it means to be human. The series hit HBO with a splash and was immediately seen by many as a strong contender to replace Game of Thrones, which will be ending its run in 2019.
Enter Season Two, and there were high expectations for this season of Westworld, coming two years after its debut and in an extended hiatus for Game of Thrones as it builds to its highly anticipated grand finale. Season Two of the series builds on the psychological thrills of the first season, but minus the shock value of what was going on there had to be a twist to pull us in, and that twist comes in the form of its non-linear timeline – one we didn't realize we were already sort of involved in in season one. Revealed as a Host in season one and being manipulated by theme park founder Dr. Robert Ford (Anthony Hopkins), Bernard (Jeffrey Wright) is now on a disjointed journey in the aftermath of the Host uprising that ended season one. His memory is damaged and he cannot tell what is past and what is present.
Delores (Evan Rachel Wood) is on a journey of her own, a journey of self-discovery, revenge, and trying to get out of this fantasy playground she has been trapped in. Meanwhile, Maeve (Thandie Newton) is also on a journey – a journey to find the daughter from one of her past narratives, even though she knows it was all a fantasy written for her by the humans, she cannot give up on the idea of finding her daughter, and she gathers an unlikely group of companions to help her on her journey.
This season is one that is not easily digested the first time through and, in fact, ratings for the second season fell off pretty sharply over the first. Many people, including myself, found the many subplots and individual journeys combined the nonlinear storyline made it at times very difficult to follow – that and some episodes that felt as if they were acting as filler, like the powerful yet pointless Shogun World. That said, a second viewing for this review reveals a lot about this season. While the series still doesn't recover fully from the revelations in season one that added to its mystery, it does take an intelligent deep dive into philosophy, history, and many classic tropes of sci-fi. The timeline also becomes much more evident as do the tricks to how to follow it — changes in aspect ratio, the age of the man in black (Ed Harris) are just a couple of the breadcrumbs.
The finale, which many found to be confusing, actually ends up being one of the more straightforward, easily understandable and exciting episodes of the season, especially for the potential it sets up for where the series can go in Season Three, which isn't scheduled to air until 2020.
The Video
Westworld: Season Two was shot on a variety of Arri cameras utilizing Kodak Vision3 250D 5207, Vision3 500T 5219, and Eastman EXR 50D 5245 35mm film stock. A 4K DI was used in post-processing and the season was mastered with Dolby Vision HDR and brought to 4K Ultra HD in a 1.78:1 (some scenes in 2.35:1) HEVC 2160p (4K) encodement. This second season looks a bit better than the first did on 4K even if colors in the outdoor "Wild West" setting still look somewhat faded, which seems to be an artistic choice. In this season the Dolby Vision's wide color gamut pop's a little more in the indoor scenes at the theme park's high-tech control centers, for instance, and outdoor visual effects like flames glow bright orange with a lovely range of colors. The film source is very clean and organic looks with a thin veneer of grain and only a small of scenes where it gets softer and a little gritty due to the filming process. While this series still doesn't quite leap from the screen like some other productions in 4K, this is a satisfying release and this season definitely steps it up over the Blu-ray, unlike season one which was a wash as to which version was better. Speaking of Blu-ray, the included Blu-rays also looks great, but with a little less amount of finer detail and colors like reds showing far less 'pop' and glow.
The Audio
Like Season One, Westworld: Season Two hits 4K Ultra HD with an English Dolby Atmos sound mix. This is a subtle yet effective mix that uses the overhead channels effectively to bring balance and atmosphere, especially in the moody score the series employs. The action benefits as well with some panning off to the sides and sounds coming from above. Low end is solid and dialogue clean and full. This season's mix seems to hit the mark a bit better than season one's while maintaining the same basic ideologies.
The Supplements
Westworld: Season Two is stuffed with special features that examine the themes of the season and its production. They all go a long way in helping to understand the philosophy and mythology of the series as well as the timeline of events.
The Truth Behind Delos (1.78:1; 1080p/24; 00:12:47): Season 2 dives deeper into the Delos mythology than ever before. A look at the technology at the heart of the corporation's efforts, and the impact and risks associated with these tools in a not-too-distant future.
These Violent Delights Have Violent Ends (1.78:1; 1080p/24; 00:11:18): An exploration of the quote that serves as a beacon for Westworld storytelling – from the philosophical approach to violence to the practical logistics of using VFX, makeup and props to make the epic battle scenes feel authentic.
Bring Yourself Back Online:

Reflections on Season 2 (1.78:1; 1080p/24; 00:14:49): Actors Jeffrey Wright, Evan Rachel Wood, and James Marsden reflect on their experiences and favorite moments in Westworld Season 2. Hosted by Leonardo Nam (Lutz) and Ptolemy Slocum (Sylvester).
Of Love and Shogun (1.78:1; 1080p/24; 00:15:26): Actors Thandie Newton, Simon Quarterman and Rodrigo Santoro discuss the theme of love in their characters' journeys through Shogun World and beyond. Hosted by Leonardo Nam (Lutz) and Ptolemy Slocum (Sylvester).
Journeys and Technology (1.78:1; 1080p/24; 00:15:26): Actors Luke Hemsworth, Ben Barnes, and Angela Sarafyan pick up where Season 1 left off and compare the technology in Westworld to our contemporary society. Hosted by Leonardo Nam (Lutz) and Ptolemy Slocum (Sylvester).

Creating Westworld's Reality:

The Drone Hosts (1.78:1; 1080p/24; 00:03:23): Show creators Jonathan Nolan and Lisa Joy introduce the Drone Hosts and the amazing custom design and acting that goes into perfecting the white robots.
An Evocative Location (1.78:1; 1080p/24; 00:03:23): Step outside and see what life is like beyond the park with a self-made man like James Delos (Peter Mullan) as he goes on location in Malibu.
Fort Forlorn Hope (1.78:1; 1080p/24; 00:05:32): Executive producers Lisa Joy and Jonathan Nolan take you behind the scenes of the making of Fort Forlorn Hope, crafting Dolores as a character, and dealing with topics that women face when oppressed.
The Delos Experiment (1.78:1; 1080p/24; 00:05:59): Director Lisa Joy, executive producer Jonathan Nolan, and Jeffrey Wright (Bernard) discuss the behind-the-scenes elements that went into creating each space and how the environment reflects the storytelling that's happening with the characters.
Shogun World (1.78:1; 1080p/24; 00:12:58): Show creators, producers, designers, and cast (Thandie Newton, Hiroyuki Sanada, Rinko Kikuchi, & more) discuss the look, energy, and creation of Shogun World and the mirroring of Westworld's characters.
Inside the Cradle (1.78:1; 1080p/24; 00:04:48): Series co-creator Jonathan Nolan, actor Jeffrey Wright (Bernard) and more explore the rationale behind the technology in the Cradle.
Chaos in the Mesa (1.78:1; 1080p/24; 00:05:29): The creators and cast explain how the amped up the intensity in the Mesa shootout.
Ghost Nation (1.78:1; 1080p/24; 00:03:19): Actors Zahn McClarnon and Martin Sensmeier, and co-showrunner Lisa Joy, discuss the love story of Episode 8, Kiksuya.
Deconstructing Maeve (1.78:1; 1080p/24; 00:03:31): Thandie Newton and the show's creators discuss the construction of Maeve's hyper-realistic wound and Dr. Ford's hope for his favorite host.
The Valley Beyond (1.78:1; 1080p/24; 00:11:42): Executive producers Jonathan Nolan and Lisa Joy, cast and crew talk about creating new realities in The Valley Beyond.
The Final Assessment
An intelligent sci-fi series with gorgeous visuals and compelling characters that gets an uneven yet still solid second season that improves in sound and picture quality over the first season in this 4K Ultra HD Combo Pack release from Warner Bros.
Westworld: Season Two — The Door is out on 4K Ultra HD Combo Pack & Blu-ray December 4, 2018 from Warner Bros.
[amazon_link asins='B07C5HMXLW,B07C5QV7F6,B07C5FH654′ template='ProductCarousel' store='theaterbyte-20′ marketplace='US' link_id='7b4abf81-fcb0-11e8-aac7-153cf9d5189e']
Bad Robot | Jerry Weintraub Productions | Kilter Films | Warner Bros. Television | Warner Home Video
Studios & Distributors
$64.99
MSRP
2.35:1/1.78:1
Aspect Ratio
HEVC (H.265) 2160p (4K) | AVC 1080p (Blu-ray)
Video
Dolby Vision (Compatible w/ HDR10)
HDR Format
English Dolby Atmos (Compatible w/ Dolby TrueHD 7.1)
Primary Audio
French DD 5.1 | German DD 5.1 | Italian DD 5.1 | Spanish (Castilian) DD 5.1 | Portuguese DD 5.1 | Czech DD 5.1 | Polish Lektor
Secondary Audio
English SDH | French | German SDH | Italian SDH | Spanish (Castilian & Latino) | Dutch | Chinese | Korean | Czech | Danish | Finnish | Norwegian | Polish | Swedish
Subtitles
HDR Effect (If Applicable)
Summary
This second season finds the three main "hosts" and the man in black off on individual journeys after the stunning hos rebellion that capped the second season, and even though the nonlinear storytelling approach often makes it a little difficult to follow, multiple viewings reveal much in this always intelligent and stunningly visualized series. The 4K Ultra HD Combo Pack is an improvement visually and aurally over season one's 4K release.
What people say... Login to rate
Be the first to leave a review.
Show more