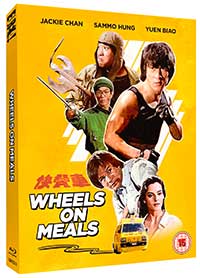 The 1984 Hong Kong film Wheels on Meals is the latest in the series of Jackie Chan reissues to arrive on Blu-ray from Eureka Classics. Unlike the Police Story films, with this story, we already see Chan veering off into a more strictly comedic sensibility, rather than a straightforward crime drama.
Directed by Sammo Kam-Bo Hung, who also co-stars as a private detective named Moby, the story follows two Chinese friends, Thomas (Chan) and David (Biao Yuen), living in Barcelona, Spain who make their living selling food from a van. The two friends and roommates first come across the beautiful Sylvia (Lola Forner, Armour of God), when visiting David's father in a mental health facility. They later run into her again in the city's red-light district as they are selling their food and they believe she is a hooker, only to find out she is a highly skilled pickpocket, but she runs into trouble and seeks them out for help. When she spends the night at their place, she not only steals their money and their neighbor's car, but she gets them wrapped up in an investigation by their private detective friend Moby (Hung), who is seeking out a lost heiress. The two friends and Sylvia end up in danger as Sylvia has a group of gangsters and the law on her trail and they decide to protect her, which isn't easy.
The story in Wheels on Meals – a regrettably awkward English title for the original Kuai can che — isn't much to sink one's teeth into, but from the beginning there's a lighthearted atmosphere and energy that keeps one engaged in the story. Chan is charismatic and delightful to watch as always, and Forner plays the part as the charming and seductive, comedic femme fatale to a tee.
As with any martial arts film, its success or failure often comes down to how good the choreography of the fight sequences is and this one really doesn't disappoint in that regard. Throughout there are some amazing feats and they are carried out with whimsy suitable for this comedy, foreshadowing the sort of thing we would later see in films like Rush Hour. The dénouement is a showdown between Chan and Benny Urquidez that martial arts fans are sure to love.
The Video
Wheels on Meals comes to Blu-ray in a new 2K restoration, framed at 1.85:1 in an AVC 1080p encodement. This transfer continues the trend of these Jackie Chan reissues, looking excellent, with organic, crisp, and natural looking film grain, lots of detail, natural colors and a basically clean-looking image that only has some minor tramlines here and there that likely could not be removed without doing more damage than good.
The Audio
There are a few audio options included on Wheels on Meals, starting with the original Cantonese monaural track in LPCM 1.0. There is also a Cantonese DTS-HD 5.1 mix and an exclusive Cantonese LPCM 2.0 stereo mix with the alternate international soundtrack, that includes what is described as "funkier" music. In fact the music is more upbeat, but is really just generic 1980s sounding pop/dance music.  Also included are the original English dub in LPCM 1.0, an English DTS-HD MA 5.1 mix with the classic English dub, and an English DTS-HD MA 5.1 mix with a 2006 dub.  I really don't care for any of the English dubs for these types of movies, but even the Cantonese tracks look weird since this film is set in Barcelona and the non-Chinese actors are all dubbed into Cantonese rather than allowing their native language to be used. That said, I would normally say go for the original mono track, but the dialogue sounds too loud and overpowering, and even a bit muffled in the mix. The Cantonese 2.0 stereo mix with alternate international soundtrack has dialogue that sound a bit too thin and 'scratchy' and the music is mixed far too loud in the mix. The Cantonese 5.1 mix is the one with the best balance and best sounding dialogue.
The Supplements
While there aren't any new, high-definition extras here, what is included is excellent. The interviews are fantastic. There is also a limited edition slipcase and limited edition booklet featuring new essays by James Oliver and Scott Harrison (4000 copies).
Interviews:

On Giant's Shoulders: An Interview with Sammo Hung (1.78:1; SD; 00:07:41)
Archival Interview with Sammo Hung (1.33:1; SD; 00:10:05)
Born to Fight: An Interview with Yuen Biao (1.78:1; SD; 00:14:57)
Jet Fighter: An Interview with Benny "The Jet" Urquidez (1.78:1; SD; 00:28:24)
King of the Ring: An Interview with Keith Vitali (1.78:1; SD; 00:33:23)
The Inside Track: An Interview with Stanley Tong (1.78:1; SD; 00:34:44)

Outtakes:

Spartan X – Alternate Japanese Release Credits (1.78:1; 1080p/24; 00:03:25)
Outtake Footage (1.78:1; 1080p/24; 00:04:01)

Trailers:

Original Theatrical Trailer
International Trailer
Japanese Spartan X Trailer
The Final Assessment
Wheels on Meals is a fun martial arts romp anchored by Jackie Chan and a big finale showdown. The new 2K restoration looks brilliant in this Eureka release and is in keeping with the high quality of this Jackie Chan reissue undertaking.
Wheels on Meals is out on Blu-ray Disc 18 March 2019 from Eureka Entertainment
---
Golden Harvest Company | Laurenfilm | Eureka Entertainment
Studios & Distributors
Sammo Kam-Bo Hung
Director
Edward Tang | Gwing-Gai Lee (as Johnny Lee)
Writer
Cantonese DTS-HD MA 5.1 | Cantonese with Alternate Soundtrack LPCM 2.0 Stereo | Original English Dub LPCM 1.0 | English DTS-HD MA 5.1 (Classic Dub) | English DTS-HD MA 5.1 (2006 Dub)
Secondary Audio
Summary
Two Chinese food vendors in Barcelona, Spain find themselves embroiled in a private investigator's investigation when they befriend a beautiful pickpocket. Despite its awkward English name, Wheels on Meals is one of Jackie Chan's funnier early 1980s films, has an easy, lighthearted atmosphere, and great martial arts choreography. The new 2K restoration transferred to Blu-ray looks fantastic in this Eureka Classic release.
What people say... Login to rate
Be the first to leave a review.
Show more