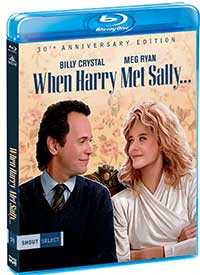 Rob Reiner's perennial romantic comedy classic When Harry Met Sally… comes into heavy rotation every New Year's Eve and Valentine's Day. The film, often compared to Woody Allen's Manhattan or Annie Hall because of the gorgeous New York City setting and the inseparable role the Big Apple plays in the story, follows the serendipitous relationship between Harry (Billy Crystal) and Sally (Meg Ryan), who first meet on a long drive to New York after graduating from the University of Chicago in 1977.
The pair initially don't care for each other much and Harry, whose strange ideas on life and relationships, tells Sally men and women could never really be friends anyway because sex always gets in the way. After they part ways at New York's Washington Square Park in Greenwich Village, they meet again by chance five years later at the airport, Sally dating a colleague of Harry's and Harry about to be married. The pair then meet again some years later at the Shakespeare & Co. bookstore, both of their relationships recently derailed, and they strike up a surprising friendship based on their commiseration. As they try to help each other get over their exes and move on with their lives and meet new people, they both come to realize that maybe they have had the person they have been meant to be with in front of them all these years – but it's complicated.
With a screenplay from director Reiner's wife Nora Ephron (Julie & Julia, You've Got Mail), When Harry Met Sally… is more than just a typical meet cute rom-com, but rather a combination love song to New York City and a witty exploration of the different viewpoints and sexual experiences of men and women, and the question of whether men and women can actually "just be friends".
The pairing of Billy Crystal and Meg Ryan, while on paper sounds awkward, works remarkably well in this film thanks to the direction of Reiner and superb performances from the two leads. Crystal's comedic improvisational and dramatic skills are on fill display, and Meg Ryan, who at the time was one of the leading rom-com actresses on the scene, is so charming and delightful to watch, one really believes these two mismatched people could eventually find love together.
Rob Reiner puts on a master class on how to do the romantic comedy the right way, which is not something that happens often with the genre. 30 years on, the film remains a delightful and enjoyable classic that many newer films in the genre cannot hope to emulate.
The Video
When Harry Met Sally… has been newly restored, scanned at 4K from the original camera negative and brought to Blu-ray in a 1.85:1 1080p AVC encodement from Shout! The image is superb, with crisp detail, organic grain, and natural colors. There are no issues with crush, noise, or edge enhancement.
The Audio
When Harry Met Sally… comes to Blu-ray from Shout Select with a spruced up DTS-HD Master Audio 5.1 audio mix that is a fine upgrade, clean, a good amount of dynamics, and only a mild amount of atmospherics in the surround channels. The DTS-HD Master Audio 2.0 stereo mix is just as strong for this film and has excellent, wide stereo panning with clear dialogue.
The Supplements
This release of When Harry Met Sally… is packed with wonderful special features, but they are mostly port-overs from previous releases and archived features. There's only one new HD special feature, a one on one discussion with Rob Reiner and Billy Crystal, well worth watching. The commentaries are excellent as well.
Commentary by Rob Reiner, Nor Ephron, and Billy Crystal
Commentary by Rob Reiner
New: Scenes from a Friendship (1.78:1; 1080p/24; 00:44:34) – One on one, Billy Crystal and Rob Reiner in discussion.
How Harry Met Sally (1.33:1; SD; 00:33:21)
It All Started Like This (1.78:1; SD; 00:19:48) – Nora Ephron and Rob Reiner in discussion.
What Harry Meeting Sally Meant (1.78:1; SD; 00:12:29) – Nora Ephron and Rob Reiner on When Harry Met Sally
I Love New York (1.78:1; SD; 00:08:29) – The importance of New York City as a setting for the film
So, Can Men and Women Really Be Friends? (1.78:1; SD; 00:07:54)
Deleted Scenes (1.33:1; SD; 00:07:24)
Creating Harry (1.78:1; SD; 00:05:47)
Stories of Love (1.78:1; SD; 00:05:10)
When Rob Met Billy (1.78:1; SD; 00:03:56)
Music Video by Harry Connick Jr. (1.33:1; SD; 00:02:50)
Theatrical Trailer (1.78:1; SD; 00:02:12)
The Final Assessment
This 1989 vintage romantic comedy still holds up today, making it understandable why it is a favorite around the New Year's and Valentine's holiday seasons. This new 30th Anniversary Edition restored in 4K on Blu-ray is the best the film has ever looked on home video.
When Harry Met Sally… [30th Anniversary Edition] is available on  Blu-ray January 8, 2019 from Shout Select
---
Castle Rock Entertainment | Nelson Entertainment | Columbia Pictures Corporation | Shout! Factory
Studios & Distributors
English DTS-HD MA 5.1
Audio
English DTS-HD MA 2.0 Stereo
Secondary Audio
Summary
Harry (Billy Crystal) and Sally (Meg Ryan) meet after college while driving to New York from Chicago together, but don't quite hit it off. After meeting serendipitously over many years, the two eventually develop a friendship, despite believing men and women can't really be friends together, and their friendship starts to bloom into something more when both meet again after failed relationships. A classic romantic comedy with the glitz of Manhattan as its backdrop that often causes comparisons to the Woody Allen classics Manhattan and Annie Hall, this is one of the better rom-coms to come out of the '80s and still holds up today. This new 4K restoration on Blu-ray is top notch.
What people say... Login to rate
Be the first to leave a review.
Show more