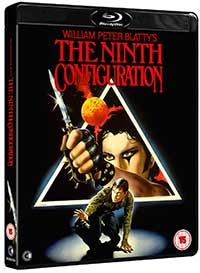 The Ninth Configuration was The Exorcist author William Peter Blatty's directorial début in 1980. This odd film, taken from Blatty's novel Twinkle, Twinkle, "Killer" Kane, picks up from the psycho-theological goth of The Exorcist and expands on those themes, turning in more of a dark comedy psychological theological thriller with gothic trappings. At the center of it is the character Colonel Kane (Stacy Keach), a marine psychiatrist assigned by the Pentagon to treat a group of mentally unstable military officers they have sequestered in a secluded Gothic castle tucked away in a foggy forest on the coast of Washington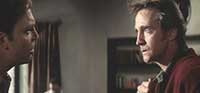 State. But Colonel Kane, who seems to be teetering on the brink of insanity himself, finds the task more than overwhelming, particularly when one of the inmates, Capt. Billy Cutshaw (Scott Wilson), challenges him to prove that God exists and Kane finds this challenge more difficult than he expected. A mid-film bar brawl with a group of motorcycle gang members, one of the strangest moments of the film, both for the fact that these gang toughs are dancing to disco and it is jarringly out of place with the otherwise Gothic surroundings of the Castle asylum, is the turning point that lets us into the mind of Kane and where we see how he will ultimately prove, in his mind anyway, to Cutshaw that there is a God.
The film's only weakness is that it tends to meander over its 118 minutes, but it looks fantastic doing it thanks to the visual work of Gerry Fisher and the eerie production designs of William Malley and art work of J. Dennis Washington. The acting is also intense and quite funny at the same time. Stacy Keach is powerful, while Scott Wilkins easily moves between a man on the brink of sanity and violence or spitting out gut wrenching philosophical one-liners that cut through you.
The Video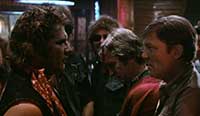 Second Sight provides The Ninth Configuration in a good-looking AVC 1080p transfer on Blu-ray. The grain structure looks natural and is never overwhelming. There is some film softness, but despite a bit of cleanup in the picture, the image does not look overly smooth, and there is a good amount of texture still here. The colors look natural and there is a nice amount of shadow detail in what is a dark, shadowy film.
The Audio
The Ninth Configuration comes with a monaural soundtrack in LPCM 2.0 that is basically good, but the dialogue
definitely clips, and it clips a lot, which is quite grating and distracting. This is probably inherent in the source and may have been impossible to cure without doing irreparable damage to the sound.
The Supplements
The interview/commentary with the director is very interesting to listen to during the watching of the film, but the various HD interviews and archival interviews that are also included are also welcome extras. This is a very good array of supplements from Second Sight.
The Writer/Producer/Director – Interview with William Peter Blatty (1.78:1; 1080p/24; 00:16:38)
Confessions of Kane – Interview with Actor Stacy Keach (1.78:1; 1080p/24; 00:14:31)
The Debrief of Sgt. Christian – Interview with Actor Stephen Powers (1.78:1; 1080p/24; 00:07:46)
Designing the Configuration – Interviews with Production Designer William Malley and Art Director J. Dennis Washington (1.78:1; 1080p/24; 00:11:44)
Killer on My Mind – Interview with Soundtrack Composer Barry De Vorzon (1.78:1; 1080p/24; 00:08:54)
The Party Behind the Curtain – Interviews with Actors Tom Atkins, Jason Miller, Richard Lynch and William Peter Blatty (1.78:1/1.33:1; 1080p/24; 00:14:02)
Archive Featurette with Mark Kermode (1.78:1; SD/PAL; 00:06:47)
Outtakes & Deleted Scenes (1.33:1; SD/PAL; 00:20:44)
Commentary with William Peter Blatty and Mark Kermode
The Final Assessment
The Ninth Configuration is a strange film that won't be for everyone at all, but it definitely does earn its cult film status by delivering superb acting, memorable dialogue, and stunning visuals. Second Sight Films also deliver the goods with a satisfying HD transfer and a strong array of extras.
The Ninth Configuration [UK] (TheaterByte Blu-ray Review)
Second Sight Films
Studios & Distributors
William Peter Blatty
Director
William Peter Blatty
Writer
£19.99
MSRP
25 April 2016
Release Date
English LPCM 2.0 Mono (48kHz/16-bit)
Audio
Summary
William Peter Blatty's The Ninth Configuration in no way reaches the level of The Exorcist, but this cult classic dark comedy/psycho-theological thriller stands on its own in this satisfying Blu-ray release from Second Sight Films.
What people say... Login to rate
Be the first to leave a review.
Show more