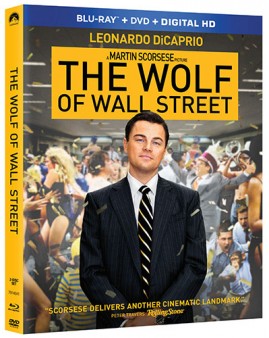 The Film
[Rating:4.5/5]
With The Wolf of Wall Street, Martin Scorsese directs Terence Winter's screenplay adaptation of, Jordan Belfort's memoirs of his rise and fall as a corrupt and debauched Wall Street banker. In doing so, not only does Scorsese make one of his most biting commentaries on runaway American avarice and materialism, but also crafts one of the most hilarious films of his illustrious career.
Scorsese teams up once again with Leonardo DiCaprio (Shutter Island; The Departed; The Aviator took home the Golden Globe for his role here) as Jordan Belfort, whose story is told, often in the first person through narration, from his time as a young, pie-eyed trainee at a big brokerage firm on Wall Street. Starting out a mostly good guy looking to do well for his clients and his wife, Belfort takes the lessons of his mentor Mark Hanna (Matthew McConaughey) a bit too much to heart, and is soon looking out for number one – himself. He realizes quickly that the way to rack up the riches is through commissions, no matter if the client makes money or not. When the market tanks in 1987, Belfort finds himself selling unregulated penny stocks for companies with dubious financial outlooks to middle class folks, but he realizes that the best way to really make a killing is to unload these garbage stocks on super-wealthy investors. He soon puts together his own team of ragtag salesmen with little financial background and teaches them his nonstop, don't take no for an answer spiel. Among them is his neighbor Donnie Azoff (Jonah Hill), a somewhat creepy, possibly mentally challenged guy who will eventually become one of his Vice Presidents. His life and career take off, and so does his decline into drug-fueled lechery and run-ins with the law, including an FBI agent (Kyle Chandler) whose eye he catches after Forbes runs an article on his firm, labeling him "The Wolf of Wall Street". Despite starting out as a loving family man, Jordan can't avoid the cliché of "trading up" in the spousal department either, when the beautiful blonde lingerie model Naomi (Margot Robbie) catches his eye at one of his outrageous parties. It's just another clue that his life is spinning out of control.
Despite its nearly three-hour length, The Wolf of Wall Street flies by with an amazing amount of momentum and energy thanks to Scorsese's direction. He utilizes all the tricks in the book to keep the story flowing, including numerous flashbacks and flashes back to the present, a number of impossibly hilarious gags, including one where Jordan has a bad reaction to some Quaaludes and loses his motor skills while driving home in his Ferrari. DiCaprio really plays it up to the hilt here as well, throwing himself into the entire gag making himself really look the fool.
But The Wolf of Wall Street isn't all about gags, there are plenty of moments filled with powerful dialogue. There's a moment where Jordan delivers a rousing speech to his employees to get them riled up for the company's first IPO for a shoe designer. It's also an opportunity for Scorsese to expose the underbelly of greed in American society. Jordan's speech goes from quiet to a fever pitch in which he extols the virtues of being rich, saying "I've been a rich man, and I've been a poor man…I'll take being rich every time!" and continues on to denigrate what he perceives as the mundane, worthless lives of those without money. It's very reminiscent of Gordon Gecko in Wall Street and the famous "greed is good" line, but even harsher. It's moments like these aided by a rousing performance from DiCaprio, that help keep The Wolf of Wall Street entertaining for its entire three-hour run.
Video Quality
[Rating:5/5]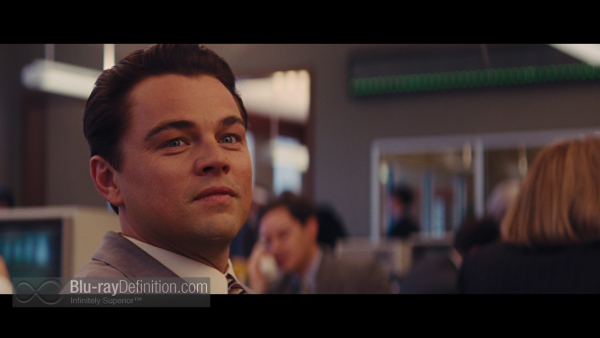 The Wolf of Wall Street was shot in a variety of HD and Super 35 sources and brought to Blu-ray in a richly detailed and saturated AVC/MPEG-4 1080p encodement from Paramount. The hyper-realistic pallet and rather bronze and peachy looking flesh tones translate well, while we also get a strong sense of contrast with a clean image, crisp textures, and nuanced details in the darker areas.
Audio Quality
[Rating:4.5/5]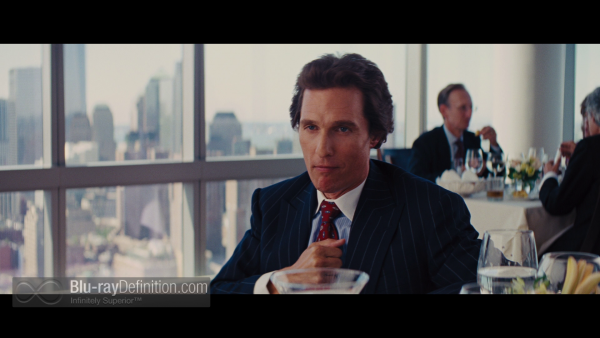 The English DTS-HD Master Audio 5.1 (48kHz/24-bit) soundtrack is lively without being overtly aggressive. It springs to life during the numerous scenes of debauched depravity, really rattles the floorboards with the dance music, and also engulfs us in the din of the office sounds. It also manages some more subtle moments. All the while the dialogue is crystal clear.
Supplemental Materials
[Rating:0.5/5]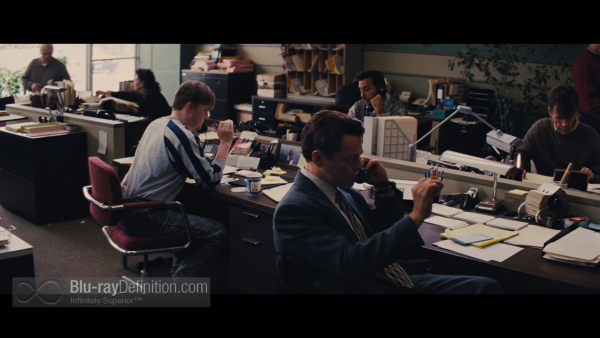 It's a disappointment that we don't get much beyond the EPK-type featurette included on the disc as a supplement.
DVD
iTunes Digital HD Digital Copy & Digital HD UltraViolet
The Wolf Pack (1.78:1; 1080p/24; 00:17:01)
The Definitive Word
Overall:
[Rating:4/5]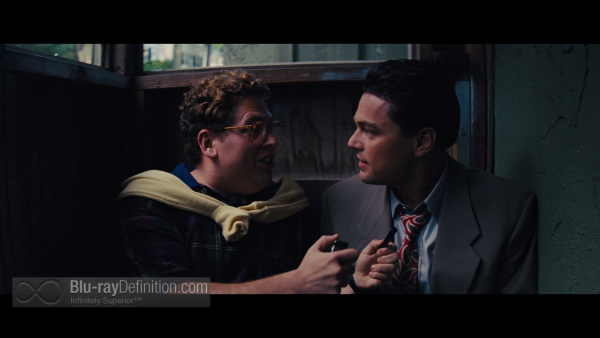 Beautiful looking, brilliantly played, hilarious and equally cutting, The Wolf of Wall Street is Scorsese's Goodfellas for the white collar crowd. He takes on the One Percenters and lays them bare with no room to spare. An absolute late career masterpiece.
Additional Screen Captures
[amazon-product]B00IIU9U00[/amazon-product]
[amazon-product]B00H9KKKAY[/amazon-product]