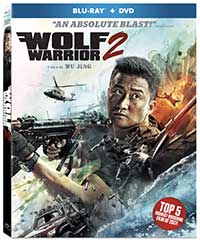 Star and director Wu Jing returns to reprise his role in Wolf Warrior 2 the sequel to the 2015 smash hit. This sequel went on to become one of the top five biggest grossing films worldwide for 2017 and the biggest grossing film of all time in China. Wu once again plays he shoot-from-the-hip Chinese special forces soldier Leng Feng who finds himself in an African country on the brink of civil war when an Ebola-like viral outbreak devastates the nation. After rebel forces aided by American mercenaries begin an uprising, Feng must protect a group of medical aid workers trying to find the cure. With China's Dr. Chen already killed, Feng must protect his assistant, Rachel Prescott Smith (Celina Jade) and a girl coveted for her blood that may be the cure for the outbreak – and instant power for anyone who possesses her.
It's not difficult to see why Wolf War 2 was such a box office smash in China and globally. It has all the earmarks of a Hollywood hit like nonstop action, comedy, and a charismatic leading man in Wu who does many of his own stunt. It even manages to throw in plenty of homegrown Chinese nationalism on a level usually reserved for the films of Michael Bay and the like. In this film, it's the U.S. warships that bail out and he Chinese that stay behind to save the day.
Wolf Warrior 2 is not without its flaws. While the story is a little heavy-handed on pushing the narrative about how China is a friend to Africa (China has been in a protracted pivot towards the continent, heavily investing in several nations and, like European countries before it, seeking natural resources), the film falls into the same trap many do, and that is painting the entire continent with a broad brush. I challenge anyone watching this film to figure out what country this movie is supposed to be set in – and, no "Africa" is not a country. Despite a sentimental scene in a factory of Chinese and African workers where Leng declares he will evacuate everyone and take them to China because they are all brothers, basically, the feeling here is, Africa is just a monolith, China are, I guess, the new saviors.
Those geopolitical flaws aside, the film is certain a spectacular one when it isn't getting bogged down in politics and it's just having fun. And boy does it. Wu knows how to put on a show and the visual effects and pacing are all on point. This one never lets up, so its 124 minutes runtime flies by.
Frank Grillo also stars as American mercenary "Big Daddy".
The Video
Wolf Warrior 2 was shot in 6K on a Red Weapon camera and arrives on Blu-ray in an AVC 1080p encodement framed at 2.35:1 from a 2K DI (Digital Intermediate). There was one underwater scene where there looked to be some heavy banding, but apart from that this was a clean and crisp transfer with no real issues. The colors were vibrant, extraneous noise nonexistent and it looked very filmic.
The Audio
The high-octane action of Wolf Warrior 2 comes with an equally aggressive immersive DTS:X mix on Blu-ray from Well Go USA that is good at spreading the sound around, using the height channels to good effect, and offering up some deep low-end. The dialogue manages to stay above the fray although there are some moments where it dips slightly below the clatter, but it seems to be purposely so.
The Supplements
DVD
Behind the Scenes Featurettes:

Director Wu Jing (2.35:1; 1080p/24; 00:04:15)
Filming in Africa (2.35:1; 1080i/60; 00:04:24)
Action Scenes (2.35:1; 1080p/24; 00:02:43)
Wu Gang (1.78:1; 1080p/24; 00:03:14)

Trailer (2.35:1; 1080p/24; 00:01:36; Mandarin DD 5.1)
The Final Assessment
Wolf Warrior 2 is a rollicking action flick that can go toe-to-toe with anything out of Hollywood, and that's saying something. A lot of films out China have had action with terrible stories, or great stories with bad editing, or some other fatal flaw, like bad visual effects. This one is a satisfying film with edge-of-seat action and only minor deficiencies easily overlooked. The Blu-ray with its excellent picture and fantastic DTS:X immersive mix is a winner.
Wolf Warrior 2 is out now on Blu-ray Combo Pack and DVD from Well Go USA
Production Companies Beijing Dongfang International Cultural Communications Company | Beijing Century Media Culture | et. al. | Well Go USA
Studios & Distributors
Dong Qun | Gao Yan | Liu Yi | Wu Jing
Writer
$29.98
MSRP
Mandarin DD 2.0 Stereo | English DTS-HD MA 5.1 | English DD 2.0 Stereo
Secondary Audio
Summary
Wu Jing reprises his role as disgraced Chinese special ops soldier Leng Feng who finds himself in Africa protecting medical aid workers from revolutionary soldiers and American mercenaries in a country on the brink of civil war from an Ebola-like outbreak in this global box office smash that was the highest grossing film in Chinese history and in the top 5 in 2017 globally. It's filled with nonstop action that can go toe-to-toe with any Hollywood film and the Blu-ray from Well Go USA ups the ante with an impressive immersive DTS:X audio mix.
What people say... Login to rate
Be the first to leave a review.
Show more
[amazon_auto_links id="107322"]