– –

The Series
[Rating:4/5]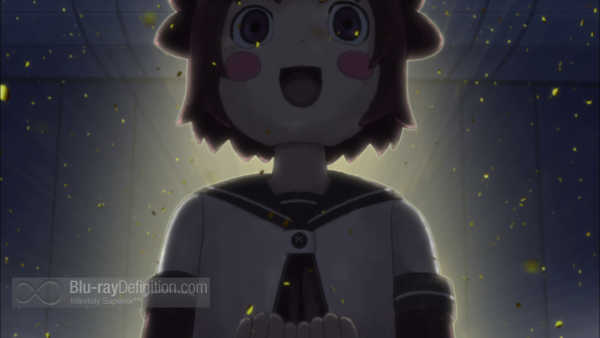 YuruYuri comes to Blu-ray from NIS America an adaptation of a manga from Namori. The basic theme of the series is right there in the the title "Easygoing Yuri", or, to be more specific, a rather lighthearted middle school/high school comedy in the yuri or "girls love" genre. The series revolves around the day to day lives of middle-school student Akaza Akari, her childhood friends, Toshinō Kyōko and Funami Yui, and classmate Yoshikawa Chinatsu who together form the school's Amusement Club, inside the abandoned Tea Ceremony Club room. The story also involves members of the school's Student Council, Sugiura Ayano, her sidekick/assistant Ikeda Chitose, longtime childhood friends and rivals for the Student Council vice-presidency Ōmuro Sakurako and Furutani Himawari, and the Student Council President Matsumoto Rise.
If there were any other anime series this one might be comparable to, it would be The Daily Lives of High School Boys, minus the homo-erotic sexual references in the case of the latter. It really has no overriding story arc, but rather offers a simple, day-to-day look into the often absurd situations that these very likable characters get themselves into, usually due to the inane behavior of the flighty Toshinō Kyōko, whose free-spirit, immeasurably childish behavior, and overwhelming desire for club member Chinatsu – owing to her uncanny resemblance to Kyōko's favorite manga character – often get her and her friends into trouble. That, and the rivalry/flirtation between Kyōko and Ayano, who harbors a secret crush for Kyōko and manifests it as anger and frustration. In fact, there's a whole circle of "crushes" going here, Ayano secretly likes Kyōko who makes no secret about how much she wants to "kiss" Chinatsu, who is in love with Yui because she thinks she's "cool". Meanwhile, there's some latent, sapphic love between longtime friends Kyōko and Yui. Chitose has a vivid fantasy world, often imagining sexual scenes between her friends, causing her numerous nosebleeds. She also rather masochistically seems to like being "scolded" by Ayano. The only odd one out here is Akari, but the running joke through the series is she is invisible, doesn't really stand-out, and is therefore being replaced as the main character.
The animation is cutesy and colorful, almost like an old Nintendo game or Hello Kitty. It avoids chibi – I can't say I miss that, chibi bugs me to no end – yet still manages to convey a comical and often childlike approach. I don't know how well regarded this series was as a manga, but as anime, it is certainly pleasant enough and quite humorous.
This second season of YuruYuri follows the same basic patterns of YuruYuri Season 1, without much expansion on the various characters. That in and of itself does not make the second season any worse or any better, for that matter, than the first. All it means is that the series in the second season is consistent and maintains the same level of charm and enjoyability. Season 2 starts off right from episode one launching into its running joke about Akarin being invisible, but it reverses the joke. We are placed into one of her fantasies where everyone of her friends is enamored with her and she is the center of her circle of friends. It isn't until about the halfway point we realize she's fast asleep on a train ride with her friends.
YuruYuri is perplexingly simplistic, to use an oxymoron. It simply follows the lives of these young middle school girls as they try to amuse themselves with all manner of games, field trips, and silliness, yet it is an addictive show to watch. In part because of its appealing character design and because of its lighthearted, never too serious, but never too over-the-top comedy.
Video Quality
[Rating:3.5/5]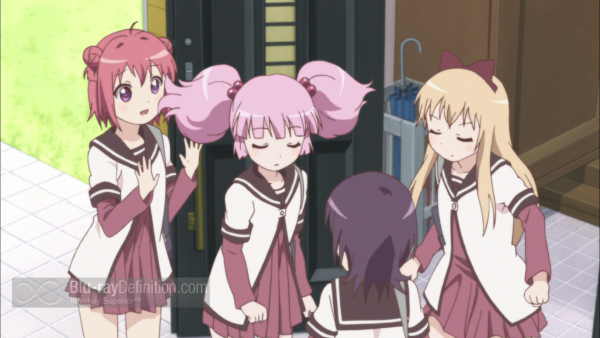 While there are no major deficiencies such as color banding, posterization, or aliasing to be found in the AVC/MPEG-4 1080p encodement to Blu-ray of YuruYuri Season 2 from NIS America, the overall image looks rather soft and lacks crispness in the line art. This detracts from the overall enjoyment of the animation, but it could have been a lot worse.
Audio Quality
[Rating:3.5/5]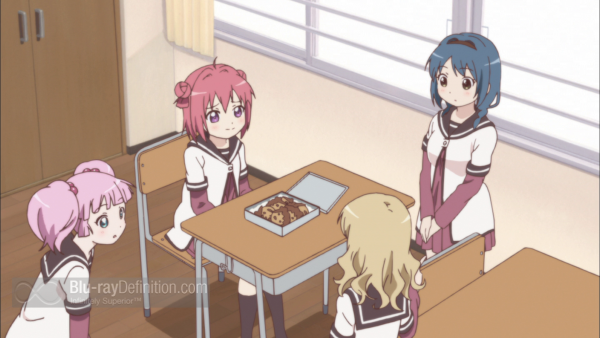 The Japanese LPCM 2.0 stereo (48kHz/16-bit) soundtrack provided is good, with clear dialogue and a bit of stereo panning. The music track blends well with the various sound effects and dialogue, but otherwise its straightforward and one does wish, at times, it could be heard in 5.1.
Supplemental Materials
[Rating:3/5]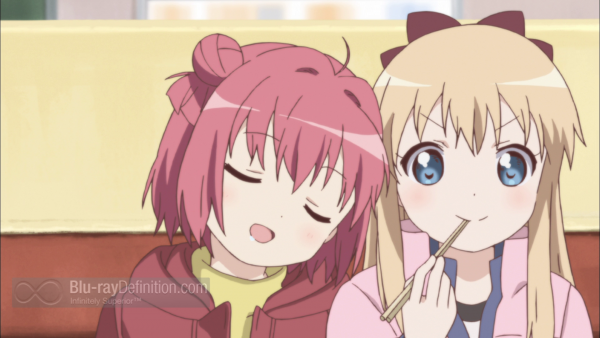 This NIS America Blu-ray Premium Edition set comes with more extras than usual actually on the discs. Disc 2 has the "B-Side" previews and Video Art Book featurettes for each of the main characters that shows some character sketches, scenes, and promos, some of it dating back to Season 1.
The supplements:
Clean Opening
Clean Ending
Clean Episode 11 Prologue
"B-Side" Previews (1.78:1; 1080p/24; 00:02:55)
Video Art Book Featurettes:

Akari Edition (1.78:1; 1080p/24; 00:11:37)
Kyoko Edition (1.78:1; 1080p/24; 00:12:31)
Yui Edition (1.78:1; 1080p/24; 00:13:01)
Chinatsu Edition (1.78:1; 1080p/24; 00:12:46)
Ayano & Chitsoe Edition (1.78:1; 1080p/24; 00:13:01)
Himawari & Sakurako Edition (1.78:1; 1080p/24; 00:11:16)

36-page hardcover art book with character sketches, promotional art, episode guide, and credits.
The Definitive Word
Overall:
[Rating:3.5/5]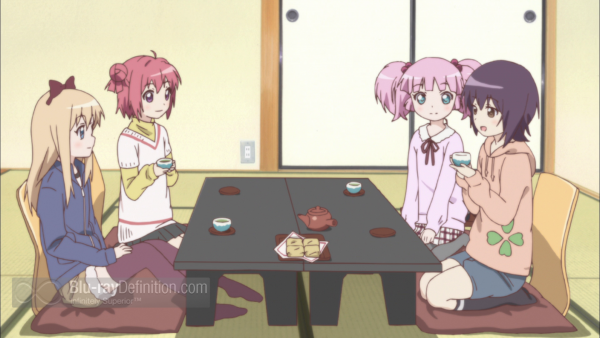 YuruYuri continues to amuse, charm, and delight in this similar yet still enjoyable and no less original second outing. The picture quality could be a bit sharper on this Blu-ray release, but it is more than sufficient and the premium edition packaging from NIS America is, as always, spot on.
Additional Screen Captures
[amazon-product]B00F6K340M[/amazon-product]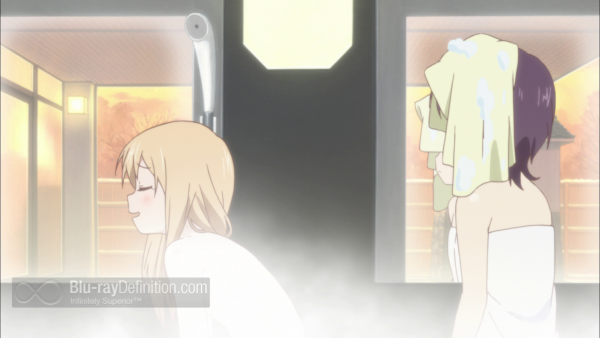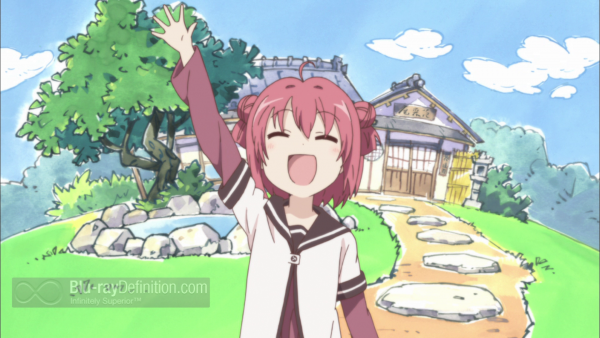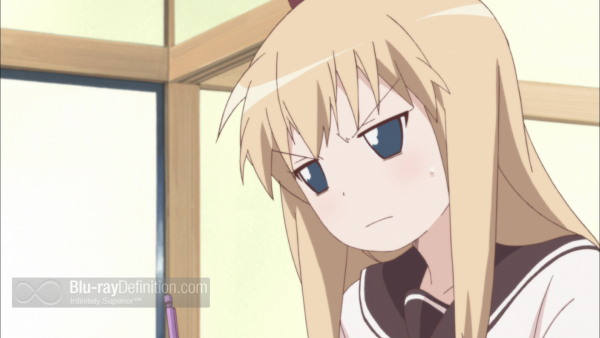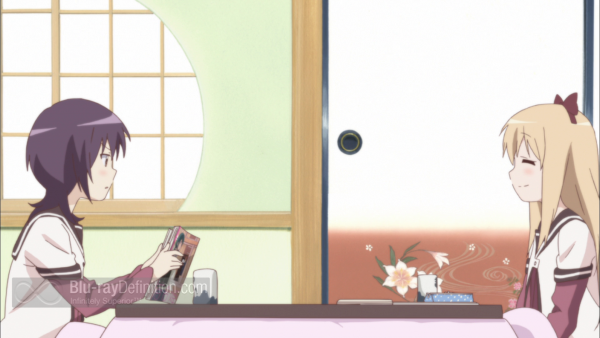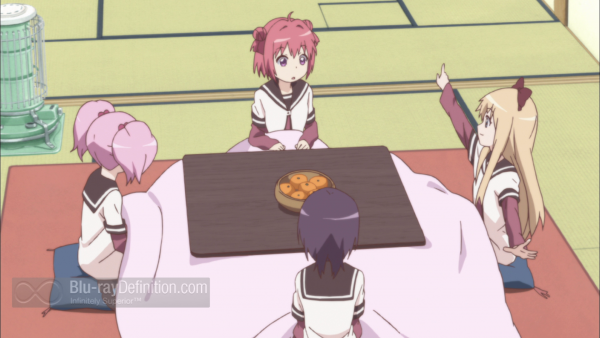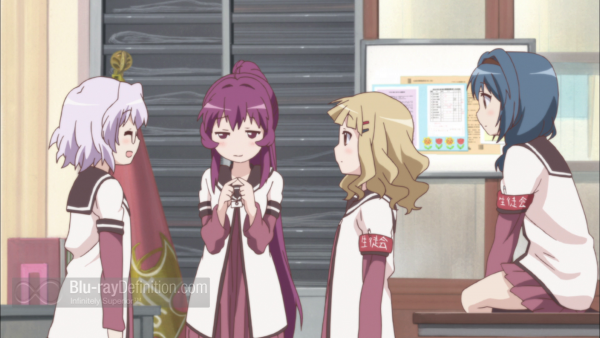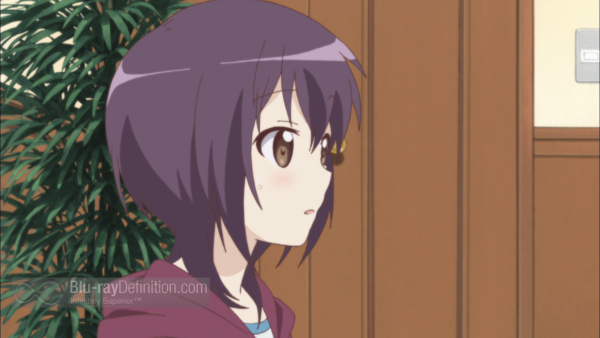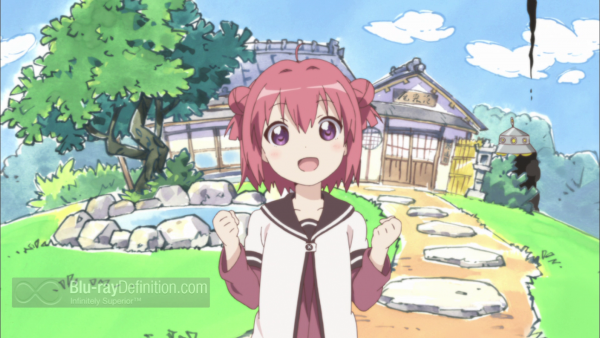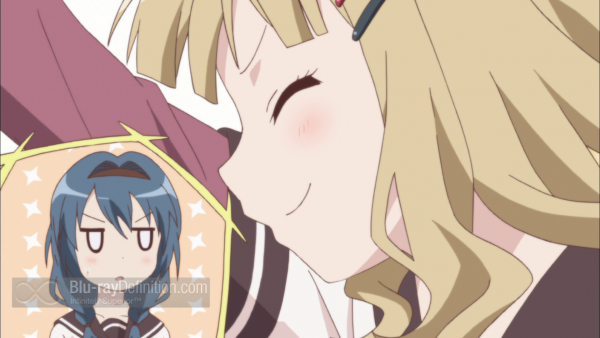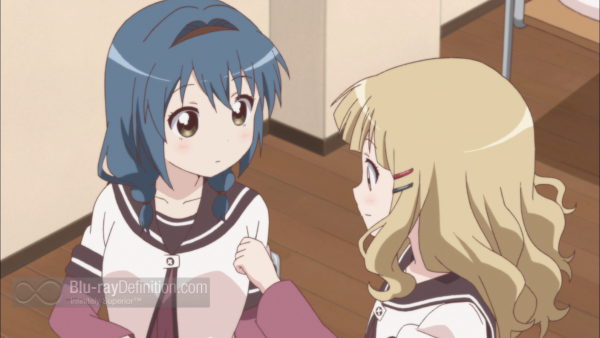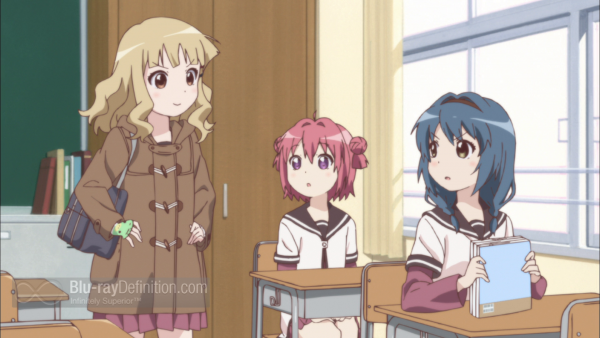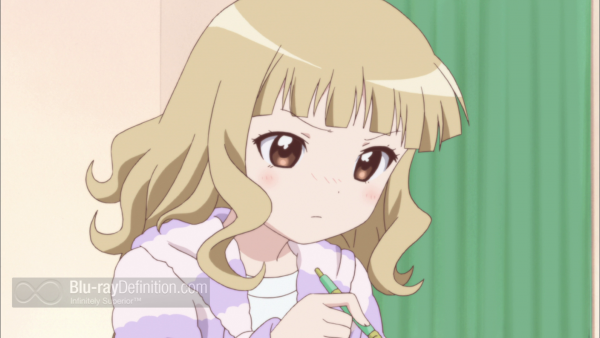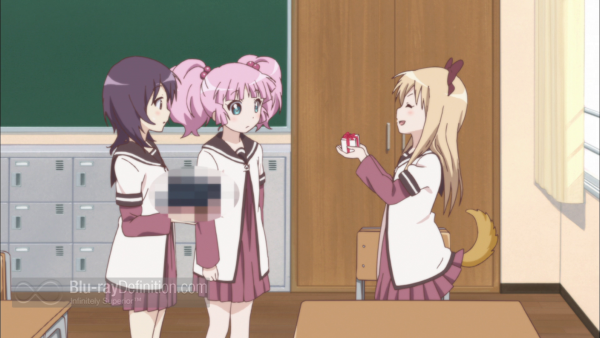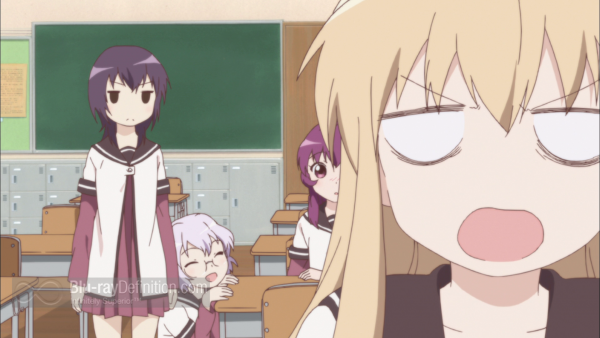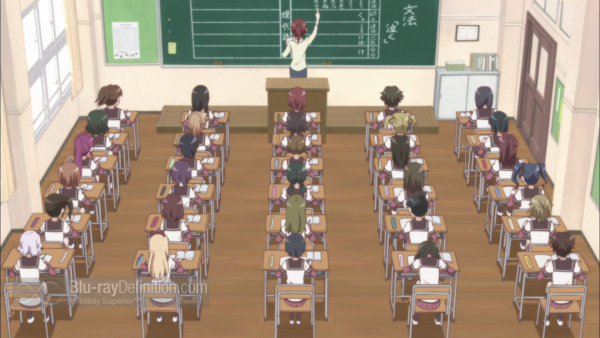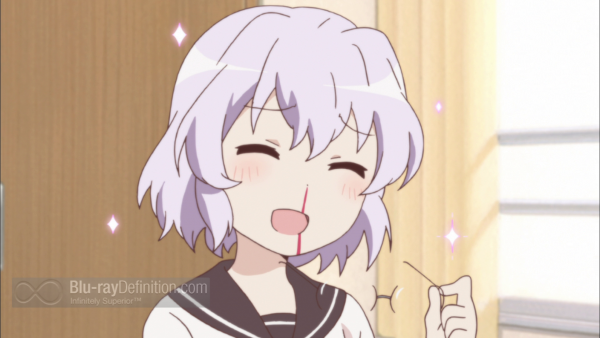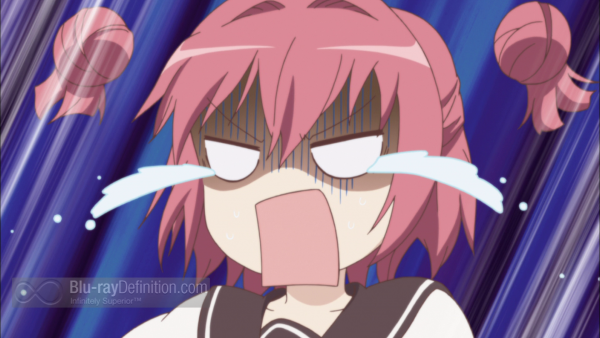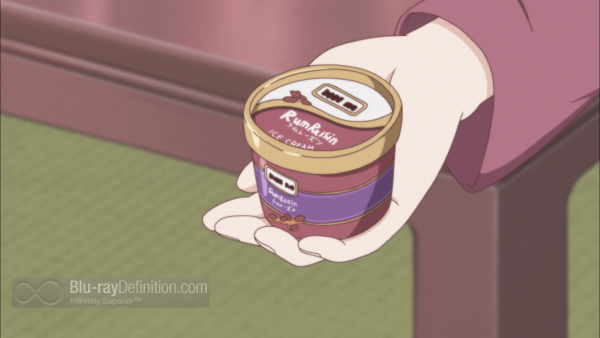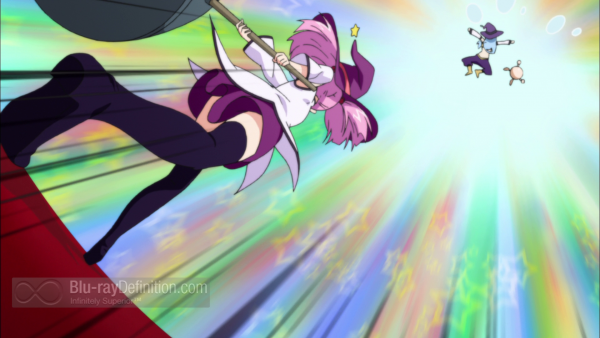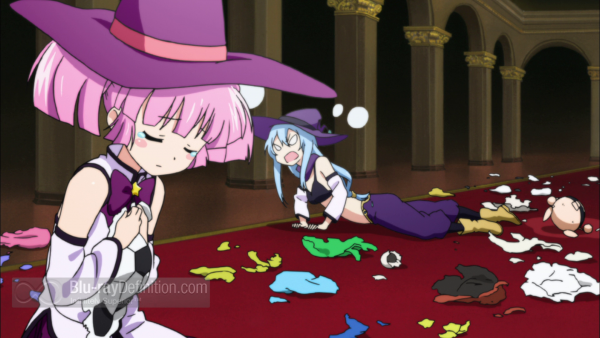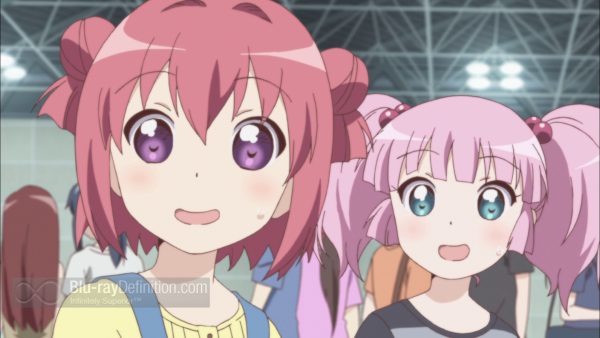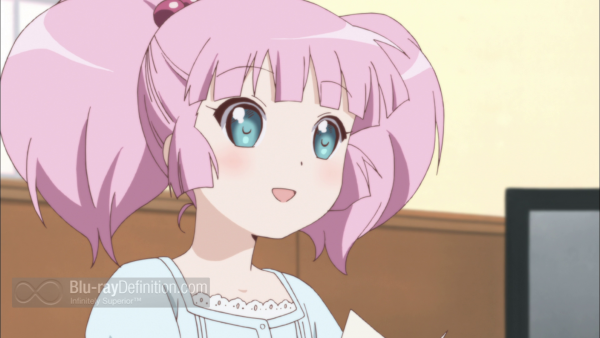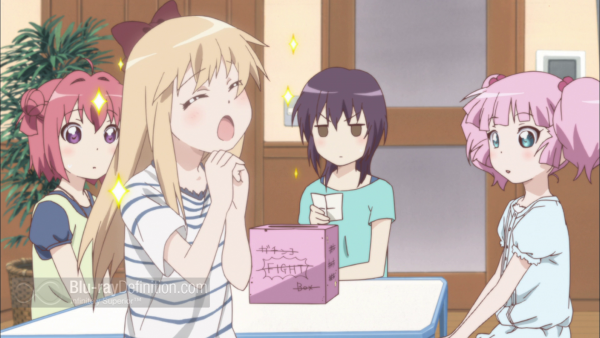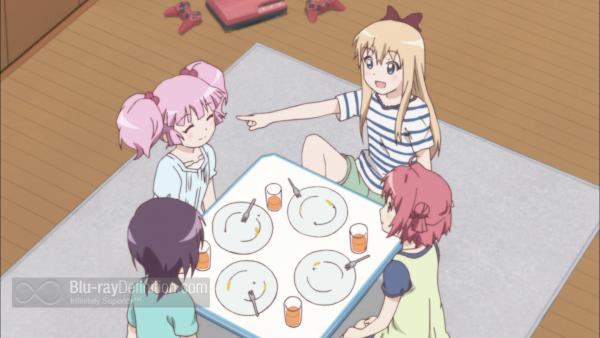 [amazon-product]B00F6K340M[/amazon-product]