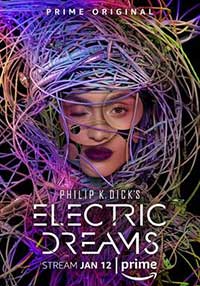 Not to be confused with the Philip K. Dick-inspired 1984 film Electric Dreams, this 10-episode series is a co-production by UK's Channel 4, and Sony Pictures Television. Based on short stories by the late author whose novel was adapted for the Amazon series, The Man in the High Castle, ten stand-alone episodes offer commentaries on how extraordinary circumstances affect ordinary individuals.
Dick's works frequently and deliberately blur the lines between what is actual and what is imaginary. Real Life has policewoman Sarah (Anna Paquin) and George Miller (Terrence Howard), a successful owner of a virtual reality company "exchanging places" while sharing the same "wife" Katie (Rachelle Lefevre). In the very touching Impossible Planet, an elderly woman, Irma (Geraldine Chaplin), aided by space tour pilot Norton (Jack Reynor) strives to make a romantic return to her home planet Earth, ostensibly destroyed long ago, but will reality intrude and kill her dream?
In Auto Fac, Emily Zabriskie (Juno Temple) wakes up in a war-ravaged world where factories continually produce and deliver loads of useless goods (imagine Amazon gone berserk). An Auto Fac "simulacrum" Alice (Janelle Monáe) gets Emily into company headquarters where she makes some life-changing discoveries about herself and Earth's few remaining survivors. Similarly, other episodes strip away the differences between human, humanoid, and alien. Human Is finds Commander Silas Harrick (Bryan Cranston) recovering from a dangerous space mission while wife Vera (Essie Davis) notes that he is not only a changed man but may not even be human. Androids resurface in Crazy Diamond as Ed Morris (Steve Buscemi) must decide between getting a new "quantum consciousness" injection for a humanoid insurance agent "Jill" (Sidse Babett Knudsen) and saving his job and marriage. In The Father Thing, young Charlie Cotrell (Jack Gore) believes that an alien has taken over his baseball-loving dad (Greg Kinnear).
Electric Dreams also explores the nature of consciousness itself in The Hood Maker. Mutant telepaths or "teeps," such as young Honor (Holliday Grainger), are used by the tyrannical Free Union to root out dissidents who lately have been using chemically treated hoods that block the teeps' ability to enter their thoughts. When Honor is partnered with Agent Ross (Richard Madden), the pair develops a relationship that challenges her ability to trust a "normal" human.
A troubled writer whose relatively short life encompassed five marriages, and bouts of mental illness, Philip K. Dick's often disturbing views of alternate universes and those that inhabit them permeate every episode. Numerous scriptwriters and directors may have participated in Electric Dreams but the adaptations and pacing of Dick's short stories are generally well done. Of course, it does not hurt matters that the series has an outstanding company of actors that makes the worlds of fantasy and fiction actually quite credible and often quite moving. In its 4K Ultra HD version shot with RED Weapon 8K and Red Epic Dragon cameras, many of the scenes exhibit nearly surreal details and colors that enhance the fantasies that appear on the screen. For fans of this prolific sci-fi writer who just cannot get enough of his film adaptations, this new series will be right up their respective alleys. I certainly hope that Amazon Studios gets sufficient buzz from Electric Dreams to consider a second series, as there are dozens more of Philip K. Dick's stories waiting in the wings. High recommendation.
Electric Dreams is streaming now in its entirety on Amazon 
[amazon_auto_links id="108316"]
Ronald D. Moore | Michael Dinner
Show Creator
12 Jan. 2018
Original Release Date
Amazon Studios
Network/Streaming Service
Channel 4 | Sony Pictures Television | Amazon Studios
Studio/Distributor
Summary
Amazon Studios goes back to the Philip K. Dick sci-fi archive and spins out a ten episode anthology series that challenges the distinctions between fantasy and reality and are supported by excellent casts, direction, and scripts.
What people say... Login to rate
Be the first to leave a review.
Show more