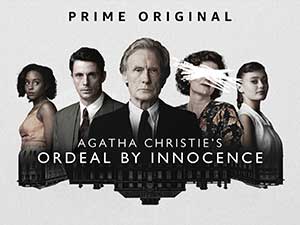 Agatha Christie was the unquestioned doyenne of the 20th-century English murder mystery and the novel that led to this BBC mini-series, Ordeal by Innocence, is celebrating the 60thanniversary of its original publication.
It is December 24, 1954 and as the Argyll family prepares for Christmas, wealthy heiress Rachel (Anna Chancellor) is found beaten to death in the foyer of her massive mansion, Sunny Point. Jack (Anthony Boyle), one of the five adopted Argyll children, gets jailed when his bloody fingerprints are discovered on the supposed murder weapon, a crystal decanter.
A year and half later, Gwenda Vaughan (Alice Eve), the Argyll's former secretary, has moved in with the paterfamilias Leo (Bill Nighy) as they will be married the following day.  Army veteran Michael "Mickey" Argyll (Christian Cooke) has just returned from Korea and is greeted by the wheelchair-bound, morphine-addicted Phillip Durrant (Matthew Goode) and his wife Mary who is Mickey's older sister (Eleanor Tomlinson). Mary disapproves of Gwenda whom she regards as a "gold-digging slut," while the two younger sisters, Hester (Ella Purnell) and Christina (Crystal Clarke), are still reserving judgment.
Dr. Arthur Calgary (Luke Treadaway), a physics professor, becomes the story's wild card when he appears at Sunny Point and tells Leo that he has evidence from the night of the murder that will exonerate Jack. Arthur would have come forward sooner, but he had been abroad and only recently learned about the crime. Leo dismisses him as a fraud and relates that Jack had been beaten to death in prison before his trial began. Like most of the other characters in this troubled family, we discover that Arthur is far from whom he claimed to be.
This is no lack of suspects in a household that harbors many dark secrets including an "incestuous" relationship between Mickey and Christina, Leo's extramarital affair with Gwenda, and the identities of the late Jack's biological parents. Waiting in the shadows is the quiet housekeeper Kirsten Lindstrom (Morven Christie) who first discovered Rachel's body and has had a very long and intimate relationship with the Argyll family.
Screenwriter Sarah Phelps's script contains some rather significant character changes from those of the novel, including the identity of the murderer. That aside, Ordeal by Innocence tells a compelling tale that artfully moves back and forth in time and uses these temporal shifts to generate its suspense and considerable uncertainty as to who murdered Rachel as nearly every character in the Argyll home had reasons to want this overbearing woman dead.  Like most BBC television series that air in the US, this one has a strong cast headed by veteran character actors Bill Nighy and Anne Chancellor who make director Sandra Goldbacher's task that much easier. This ultra-dark show  also owes much of its success to John Lee's outstanding camera work that make the old house come very much to life and Stuart Earl's score that will keep viewers on edge. Ordeal by Innocence is one of the strongest Agatha Christie television adaptations to date and easily outpoints the 1984 feature-length film version in spite of the latter's starrier cast.  Highly recommended.
Ordeal by Innocence is streaming now in its entirely on Amazon Prime Video
[amazon_link asins='B07FD7L58L' template='ProductAd' store='theaterbyte-20′ marketplace='US' link_id='f474b9e6-ac7d-11e8-91a4-b5e3b7f34cb7′]
10 Aug. 2018
Original Release Date
Amazon Prime Video
Network/Streaming Service
Mammoth Screen | Agatha Christie Productions | BBC | Amazon Studios
Studio/Distributor
Summary
In 1954 the wealthy philanthropist Rachel Argyll is murdered at her estate and her adopted son adopted sun Jack Argyll is blamed, despite his proclamations of innocence. A dark, disturbing Agatha Christie mystery-murder novel adaptation that sports a terrific cast and superb visuals.
What people say... Login to rate
Be the first to leave a review.
Show more