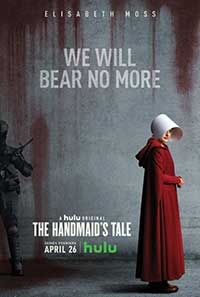 The Handmaid's Tale, adapted from Margaret Atwood's 1985 sci-fi novel for the new Hulu 10-episode series, provides a chilling view of a near-future dystopian America that has become the repressive theocracy of Gilead. Civil war is raging. In the background are continuous patrols of armed guards and a high wall along the river walk is covered with the bodies of hanged men. Women's rights to work, to own property or to manage money have been abolished. Atop this rigidly stratified society are the elite Commanders who live in fine homes with numerous servants or "Marthas." The taleteller is Offred (Elisabeth Moss), a handmaid whose sole purpose is to bear children for Commander Fred Waterford (Joseph Fiennes). Fred's wife, Serena Joy (Yvonne Strahovski), like most of the American women, has been rendered infertile by the side effects of massive environmental pollution. The "breeding ceremony" is a religious rite, complete with the reading of scriptural passages followed by passionless sex between the handmaid and her commander as his wife looks on. Like the act of copulation, the birthing process is also ritualized in the cloistered environment of the Commanders' homes.
Offred, formerly known as June, became separated from her husband, Luke (O.T. Fagbenle), and daughter, Hannah (Jordana Blake), when they all tried to flee to Canada. There are occasional flashbacks to Offred's previous life that gradually fill in the events that preceded her current grim situation. We meet some of the other handmaids, including Janine (Madeline Brewer), Moira (Samira Wiley), and Ofglen (Alexis Bledel). Their lives are rigidly supervised by Aunt Lydia (Ann Dowd). Any deviation from the prescribed routines is punishable by banishment to the "colonies" where they will clean up toxic waste. More serious breaches of the laws, like endangering a child, are punishable by stoning to death. Offred often carries on an inner monologue of sentiments that can be openly expressed only on those rare occasions when she is alone with another handmaid.
The Commander takes a fancy to Offred and she becomes more proactive in their relationship as they enjoy the pleasurable environment of the club where the "Jezebels," including Moira,  work . When it is suggested that the Waterfords' fertility problem may reside with Fred, Serena Joy recommends that Offred get intimate with Nick (Max Minghella), the Commander's chauffeur. Offred gets a brief ray of hope when the Mexican trade ambassador, Mrs. Castillo (Zabryna Guevera), visits the Watersons  and tells her that Luke is living in Canada and someone will take a brief note that Offred has just written to her husband.
As Season One proceeds, the atmosphere of The Handmaid's Tale darkens and there are more examples of the mental and physical abuse meted out to the very women charged to repopulate their "new" nation. Justice is redefined as adherence to extremely harsh "scriptural" principals (think literally "an eye for an eye").  After Offred uncovers the contents of a mysterious package that she has been given, the handmaid immediately resolves to help the Resistance take back the world that they all once knew.
The Handmaid's Tale is an extremely well crafted and gripping series, possibly the best that Hulu has released to date. The objectification of women makes numerous scenes quite difficult to watch and yet the power of this well-directed cast, led by Mad Men's Elizabeth Moss, makes this a must-see television show. With numerous storylines that still remain up in the air, viewers will eagerly anticipate a Season Two that is slated to air sometime in 2018.
26 Apr. 2017
Original Release Date
Hulu
Network/Streaming Service
MGM Television
Studio/Distributor
TV-MA (Language, Sexual Situations, Violence)
Rating Certificate
Summary
An extremely well done and thought-provoking adaptation of a dystopian classic with strong casting and direction.
What people say... Login to rate
Be the first to leave a review.
Show more