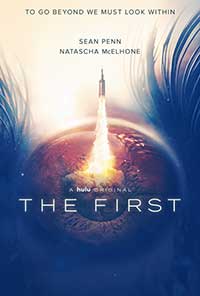 Following sci-fi hits like The Martian, show creator Beau Willimon (House of Cards) has given the Hulu Original network an eight-episode series that opens with a literal bang as the first spacecraft aimed at Mars, Providence 1, explodes on liftoff, killing the five astronauts on board.  Laz Ingram (Natascha McElhone), CEO of Vista, the company responsible for the Mars mission,  finds herself at a total loss, while former astronaut Tom Hagerty (Sean Penn) who trained the crew tries to console their family members.
Tom gets an unexpected visit from his estranged, drug-addled daughter Denise (Anna Jacoby-Heron) and he resolves to help her turn her life around.  Flashbacks show the life once shared by Tom, his late wife Diane (Melissa George), and Denise. The Hagerty's marriage experiences turbulence not helped by Tom's long absences as an astronaut. Diane, a talented tattoo artist, fights a losing battle against depression and drowns herself in a nearby river, as Denise helplessly looks on.
Laz summons Tom to DC to muster up government and financial support for a second Mars mission that eventually succeeds.Tom is placed in command of a new crew, a decision that disappoints the original commander Kayla Price (LisaGay Hamilton). The other crew members named to Providence 2 are Aiko Hakari (Keiko Agena), and Nick Fletcher (James Ransone), and Matteo Vega (Rey Lucas).
As the launch of the new mission nears, the crew's personal relationships get tested: Kayla and her girlfriend Nancy (Tracie Thoms); Tom and his daughter; Aiko contending with her mother's dementia; Matteo and girlfriend Camila Rodriguez (Fernanda Andrade); and alternate Sadie Hewitt (Hannah Ware) and her bookish husband Ollie Bennett (Patrick Kennedy). Laz and CFO Bob Cordine (D.W. Moffett) must confront the money problems that are plaguing the next space mission while keeping at bay the President (Jeannie Berlin) who could cancel the mission at any moment.
Denise gets moved into Laz's luxurious guest house for the duration as the CEO must deal with yet another setback to the Mars project. The MAV (Mars Ascent Vehicle) is already on the planet's surface and is essential to get the crew safely back to Earth but is not responding to signals. An attempt at its repair succeeds briefly before it goes offline again. There are heated discussions in each astronaut household when it has become apparent that without a functioning MAV this will be a very dangerous mission. The Providence 2 crew led by Commander Hagerty signs a declaration that they will accept a mission from which they may not return. Matteo bows out due to a damaged eardrum that has not healed and gets replaced by Sadie. In the spirit of previous films of NASA space flights, the suspense continues to build as launch day approaches.
The First is more melodrama than extraterrestrial escapism as this mostly earthbound series takes long, penetrating, and often painful looks into the personal lives of the astronauts and their families, focusing mostly on Commander Hagerty and his disturbed daughter.  Some heart-wrenching moments occur in each household leading up to liftoff, as The First turns out to be one of the more humanistic entries in the space-flight film genre.  Regarding the cast, an incredibly buff Sean Penn plays to type as the laconic fly boy that chooses career over family, while Natascha McElhone is one tall, tough tower of strength whose family also gets second billing. The third principal, Anna Jacoby-Heron is the most complex character in the cast as she vacillates between drug abuse and exercising her obvious gifts as an artist–definitely an up-and-coming actor to watch for in the future. As befits 21st century space dramas, the visuals are stunning, and Colin Stetson's New Age soundtrack fits the action like a glove. I could have done without the gratuitous preachy narration by an anonymous character who spends the series rebuilding a payphone, but this is a minor quibble. Will there be a second season that tracks the crew once it reaches Mars? Creator Beau Willimon and the Hulu Network are being tight-lipped but I, like many viewers, would feel shortchanged if this did not happen.
The First is now streaming in its entirety on Hulu
Beau Willimon
Show Creator
14 Sept. 2018
Original Release Date
Hulu
Network/Streaming Service
Westward Productions | Endeavor Content | Hulu Originals
Studio/Distributor
TV-MA (language)
Rating Certificate
Summary
This new sci-fi series stars controversial actor Sean Penn as an astronaut who must help save the efforts of a beleaguered first endeavor to put humans on Mars. An outer space series that stays mostly earthbound for its eight episodes while exploring the psyches of those willing to risk their lives on a Mars mission and the toll that this experience takes on their respective families.
What people say... Login to rate
Be the first to leave a review.
Show more