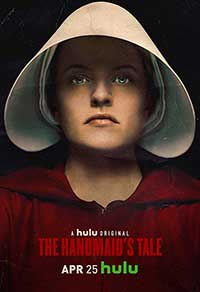 Season One of The Handmaid's Tale, based on Margaret Atwood's futuristic account of the theocracy of Gilead, where women are reduced to childbearing chattel, was one of the Hulu Network's biggest hits last year. That initial season ended, as did the book, with Offred/June Osborne (Elizabeth Moss), being carried off in a black police van.  She and her fellow handmaids are about to be hanged for refusing to stone handmaid Janine (Madeleine Brewer) who tried to kidnap her own child, but, at the last moment, the matron, Aunt Lydia (Ann Dowd), spares them.
June is pregnant, not by the sterile Commander Fred Waterford (Joseph Fiennes), but by his young chauffeur Nick Blaine (Max Minghella) and it is her gravid condition that propels most of Season 2.  After a routine obstetric visit, she suddenly escapes to an abandoned Boston Globe warehouse. Her freedom is short-lived when she is apprehended and returned to the Waterford's residence to finish out her surrogate pregnancy for Serena Waterford (Yvonne Strahovski).
Living in a household that she clearly detests, June must balance her relationship with Nick who has had an arranged marriage with innocent 15 year-old Eden Spencer (Sydney Sweeney) solely for breeding. At the opening ceremonies for the new Rachel and Leah Center, a handmaid rushes in and detonates a bomb killing or wounding all inside, including Commander Waterford.  As a grateful gesture for June's help during his convalescence, Fred arranges for the handmaid to see her daughter Hannah but, after the brief visit, she suddenly finds herself abandoned in a remote and empty house to await the onset of her labor and the unattended delivery of her daughter Holly.
The Handmaid's Tale Season Two's major subplot involves June's best friend Emily/Ofglen (Alexis Bledel), a former university biology professor and a lesbian. Because homosexuality is illegal, Emily has been banished to the "colonies" where we get a grim view of women reduced to clearing out a toxic waste dump site. As fertile women are in short supply in Gilead, Emily is restored to handmaid status at Commander Lawrence's (Bradley Whitford) home. This reinstatement in a protected environment will not exorcise Emily's personal daemons and bodes poorly for her future.
As we will see, Gilead justice is swift and severe when it gets meted out to Eden and her lover Isaac (Rohan Mead) who, thanks to evidence rendered by her own father (David Tompa), get drowned for their affair.  Serena also gets a taste of the government's brutal corporal punishment when she pleads her case to the Council to allow literacy education for women.
As dark as the first season was, Season Two of The Handmaid's Tale is even darker as it ends with the fates of June and her baby hanging in the balance. The themes of the previous season are carried forward even more emphatically and more graphic violence is on display. The Handmaid's Tale show creator Bruce Miller's script-writing team has delivered an original teleplay that maintains the spirit of Margaret Atwood's story and keeps audiences guessing at what each of the thirteen episodes will bring their way. Most of last season's strong cast, led by the brilliant Elizabeth Moss, returns and the four directors, Mike Barker, Karl Skogland, Jeremy Podeswa, and Daina Reed seem totally onboard with Miller's thematic concepts.
While never an easy watch, Season 2 is a worthy sequel and more than piques our interest for a rumored Season 3 that will feature open warfare between the freedom fighters and the repressive masters of Gilead. This series is truly what top-flight television should be and has already been recognized with twenty Emmy nominations. Highest recommendation.
The Handmaid's Tale Season 2 is available for steaming in its entirety on Hulu
25 Apr. 2018
Original Release Date
Hulu
Network/Streaming Service
MGM Television | Hulu
Studio/Distributor
TV-MA (language, sexual situations, violence)
Rating Certificate
Summary
Season 2 of The Handmaid's Tale picks up where Season 1 ended and delivers 13 episodes of suspense, horror, and the darkness that envelops the theocracy of Gilead, portrayed by a superb cast, receiving an outstanding script and direction.
What people say... Login to rate
Be the first to leave a review.
Show more