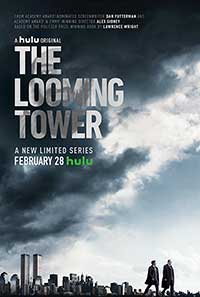 The attacks on the World Trade Center and the Pentagon on September 11, 2001 were the greatest acts of terrorism ever committed on American soil. The Looming Tower is based on Lawrence Wright's award-winning account of the 9/11 saga and focuses primarily on events that preceded these massive coordinated attacks. Ironically, the "looming tower" of the title refers not only to the World Trade Center buildings but also to a passage in the Quran quoted by Usama Bin Laden AKA "UBL." The ten episodes of this history-based series clearly suggest how more timely sharing of Al-Qaeda intelligence between the CIA and the FBI Counterterrorism units might have averted this tragedy.
The Looming Tower opens in 1998 as a turf battle rages between Martin Schmidt (Peter Sarsgaard), Langley chief of CIA's "Alec Station," and John O'Neill (Jeff Daniels), his New York counterpart at the FBI's I-49. The two men are diametric opposites: Schmidt is a buttoned-down academic; O'Neill is an irascible, hard-drinking philanderer. Eventually both principals go out of the picture. Schmidt gets replaced by tough-as-nails agent Diane Marsh (Wrenn Schmidt).  O'Neill is later forced to resign and becomes the security chief at the World Trade Center just ahead of 9/11.
The timeline occasionally shifts between the events preceding 9/11 and the Congressional hearings held three years later. During these latter panel sessions, Lebanese-American FBI Agent Ali Soufan (Tahar Rahim), Agent Marsh, National Security Coordinator Richard Clarke (Michael Stuhlbarg), CIA Director George Tenet (Alec Baldwin), and Secretary of State Condoleeza Rice (Eisa Davis) reveal, in retrospect, the numerous intelligence failures of these respective agencies during previous and current presidential administrations.
This slideshow requires JavaScript.
In 1998, FBI agent Robert Chesney (Bill Camp) confiscates a computer from UBL's former secretary, Wadih el-Hage (Vincent Ebrahim). The Al-Qaeda intelligence found on its hard drive still fails to anticipate and prevent the bombing of the American embassies in Dar-Es-Salaam and Nairobi.  O'Neill convinces Clarke to let him lead a subsequent investigation that successfully identifies bombing mastermind Anas Al Liby (Ayman Samman). Al-Qaeda operatives working in Yemen next attack the U.S.S. Cole in the Gulf of Aden. O'Neill and Soufan go back on the hunt but their efforts to interview suspects are thwarted by US Ambassador Barbara Bodine (Jennifer Ehle) and the local police force.
As the new millennium begins, Al-Qaeda recruits like Khalid Al-Mihdhar (Tawfeek Barhom) and Nawaf Al Hamzi (Nebras Jamali) arrive in the US. They join the group trained and coordinated by Khalid Sheikh Mohammed (Ibrahim Renno) that will hijack commercial airliners and fly them directly into their assigned targets. Shortly before the 9/11 attacks, Alec Station staff have assembled a cross-referenced list of Arab men living in the US and enrolled in flight schools. Agent Marsh carries these files to the FBI office but this intelligence is inexplicably pushed to the side and the rest is history.
The Looming Tower skillfully blends dramatic and documentary footage with relatively modest screen time allotted to the terrorists themselves or to the actual events of 9/11. Jeff Daniels creates a warts-and-all portrait of the flawed FBI agent while Tahar Rahim is the ideal dramatic foil as his young protégé. The large supporting cast is brilliant, featuring compelling performances by Schmidt, Sarsgaard, and Camp. Working with a script by Wright, Alex Gibney, and Dan Futtermann that balances fact and fiction, directors Craig Zisk, John Dahl, Ali Selim, Michael Slovis and Gibney keep this intense drama percolating right up to agent Soufan's unnerving interrogation of UBL's former bodyguard Abu Jandal (Zaki Youssef) that blows the lid off the 9/11 investigation. By way of extras, there are brief films that discuss each episode and are well worth seeing. This Hulu Originals series should be required viewing for everyone and gets my highest recommendation.
The Looming Tower is now streaming in its entirety on Hulu.
Dan Futterman | Alex Gibney | Lawrence Wright
Show Creator
28 Feb. 2018
Original Release Date
Hulu
Network/Streaming Service
Wolf Moon Productions | South Slope Pictures | Jigsaw Productions | Legendary Television
Studio/Distributor
TV-MA (Language, Sexual Situations, Violence)
Rating Certificate
Summary
Inter-agency rivalries between the CIA and FBI set the stage for the 9/11 terror attacks and subsequent war in Afghanistan in this star-studded Hulu Originals docudrama. The Looming Tower is a thrilling recreation of historical events that changed the history of the United States and features award-winning performances, direction, and editing.
What people say... Login to rate
Be the first to leave a review.
Show more