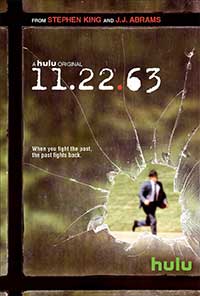 What would have happened to America if President John F. Kennedy had not been assassinated on November 22, 1963? The Hulu network streaming service tackles this hypothetical question with its new eight-episode sci-fi mini-series 11.22.63, based on a Stephen King novel. An unlikely hero, the recently divorced Maine high school teacher, Jake Epping (James Franco), enters the local diner and finds a "rabbit hole" to the 1960s. The diner's terminally ill owner Al Templeton (Chris Cooper) encourages Jake to return to the date in question and prevent JFK's murder but warns him: "the past doesn't want to be changed; when you're close to changing something, you can feel it push back." Given a new identity as "Jake Amberson," plenty of cash, and a notebook filled with important characters and events, he sets off to the '60s only to discover that these are not the simpler times that he had anticipated.
A mysterious character, the Yellow Card Man (Kevin J. O'Connor) appears during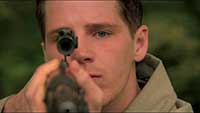 Jake's first time jump and portentously warns him "you shouldn't be here" (Viewer Alert: this warning will recur). Jake subsequently partners with an out-of-sorts young man Bill Turcotte (George MacKay) whom he met on a previous return trip to the past. The pair moves to Fort Worth and starts 24/7 surveillance of purported Kennedy assassin Lee Harvey Oswald (Daniel Webber). They meet Lee's wife Marina (Lucy Fry), the rest of the Oswald clan, and "friends" like Russian expat George de Morenschildt (Jonny Coyne). To establish his new identity, "Amberson" begins teaching at a high school in nearby Jodie. He becomes romantically involved with beautiful school librarian, Sadie Dunhill (Sarah Gadon) and eventually locks horns with Sadie's abusive husband, John Clayton (T.R. Knight). As Jake's extra-dimensional journey hurtles toward its uncertain destination, the dramatic tension builds and he must surmount some major misadventures (including traumatic memory loss) in a race against time to change history.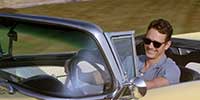 Balancing the past with the present is quite challenging and, after the third episode, the scriptwriters wisely set the action squarely in the past, sparing us those awkward time-shifting moments. Does Jake Epping succeed in his mission and save President Kennedy? Does 11.22.63 generate its very own "butterfly effect" that shows how any change to the past can have profound and often unintended consequences for the future?" Without a big reveal, the rather rushed conclusion of this show may surprise even the canniest of viewers.
Although Oscar-winner Jonathan Demme had been originally slated to be writer/director/producer of 11.22.63, I still had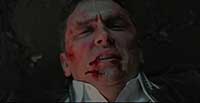 high hopes for this mini-series since it involved J.J. Abrams (Person of Interest, Lost, Alias) as executive producer, Bridget Carpenter (Dead Like Me) as one of the scriptwriters, and James Strong (Broadchurch) as one of the directors. The good news is the production crew's spot-on recreations of the sights, sounds, and social mores of the era. This good news is offset by some of this mini-series' notable shortcomings. In spite of its eight-hour running time, character development is more rudimentary than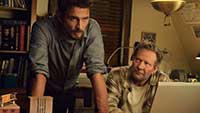 revelatory. In addition, the main storyline's momentum is periodically stalled on the tracks by its numerous (and often superfluous) subplots. The best efforts of principal actors Franco, Gadon, MacKay, Webber and the remaining supporting cast are often thwarted by an uneven script (perhaps too many writers?) and banal dialogue. Yet, if viewers are temporarily willing to shelve such concerns (as did I), 11.22.63 does offer a different take on a well-known historical event that should pique their interests in its answer to this half-century old "what if" question.
11.22.63 is currently streaming on Hulu.
11.22.63 (TheaterByte Review)
J.J. Abrams/Stephen King
Show Creator
15 February 2016
Original Release Date
Hulu
Network/Streaming Service
Bad Robot, Warner Bros. Television
Studio/Distributor
TV-MA (VL)
Rating Certificate
Summary
11.22.63 offers a revisionist history view of the JFK assassination through the premise of time-travel. An uneven script and spotty direction makes this an interesting, but flawed adaptation of Stephen King's novel.
What people say... Login to rate
Be the first to leave a review.
Show more