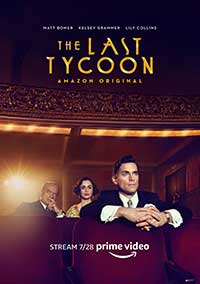 F. Scott Fitzgerald died before finishing his novel that would eventually be completed by critic Edmund Wilson as The Last Tycoon but would never achieve the acclaim of Fitzgerald's previous works. Loosely based on the career of legendary Hollywood producer Irving Thalberg, the nine-episode Season 1 adaptation from Amazon Prime Video delves into the depths of Depression-era Hollywood.
Monroe Stahr (Matt Bomer), formerly known as Milton Sternberg, is a widower and film producer for Pat Brady's (Kelsey Grammer) film studio. He aspires to become Hollywood's next big deal but Monroe is also a Jew during the rise of Nazi Germany, the second largest overseas market for American films. German ambassador Dr. George Gyssling (Michael Siberry) pays a visit and emphasizes this point and the need to make the studio's Berlin office and the names of the cast more Aryan. The Brady-American studio is filming a biopic of Minna Davis (Jessica De Gouw), a film star and Monroe's late wife who died in a house fire.  Pat is a workaholic and womanizer whose family consists of ambitious daughter Cecelia "Celia" (Lily Collins), a producer wannabe, and neglected wife Rose (Rosemary DeWitt) who drinks excessively and has been secretly "seeing" Monroe following Minna's tragic death.  Celia moons over Monroe but he has been smitten by the aspiring and appealing Irish actress Kathleen Moore (Dominique McElligott) who reminds him of Minna.
Brady's studio is in financial straits and risks being taken over by banker Cornelius Riddle (Bruce Davison). With his tail between his legs, Pat goes to rival MGM producer Louis B. Mayer (Saul Rubinek) for a big loan to bail him out until he can sell his new picture "The Bells of Boston." After a terrible in-house screening, Monroe rallies the troops, and, with complete makeover and new title, "Angels on the Avenue" becomes a Christmas season smash. Relishing his success, Brady pays off LB and next signs one of his stars,  Margot Taft (Jennifer Beals) to a series of films. Brady's studio hires tyrannical German émigré Fritz Lang (Iddo Goldberg) to direct "An Enemy Among Us" that will mark Kathleen's film debut.
As The Last Tycoon progresses, viewers witness the boom-or-bust cycles of the film industry. While visual evidence of the Depression seems to have side-stepped most of Hollywood's film world, Brady finds that the burgeoning labor movement makes running his studio even more challenging. Numerous romantic entanglements weave in and out of the story line as Monroe and Kathleen take their relationship to the next level and Celia cozies up to new office boy Max Miner (Mark O'Brien). The expected Hollywood stereotypes also make their appearances like bratty child star Sally Sweet (Chloe Guidry), heartless studio thug Tomas Szep (Koen De Bouw), and slimy agent Rupert Vajna (Don Harvey). Secrets seemingly lurk around every corner of this show, as we will discover that neither Margot nor Kathleen are quite what they purport to be, while Monroe plays down his serious heart condition and his Jewish identity.
Set in the same era as Nathaniel West's Hollywood allegory, The Day of the Locust, The Last Tycoon also depicts the dark underbelly of the film business. Unfortunately, writer/director Billy Ray does no big favors for F. Scott Fitzgerald's original source as the script careens from one predictable crisis to another and is laden with dialogue often so trite that Monroe Stahr would have ordered an immediate rewrite. Kelsey Grammer is burdened with a static role that rarely gets much past his fits of pique while Matt Bomer plays a vacuous pretty boy that never really fleshes out his character. Collins, McElligott, and DeWitt, all accomplished actors, deserved a lot better than the frequent "what's my motivation for this next scene" moments handed out by Ray's creative team.  The show does have some stunning cinematography, excellent period costumes, sets and music, and some truly eye-candy actors. That said, The Last Tycoon's glaring weaknesses of script and direction make it a frustrating watch at best. Amazon Prime Video has all of Season 1 available for viewing and is understandably on the fence about a Season 2.
The Last Tycoon: Season 1 is available for streaming in its entirety on Amazon Prime Video.
[amazon_auto_links id="103424"]
28 Jul. 2017
Original Release Date
Amazon Prime Video
Network/Streaming Service
Kippster Entertainment | City Entertainment | Brady American | TriStar Television| Amazon
Studio/Distributor
TV-MA (Adult Content, Adult Language, Graphic Violence, Nudity, Sexual Situations)
Rating Certificate
Summary
Amazon's adaptation of F.Scott Fitzgerald's unfinished novel makes for an uneven viewing experience with some beautiful sights, a generally weak script, and wayward direction.
What people say... Login to rate
Be the first to leave a review.
Show more