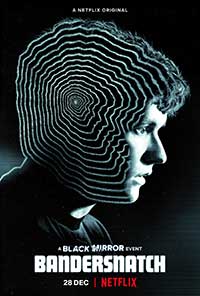 As 2018 comes to an end, Netflix and Charlie Brooker dared to release some Black Mirror madness for us right at the finish line of the year. Oh, but make no mistake, this would not be any ordinary Black Mirror. In fact, this would be the "Choose Your Own Adventure" kind officially entitled Black Mirror: Bandersnatch.
The year is 1985 and a young programmer, Stefan (Fionn Whitehead), is set out to create a cutting-edge video game based on a novel. As he delves deeper into the programming of the game for a giant conglomerate, his reality begins to blur with that of the video game in its various stages of development. What happens, for you and me, is that Netflix has taken control and given us free rein to guide young Stefan with his making choices in his everyday life. Some of these choices are as mundane as picking which cereal he is to eat for breakfast to bashing in his dad's skull to progress further into the story.
Make no mistake, as cool of a novelty as the choose your own adventure options are, Black Mirror is still Black Mirror and no life shall be spared. I think the options to choose what Stefan will do during the course of the running time is fun and amusing but as is customary with the series, goes into extremely screwed up territory as we, the viewer, also try to digest what is going on in addition to guide Stefan in the right direction.
In fact, during the quest, if you choose (un)wisely you're not necessarily beamed back to the beginning. You just get rewound to the most recent starting point – sort of like the video games of today. Once again, you're able to choose what route to take and see if that helps Stefan go on his quest. Some of his decision-making may not always align with what you're doing via the controls and options, so it may get weird and may also take a little getting used to.
In the grand scheme of things, I think Bandersnatch may have worked better on paper than the actual visual translation did. That's not to say I didn't enjoy myself with the film. I thought the film was fine and creative but did get tedious at times and in trying to get alternate endings and hopefully the "happy" ending – I came to the sad conclusion that this is still Black Mirror and knowing that an ending where people live happily ever after are a rarity, was a bit of a buzz kill.
I was also disheartened to read that with the release of Bandersnatch the forthcoming season 5 of Black Mirror has also been delayed. That's not cool, but here's hoping it releases in 2019. As far as Bandersnatch goes, if you're a fan of the series then you will need to watch the film. Make it a group effort and watch it with your friends or family and see if you can guide Stefan into the light.
(Editor's Note: Not all devices can take advantage of Bandersnatch's interactive features, this surprisingly includes the Apple TV and any Windows 10 device. Techradar has a rundown.)
Black Mirror: Bandersnatch is streaming now on Netflix
---
House Of Tomorrow | Netflix
Studios & Distributors
Summary
Set in the 1980s, a video game developer turns his favorite fantasy adventure novel into a game for a big gaming company while he slowly loses a grip on his reality in this interactive entry in Netflix's Black Mirror sci-fi series. Bandersnatch is better than no Black Mirror and I will take it however I can get it. Tediousness aside, the film works on many levels and is a great experiment should Netflix continue with the gimmick of viewer interactivity with its streaming platform.
What people say... Login to rate
Be the first to leave a review.
Show more