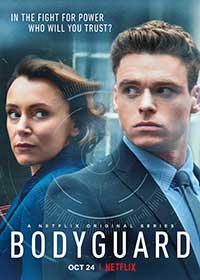 In the latest Netflix acquisition out of the UK, Bodyguard, Middle East War veteran David Budd (Richard Madden) is a London police officer struggling with PTSD. His erratic behavior has undermined his marriage to his wife Vicky (Sophie Rundle) but he remains steadfastly devoted to his young children Charlie (Matthew Stagg) and Ella (Bella Padden). As the six-episode BBC/Netflix series opens, David has narrowly averted a suicide bombing by Nadia Ali (Anji Mohindra) who is riding on the same train that is carrying him and his children back to London. In short order, David becomes the bodyguard of outspoken UK Home Secretary Julia Montague (Keeley Hawes) whose political views are diametrically opposed to his own: she wants more British involvement in Iraq and Afghanistan; he wants his nation's troops removed from the war zone.
When the school attended by Budd's children is bombed, costing three policemen their lives, David is assigned to desk duty. His bodyguard status is quickly restored by Secretary Montague who openly criticizes the Counter-terrorism department for their failure to prevent this terrorist attack. Julia's car is fired upon by David's old army mate Andy Apsted (Tom Brooke) who commits suicide when his assassination attempt fails.  David gets pressured by agents Deepak Sharma (Ash Tandon) and Louise Rayburn (Nina Toussaint-White) to surveil his new boss but that does not stop his relationship with Julia from heating up. In a "safe" hotel,  Budd observes that the Home Secretary is having off-the-book meetings with security agent Longcross (Michael Shaeffer) who gives her a confidential tablet with potentially damaging information that could compromise Prime Minister Peter Vosler (David Westhead) and put her in line for the PM's position.
A bomb goes off at St. Matthew's College during Montague's speech, killing the Home Secretary.  Budd gets blamed for not adequately checking the briefcase of the suspected bomber, envoy Tahir Mamood (Shubham Saraf), who is  an innocent tool of a larger conspiracy. At the behest of Chief Anne Sampson (Gina McKee), the official investigation of Secretary Montague's assassination proceeds, while Sergeant Budd pursues his own investigation. He eventually uncovers the tablet hidden at Julia's apartment before there is a slam-bang finish that few could have seen coming.
Veteran television scriptwriter Jed Mecurio has cooked up a British crime thriller in which plot twists occur at the speed of light. The storyline is a game of masks in which many characters conceal dark secrets behind their facades as highly placed government officials  Richard Madden becomes a dogged bloodhound and although non-UK viewers may have occasional difficulties with his thick brogue, there is little question that he fully inhabits his conflicted character. Keeley Hawes is the ultimate man-eating politician and, with a great supporting cast and taut direction turned in by John Strickland and Thomas Vincent, this series is one heckuva of a thrill ride that will keep viewers on the edge of their seats. Season 2 is reported to be in development so hold on to your flack vests, here we might go again. By the way, the series has just received two Golden Globe nominations for Best Television Dramatic Series and Best Lead Actor. Highly recommended.
Bodyguard is streaming now in its entirety on Netflix

---
24 Oct. 2018
Original Release Date
Netflix
Network/Streaming Service
World Production | BBC One | Netflix
Studio/Distributor
Summary
This recently Golden Globe-nominated drama series out of the UK follows a British bodyguard caught up in political intrigue involving the Royalty and Specialist Protection Branch of London's Metropolitan Police Service. Netflix/BBC delivers a cracking good British political thriller that creates a rising titer of tension that is sustained until the final moments.
What people say... Login to rate
Be the first to leave a review.
Show more