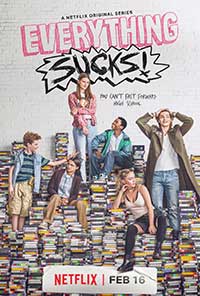 The floodgates have apparently opened for coming-of-age shows as Netflix Original series like The End of the F***ing World, Atypical, and Stranger Things deal with some pretty serious social issues. Keeping in stride with such series, the ten episodes of Everything Sucks! do not shy away from exposing bullying, homosexuality, and drug use. Writer/directors Ben York Jones and Michael Mohan transport us back to a 1996 Oregon town appropriately named Boring. The local high school has just begun its fall semester and "rival" groups, the A/V club and the drama club, are competing for attention. Freshman friends, videophile Luke (Jahi Winston), dyslexic Tyler (Quinn Liebling), and cynical McQuaid (Rio Mangini) decide that they will join the AV club. The drama club presents daily closed circuit TV announcements from Jessica Betts (Nicole McCullough) and Scott Pocket (Connor Muhl) while fellow members and sweethearts Oliver Schermerhorn (Elijah Stevenson) and Emaline Addario (Sydney Sweeney) deliver impromptu Shakespeare-inflected dialogues and then make out in the cafeteria.
Luke's parents are divorced and his mom Sherry (Claudine Nako) is a flight attendant who is often out-of-town. His only connection with his deadbeat dad Leroy O'Neil (Zachary Ray Sherman) is when he watches his father's vintage videotapes. Luke takes a shine to fellow A/V club member, sophomore Kate Messner (Peyton Kennedy) who operates the school's studio video camera. Kate's father is a widower and the high school principal Ken Messner (Patch Darragh). To move things along, the two young people need to sort out their different musical tastes—Tori Amos vs. Oasis—and eventually deal with Kate's purported lesbianism.
After Kate accidentally pulls the school fire alarm, the auditorium gets flooded, indefinitely displacing the drama club. Luke gallantly takes the blame, and, after consuming numerous Zimas, he cuts a deal with the drama club: if he can create a sci-fi movie starring their members, then all will be forgiven. The film's production drives much of the story forward and, during a location shoot in California, there is a seismic shift in the relationship between Oliver and Emmaline. A major subplot follows the nascent romance between single parents Sherry and Ken that must overcome numerous obstacles, while maintaining their delicate balances with their children. There are a few moments like Kate's impromptu rendition of Elton John's "Rocket Man" (her late mother's favorite song) and Luke's actual encounter with his father (who does not recognize him) that will definitely tug on viewers' heartstrings. Still, most of the action like the complicated process of shooting of the student film is downright zany.
Everything Sucks! with its short-attention-span 30-minute segments begins slowly but picks up its pace as Kate's sexual awakening evolves. Fourteen year-old Peyton Kennedy does an amazing job of portraying this young woman's inner struggle presented in very touching and nonjudgmental fashion. Jahi Winston is perfectly cast as the lovable Luke and his two sidekicks, Quinn Liebling and  Rio Mangini, provide appropriate foils. Sydney Sweeney is the archetypal teen siren who hides a bundle of insecurities (and some gender issues herself) under a perfect wardrobe and makeup; Elijah Stevenson nails the narcissistic student who yearns for the bright lights of New York City. The adults, Patch Darragh and Claudine Nako, do not get much screen time but make the most of it as two lonely people who tentatively start a relationship. While the '90s might not be everyone's favorite decade (it certainly wasn't mine), this series highlights many of the era's symbols like VHS recorders, troll dolls, and baggy grunge garb. Revisiting this decade might seem like a tough sell to most, but Jones and Mohan effectively seal the deal with a spot-on script and great pacing. Everything Sucks!'s finale definitely leaves the door open for a Season 2 and I hope that the good folks at Netflix Central will deliver on this.
Everything Sucks! is streaming now in its entirety on Netflix
Ben York Jones | Michael Mohan
Show Creator
16 Feb. 2018
Original Release Date
Netflix
Network/Streaming Service
Midnight Radio | Netflix
Studio/Distributor
Summary
In the aptly named sleepy Oregon town of Boring during the mid 1990s,a group of A/V club high school kids butt heads with the high school's drama club while both sets of kids deal with the usual teen angst, puberty, and nascent sexuality. Everything Sucks! is a coming of age comedic series that tackles the issue of sexual preference and takes viewers on a nostalgic return to the 1990s.
What people say... Login to rate
Be the first to leave a review.
Show more