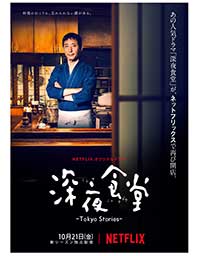 This ten-episode series of 24-minute vignettes is based on a popular Japanese manga or comic book series and makes its streaming debut on Netflix. Midnight Diner: Tokyo Stories is set in the bustling metropolis that thirteen million people call their home. The diner in the show's title is a modest eatery only open from midnight to 7 AM and run by Master (Kobayashi Kaoru). The diner has its group of "regulars" and each episode introduces new characters. The "official" menu has only pork miso soup, beer, sake, and shochu, but the scar-faced chef cooks up anything that the customers request as long as he has the ingredients. Of course, the diner's main ingredients are its clientele's personal situations that are explored in the various short stories that are preceded by the same brief introduction by  the Master.
Each episode takes its title from a typical dish served in the diner and varies from "soup to nuts" or, in this case, "hot pots to ham cutlets." Episode One or Tan-Men (a ramen noodle soup) connects a popular radio announcer, Mr. Shimada, with a woman taxi driver who is a former actor on television action show and her co-star, "The Flying Squirrel" who later shares a very personal story on Shimada's own radio show.
The other stories usually involve two people like that of a fading comedian Serao Kesera and his now more-famous assistant Hajime Moriwaki or a shy real estate clerk Shigemi who knits sweaters for her current boyfriends. Some heart-rending moments appear as well as a professional gambler and his little boy become entranced by a "working girl" or a wealthy publisher Mr. Hisamatsu and his much younger wife Fujiko have a chance encounter with Mr. "Erect" Oki, a popular porn film star.
There are "family" reunions as in "Hot Pot For One" when the elderly Chu Chan reunites with his high-school flame Kae who has seen far better days or when Mr. Nakatsuka, an attorney about to close his law office, gets reacquainted with his long-lost younger stepbrother Kenta and attempts to extract him from his struggles with 21st century life.
Using the metaphor of food, expertly prepared by Master, Midnight Diner is a far more existential treatment of the "diner" setting that brought fame and fortune to director/writer Barry Levinson. This can be attributed to the greater depth that director Joji Matsuoka brings to his dramatis personae who are frequently offset by the economy of expression inherent in the traditional Japanese gestures of respect. What sets Midnight Diner: Tokyo Stories apart from most of today's TV fare is its concentration on character development and the meaningful dialogue that is delivered in each episode. While the terse Master sets the stage for every chapter, his regular diner customers often provide a Greek chorus  as a counterweight to some of this series' quite touching personal situations. Overall, this series is what television should consistently give its viewers and yet it makes all of us wonder why we often are willing to settle for far less. There are two more seasons awaiting us and hopefully Netflix will send them our way. Highly recommended.
All 10 episodes of season one of Midnight Diner: Tokyo Stories are currently available for streaming on Netflix.
Matsuoka Joji
Show Creator
10 Oct. 2016
Original Release Date
Netflix
Network/Streaming Service
Netflix
Studio/Distributor
TV-14 (Adult Situations)
Rating Certificate
Summary
A well-crafted and compact 10-episode series that poses and answers some existential questions.
What people say... Login to rate
Be the first to leave a review.
Show more