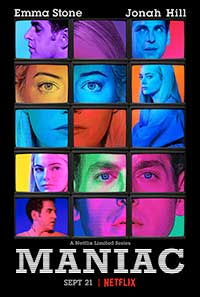 Every so often, Netflix goes out on a dramatic limb with a show that defies current conventions or categorizations, and so far this season, it is Maniac. Patrick Somerville and Cary Juji Fugunaga adapted this ten-episode series from a similarly titled Norwegian television show and it has a high-profile cast that includes Emma Stone, Jonah Hill, Sally Field, Justin Theroux, and Gabriel Byrne.
Hill plays Owen Milgrim, the son of billionaire Porter Milgrim (Byrne) who carries a disputed diagnosis of schizophrenia. Dad wants Owen to appear in court to provide a fake alibi for his older brother Jed (Billy Magnussen) who will be tried for sexual assault. Stone is Annie Landsberg, an angry young woman whose mother had run off and who has never gotten over the death of her younger sister Ellie (Julia Garner) in an auto accident.
The pair gets entered into a three-day trial of the new drug U.L.P. at the Neberdine Pharmaceutical Biotech (NPB). The Japanese-owned research facility contrasts anachronistic technology like its monochromatic CRTs with wall-sized supercomputers. Outside the laboratory building, 1970s cars clash with robotic street sweepers that clean up dog poop. Annie and Owen are assigned the numbers "9" and "1," respectively, and with four other test subjects "3" (Kathleen Choe), "5" (Danny Hoch), "7" (Stephen Hill), and "11" (Allyce Beasley), they spend each day in a sealed chamber and enter dream worlds induced by U.L.P. NPB researchers Drs. Robert Muramoto (Rome Kanda) and Azumi Fujita (Sonoya Mizuno) record their patients' emotional reactions for later analysis by the supercomputer G.R.T.A. If the trial succeeds, U.L.P. could make conventional psychotherapy obsolete and provide a high-speed cure for many behavioral disorders.
When Muramoto dies from an overdose of U.LP., Dr. James K. Mantleray (Theroux) is brought out of mothballs to continue the study.  Mantleray has his own issues and must temporarily come to terms with his domineering mother, the hugely successful "pop" psychotherapist Dr. Greta Mantleray (Fields) as he fixes G.R.T.A.'s software originally inspired by Greta's doctoral dissertation.
Subsequent episodes focus primarily on Owen and Annie's "excellent adventures" that find them in differing personas and situations: a married Long Island couple pursuing a rare lemur, two grifters at a society séance, an Icelandic spy facing execution and a gun-toting CIA agent, a mafioso's son, and an elfin-like creature searching for her lost sister. As the experimental sessions proceed, the drug-induced dreams encompass various eras ranging from medieval times to the 1980s and cinematic genres that include film noir, screwball comedies, science-fiction, and Cold War intrigue.
Maniac focuses on the unlikely relationship between the extroverted Annie and the introverted Owen that never heats up but eventually does produce some unexpectedly poignant moments.  What emerges in this quirky show, interlaced with its frequent flights of fancy, is Jonah Hill's affecting portrait of a young man who struggles with apparent mental illness and is considered somewhat of an embarrassment to his wealthy family. What makes Maniac stand out and well worth checking out are Emma Stone's chameleon-like role changes that turn on a dime and are absolutely spot-on.
The campiness of the research laboratory is taken to the next level by Theroux's over-the-top portrayal of an angst-ridden scientist who has never resolved his "mommy" issues and who also has the unrequited hots for his colleague Mizuno. There are also great comedic contributions by a straight-faced Sally Fields and the edgy Danny Hoch. Maniac continually challenges the viewers' equilibrium as its mood swings often parallel those experienced by the research subjects themselves. Definitely a non-mainstream production, the show harkens back to more serious films dealing with psychiatric conditions like One Flew Over the Cuckoo's Nest and Running With Scissors. Not every viewer's cup of tea but those looking for something different will get their just rewards,
Maniac is streaming in its entirety on Netflix
Patrick Somerville | Cary Joji Fukunaga
Show Creator
21 Sep. 2018
Original Release Date
Netflix
Network/Streaming Service
Netflix | Anonymous Content | Paramount Television
Studio/Distributor
TV-MA (language)
Rating Certificate
Summary
In this surreal limited series set in an alternate reality version of New York City, Jonah Hill and Emma Stone play two strangers who find themselves together in a strange pharmaceutical trial that promises to fix their psychological issues, but things go south almost immediately. A quirky original sci-fi series that mixes numerous film genres, personas and a storyline that blurs the distinction between fantasy and reality and benefits from strong performances by its leads.
What people say... Login to rate
Be the first to leave a review.
Show more